---
America's Big Cities Gripped By Crime, Disorder & Decline
IN THIS ISSUE:
1. Overview – Crime Has Exploded In American Cities
2. Our Big Cities Gripped By Crime – Time For Change?
3. A Sea Change In Urban Politics Coming, Hopefully
4. Rampant Crime has Exploded In Most Big Cities
5. Core Urban Populations Are Already Declining
6. Is It Too Late To Reverse This Troubling Trend?
Overview - Crime Has Exploded In American Cities
America's largest cities have increasingly been run by liberals over the last several decades as the political leaning of the country moved steadily to the left. Yet as policies moved more and more to the left, including to the point where many cities moved to restrict and/or defund their police, crime has exploded – in many cases to the worst levels ever recorded.
These progressive policies were a bad idea, as I have pointed out often in these pages, and I never understood why so many Americans got on this bandwagon in the first place. In fact, I believe these liberal policies have been some of the worst ever perpetuated on the American people (or best depending on your position).
The good news is, with crime and disorder out of control and at record levels, Americans are seeing the fault of these policies and are increasingly voting to reverse these liberal agendas. Now, it is encouraging to see so many Americans coming to their senses and reversing policies which have handcuffed law enforcement and emboldened criminals to lawlessness. Let's hope this trend continues. That's what we'll talk about today.
Our Big Cities Gripped By Crime - Time For Change?
As noted above, America's urban centers have been increasingly run by 'progressive' activists for over a decade. Yet today, as US cities reel from weakening economies, rising crime and pervasive corruption, there's something of a revolt brewing, the success of which may well determine the role and trajectory of our great urban centers.
For example, this emerging conflict is coming to a head right now in Los Angeles, the US's second-largest city, in the Democratic primaries for LA mayor. The race looks likely to lead to a head-to-head runoff between moderate billionaire developer Rick Caruso and progressive congressperson Karen Bass, once considered a potential vice-president for Joe Biden. At the very same time, ultra-liberal San Francisco district attorney Chesa Boudin was just roundly recalled from office amid soaring crime rates.
The growing shift towards the center reflects a move back to more traditional urban policies, particularly on crime and homelessness. It's not Republicans leading the charge against ultra-progressive policies, either. It is African American, Democratic mayors like Houston's Sylvester Turner and New York's Eric Adams.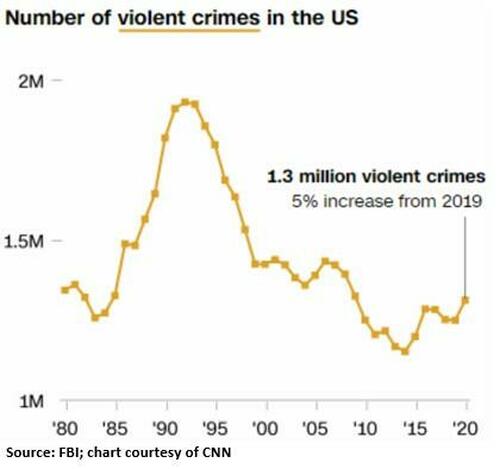 Even the citizens of left-leaning cities are rethinking progressivism. Last year, Austin – Texas' blue capital – where I live rescinded provisions, backed by progressives, that allowed vast homeless encampments to spring up across the city. You can't imagine how fast these widespread encampments appeared and spread and how they changed the face of our city.
Earlier this year, similarly left-leaning Seattle removed its ultra-progressive district attorney and Buffalo voters defeated a socialist-backed Democrat in favor of a moderate African American. Even in San Francisco, progressive school-board members were overwhelmingly defeated in February 2022.
A Sea Change In Urban Politics Coming, Hopefully
We could be seeing the beginning of a sea change in urban politics. Twenty-five or thirty years ago, Republicans were still competitive in urban areas. In 1995, for example, America's 20 largest cities were evenly divided by party. In the 1990s and 2000s, cities elected successful, pragmatic mayors from both parties – such as Bob Lanier and Bill White in Houston, Rudy Giuliani and Michael Bloomberg in New York and Richard Riordan in Los Angeles – who focused on reducing crime, encouraging enterprise and improving basic city services.
More recently, however, the drift of urban politics has been relentlessly leftward. In the 1984 presidential election, for example, Ronald Reagan won 31% of the vote in San Francisco and 27.4% Manhattan. Yet by 2016, Donald Trump won as little as 10% in both. So, today Democrats control 16 out of the 20 largest cities.
The scale of this radical shift became especially apparent during the disorder following the murder of George Floyd in 2020. Even as riots and arson swept their streets, some city officials, notably in Seattle, Minneapolis and Portland, appeared to tolerate or even embrace disorder. Even more city officials pushed for the police to be defunded.
In some places, such as Portland, police were forced to stand down even as rioters and Antifa were burning buildings and attacking them. Progressives also placed in office a host of new prosecutors who then chose not to enforce laws against violent protesters, vagrancy or petty theft. Fortunately, there are signs this trend is turning.
I'm not saying the leftist tide is totally reversing, of course. In some cities, progressives have won primaries this year over more centrist Democrats. But there is clearly a hopeful shift towards pragmatic centrism and a turn against the non-enforcement policies of progressive district attorneys. This reflects the public's growing recognition of the depth of the economic, demographic and social challenges in these cities, particularly after the pandemic.
Rampant Crime has Exploded In Most Big Cities
Rampant crime has clearly become the biggest concern in most big cities. Always a part of the urban story, crime is increasingly random. However, it's different this time. The worst gangsters of the 1930s generally left 'civilians' alone. Today's crime, by contrast, reflects what one Chicago resident describes as 'sociopathic idiocy' including violence affecting civilians.
The US's greatest and richest urban centers have all seen large rises in crime. For example, there were 468 murders in New York City in 2020, up from 319 in 2019 – an unprecedented 47% increase.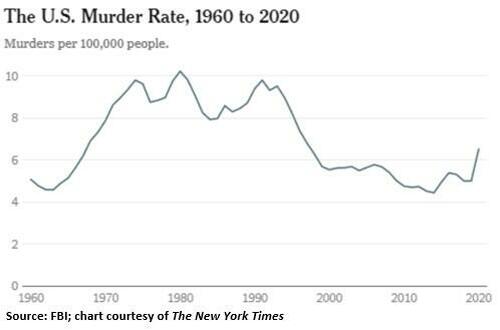 Equally troubling is the fact that some of these cities have also become centers for homelessness, open drug markets and incubators of all sorts of diseases. Los Angeles city workers, for example, have been infected with typhus – which has begun to resurge in California – and some now demand elaborate protective gear when asked to hose down the putrid streets.
There are also increased cases of leprosy in Los Angeles. Some have suggested that, thanks to the resurgence of rats, the return of bubonic plague may be imminent. During the pandemic, dense cities had considerably higher Covid rates than more suburban, exurban and rural areas. Attracting migrants from different countries, large foul-smelling cities have become 'petri dishes' for parasites and viral infection.
Similarly, the Black Death in the Middle Ages spread throughout Europe, but it was poor urban dwellers who suffered most, notes historian Barbara Tuchman. Cities eventually recovered, sometimes taking decades, but many communities simply disappeared.
Core Urban Populations Are Already Declining
Already the pandemic has reduced inner core populations. Today's urban areas were already losing out to outlying areas – the periphery gained 90% of all metropolitan growth in the past decade. And since 2019 virtually all big cities have lost population, as people have moved to suburbs, exurbs, smaller cities and even the countryside. Manhattan suffered the single biggest loss of any US county.
The pandemic has also accelerated the already strong shift to dispersed work. Stanford economist Nicholas Bloom suggests that remote workers will soon constitute at least 20% of the workforce, more than three times the pre-pandemic rate. Global management consultant McKinsey & Company reports that more than half of surveyed employees would like their employers to adopt more flexible, hybrid working models. More than a quarter of employees indicated "they would consider switching employers if their organization returned to fully on-site work."
The biggest losers from this have been transit-dependent downtowns like New York, Chicago, San Francisco and others, places where crime on subways is now rampant. People increasingly realize that they no longer have to live in or near big cities to get ahead – removing one of the main reasons why people put up with the high prices, congestion and crime associated with large cities. Increasingly, surveys show that people, including younger people, are less likely to move to a big city. Most see their future elsewhere, in smaller cities or in the suburban and exurban periphery.
The bottom line is that a majority of the American electorate now realizes the increasingly progressive policies over the last several decades – and more recently the defund the police movement – have made life in the big cities more dangerous and have led to a growing exodus from our large urban centers.
Is It Too Late To Reverse This Troubling Trend?
The question is, is it too late to reverse this trend? The key word here is "reverse," and the answer is "not likely." People who have relocated away from the big cities are not likely to return. The real question is whether the big cities can change policies to reduce crime such that people want to remain and young people want to move there.
This remains to be seen. It will require a huge shift on the part of the electorate, and the liberal politicians will not surrender easily. But the good news is, most American voters appear to have wised up and know what to do going forward. It took decades to get these disastrous policies in place, and it will take time to replace them.
Hopefully, we can get this job done much faster than the liberals took to put them in place. So, count me as an optimist in this regard. Let's hope I am right!
All the best,
Gary D. Halbert
SPECIAL ARTICLES
Inflation Rose to 8.6% in May – Highest in 41 Years
Biden Administration's Predictable Inflation Disaster
Gary's Between the Lines column: Americans Super Negative On Economy – But Should They Be?
Contributor posts published on Zero Hedge do not necessarily represent the views and opinions of Zero Hedge, and are not selected, edited or screened by Zero Hedge editors.
Loading...