---
NFT market is collapsing with sales down more than 87% from it's ATH!
It's just so sad to see somebody spend so much money on something that isn't real - Karen Boeker (Beanie Baby expert)
Our story begins in 1993. Ty Warner, Founder of a toy company Ty Inc. created these innocent-looking stuffed animals for kids. But what started as a simple $5 toy mass-produced in China became such a craze that people were paying thousands of dollars to collect them.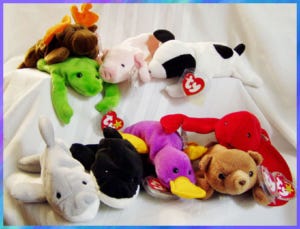 At one point, things became so irrational that police were trading their guns for Beanie Babies, couples were having custody battles over these toys, and people were smuggling these into the U.S from Canada!
What made these simple toys so valuable was a simple but very effective marketing strategy that Warner implemented in 1995. Warner started retiring animals to create artificial scarcity. This combined with their strategy of selling only 36 of any one animal to retailers created an instant marketing frenzy that pushed the value of these toys through the roof.
As with all bubbles, the party didn't last very long. The market for Beanie Babies crashed along with the dot-com bubble in 2000 and the dropping prices caused the market to be flooded with an avalanche of inventory. Millions of Americans were left with now nearly worthless Beanie Babies in their basements.
Looking back, it's almost unbelievable that people were willing to pay thousands of dollars for a $5 mass-produced toy. But then again, just looking around, we can see the same trends repeating all over again.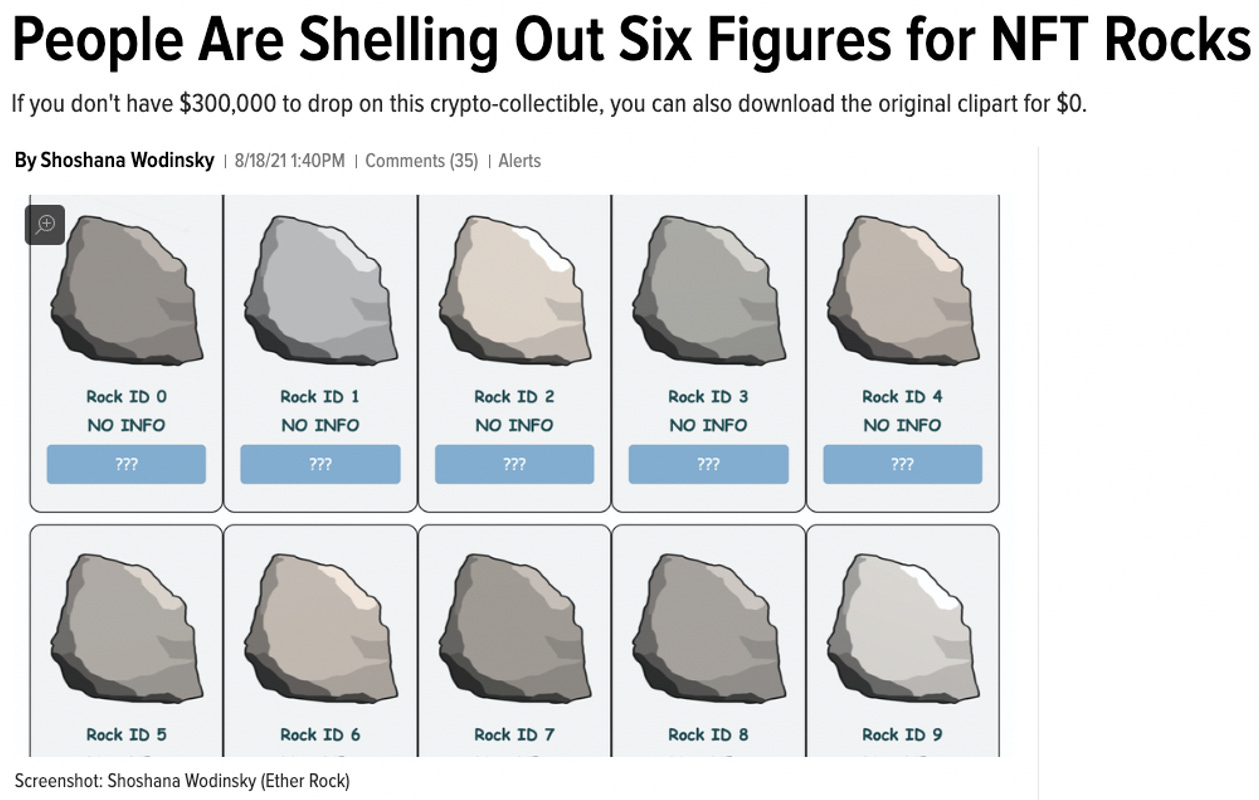 Speculators are paying more than 6 figures for an image of a rock in the hope that down the line its value is going to increase. Investors are justifying the value by arguing that these are Non-Fungible (as in, one of a kind that cannot be duplicated). The irony is that this is exactly the same argument investors in Beanie Babies made stating that their toy was going to be one of a kind that others will buy for a fortune down the line.
It's the classic case of the greater fool theory where you are buying an overpriced asset in the hope that someone will be willing to pay even more for it later on.
Given that the Bitcoin is down more than 60% YTD and the whole crypto market is going through another halving, let's see how the NFT market is doing and whether there is some hope for a bounce-back - or would it go the way of Beanie Babies?
---
The Red Flags
If you are out of the loop on the whole NFT market and how it works, this excellent video by Johnny Harris is a great primer on the world of NFTs. What really caught my attention was when Jack Dorsey's first tweet went on resale. It was bought as an NFT last year for a whopping $2.9 Million. It had everything going for it - The first-ever tweet by a famous person on one of the most popular social media platforms of our generation! It's the poster child of what an NFT should be - rare, authenticated, and truly one of a kind.
But when the current owner listed it for resale at $48 Million on April first week, he ended up getting a top bid of just $280. Let that sink in for a moment. The first-ever tweet as an NFT has lost more than 99.99% value in just under a year.
The more I dug into this, the more common these occurrences became. EtherRock, an NFT containing literal images of some rocks has now dropped more than 70% of its ~$2MM price, a Cryptopunk that was sold for more than $1MM just a year back is now trading at < $60K (~94% drop) and arguably the most popular of them, the Bored Ape Yacht Club is now down more than 50%!
Before the crypto bros come at me for cherry-picking data, let's see how the overall market for buying and selling NFTs is doing now. To know the current status of the NFT market, rather than just focusing on the total volume of sales (which can be skewed by one or two big purchases), we can focus on the number of sales, and the total number of unique buyers, and sellers in the market. The data used in this analysis was collected from NonFungible.com
---
Flatlining Metrics
No matter how you slice the data, NFT metrics are not showing a rosy trend. The monthly average number of NFT sales has seen a steep 87% drop from its top in Aug'21 and has been on a continuous decline over the past 8 months.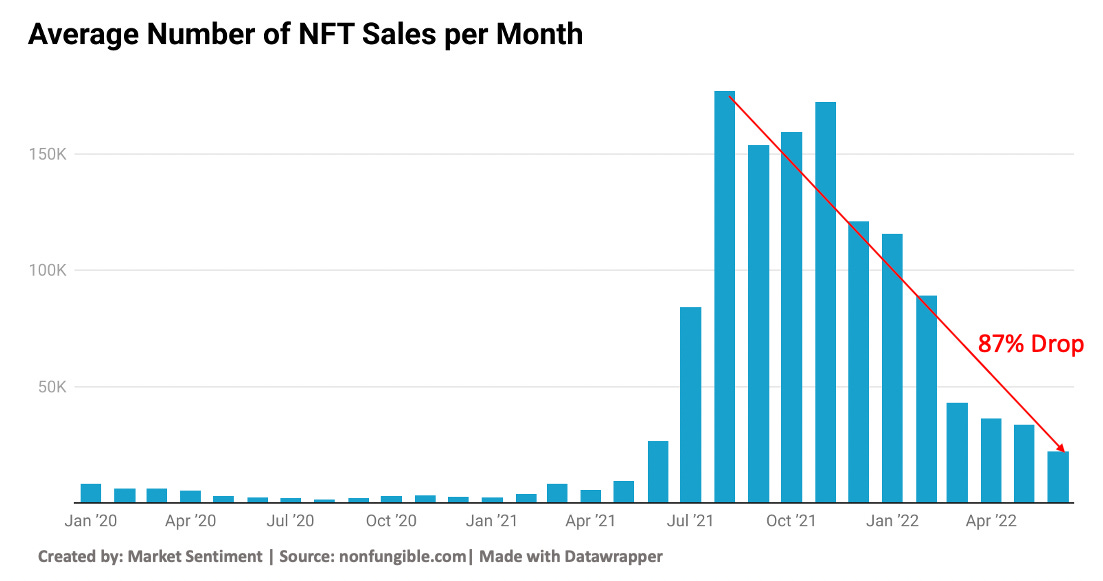 Even if you consider the dollar value in sales every day, other than a single big spike in May '22, the sales are 80-90% down when compared to the Aug '21 period.

Contributor posts published on Zero Hedge do not necessarily represent the views and opinions of Zero Hedge, and are not selected, edited or screened by Zero Hedge editors.
Loading...