---
Soros Minion Catches Monkeypox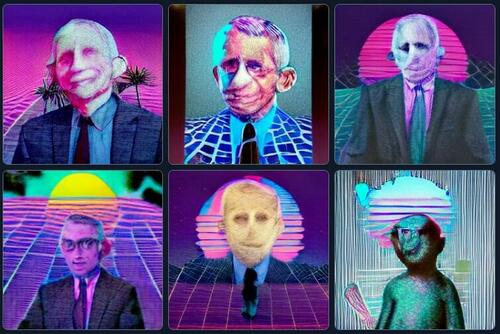 A Pox On Soros's House
In our last post (Who Is Spreading Monkeypox), we mentioned Steve Sailer's essay on the parallels between the current Monkeypox epidemic and the AIDS epidemic of the '80s: 
In an important essay this week, journalist Steve Sailer wrote about the new Monkeypox epidemic, and pointed out the parallels between it and the AIDS epidemic. In both cases, the super spreaders have been promiscuous gays, and in both cases, the media and government have been hesitant to ask gays alter their behavior--ostensibly, out of concern for stigmatizing them, but in reality, out of fear of their power. 
Sailer had a brief follow-up post on that over the weekend. I've posted it in full below. Following that, a brief note on profiting from the pox. 
Authored by Steve Sailer at Unz.com
Soros Minion Comes Down With Monkey Pox Celebrating Pride Month; You Are To Blame
Sebastian Köhn (He/Him), George Soros Open Society Foundations Division Director in sexual health, recounts in The Guardian:
I got monkeypox and it's been a total nightmare

When New York Pride festivities kicked off I was aware that monkeypox was an emerging issue – especially for gay men – but … I had sex with several guys over the weekend.

Then a week later, on 1 July, I started feeling very fatigued. I had a high fever with chills and muscle aches, and my lymph nodes were so swollen they were protruding two inches out of my throat. …

I'm a 39-year-old man from Sweden, living in Brooklyn and working in philanthropy. For the past decade, my work has primarily focused on sexual and reproductive health and rights, so I followed the outbreak from the very beginning.
And then a whole bunch of Sorrows of Job happened to this 39 year old Swedish immigrant named Kohn living in Brooklyn and working for George Soros in sexual health, which must totally be the fault of the NYC health bureaucrats as opposed to him showing his New York Pride pride by having sex with several guys over the weekend.
Look, it's not called Shame Month is it? So therefore everything he feels like doing should inculcate a sense of Pride in him and therefore it's your fault if his self-indulgence results in anorectal lesions.
Profiting From The Pox
Since our leaders are repeating their AIDS tack of not trying to rein in the irresponsible individuals spreading this disease,
This is insane.
1. It is clear that it is most rapidly spreading by sexual contact.
2. Making that message clear to the public is necessary to stop the spread.
3. Dishonesty about this is resulting in more illness, not less.
4. And the truth is not biased or prejudiced. https://t.co/kI50uu1Mh6

— Pradheep J. Shanker (@Neoavatara) July 26, 2022
And they're eschewing the sort of lifestyle changes that might limit the spread of this disease,
July 23, 2022
We're left with America's preferred response: pharmaceuticals. On that score, we shared a Monkeypox play with you in a post a couple of weeks ago.  
Higher rates and a recession. https://t.co/3HMBdVgw1S$DQ $SIGA $OXY $STNG

— Portfolio Armor (@PortfolioArmor) July 13, 2022
That play was SIGA Technologies, Inc. (SIGA).:
Screen capture via Portfolio Armor on 7/12/2022.

Despite the pullback in petroleum over the last month three of Tuesday's top ten names were in that space: Helmerich & Payne, Inc. (HP), Occidental Petroleum Corp. (OXY), and Scorpio Tankers, Inc. (STNG). Two were in solar, including Daqo New Energy Corp. (DQ); three were in biotech, including the surging Monkeypox play SIGA Technologies, Inc. (SIGA).
Since then, SIGA has surged some more: up 20.6% since we mentioned it here (with all of those gains coming on Monday). 
It might be worth considering next time it hits our top names. 
Tuesday Afternoon Update
SIGA is up another 12% so far today. 
A Quick Note For Our Email Subscribers
We have an email out this morning you may find of interest. Be sure to keep an eye out for it. 
If You Want To Stay In Touch
You can follow Steve Sailer on Twitter here, and read his blog here. 
You can follow Portfolio Armor on Twitter here, subscribe to our occasional email list here, and visit our website by clicking on the image below. 

Contributor posts published on Zero Hedge do not necessarily represent the views and opinions of Zero Hedge, and are not selected, edited or screened by Zero Hedge editors.