---
THE SAUDI-US TRAIN WRECK
And a train wreck of the US's making. We really wonder what the head-choppers think of the US (albeit it the current US administration). Can you believe the debacle?

It is really hard to make this stuff up. From the article:
The president's 24 hours in Jeddah were dominated by photos of his fist bump with the de facto leader of a kingdom Mr. Biden had labelled a pariah. Things went downhill from there. Mr. Biden insisted that, in front of the entire U.S. and Saudi delegations, he had labelled the crown prince the killer of Jamal Khashoggi. Saudi Minister of State Adel al-Jubeir was quick to say he didn't recall hearing that. When Mr. Biden was asked if the foreign minister was telling the truth, he said no—implying that a key Saudi official was a liar. Even the New York Times questioned if Mr. Biden's account was accurate, noting that he has a history of describing events other meeting participants don't recall.

So much for rebuilding U.S.-Saudi cooperation, which was Mr. Biden's goal. This trip was worse than a missed opportunity. It damaged U.S. security interests in the Middle East by highlighting to the world that neither Saudi Arabia nor other Gulf states trust the U.S. enough to make any sacrifices to renew badly frayed relations. In a speech to Arab leaders, the president proclaimed: "We will not walk away and leave a vacuum to be filled by China, Russia or Iran.
Leave a vacuum to be filled by China, Russia, or Iran? Well, it seems like the vacuum has already been filled. The graph below came from 2019 stats, but we doubt it has changed materially since.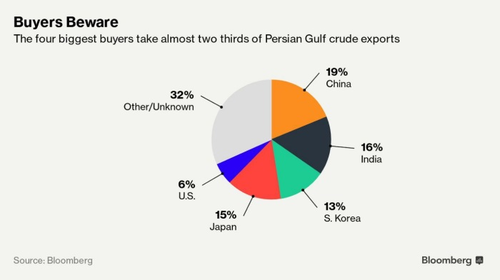 And over time (so over the last 10 years), US imports from Saudi are down by about 66%.
But what about refined products? The America's at 4% — a "rounding error.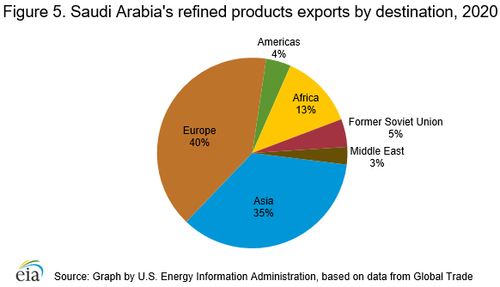 The US just ain't what it used to be in the Middle East. We don't think the Saudis will be in a hurry to help out the US. Perhaps the US should look closer to home for a solution.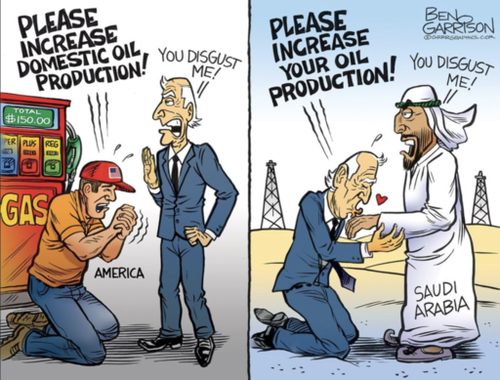 Contributor posts published on Zero Hedge do not necessarily represent the views and opinions of Zero Hedge, and are not selected, edited or screened by Zero Hedge editors.