---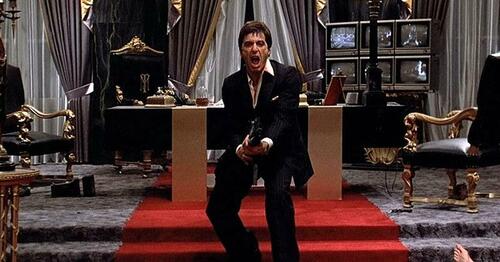 Banana Republic Update
It looks like the judge who signed the warrant to raid Mar-a-Logo is former Jeffrey Epstein lawyer Bruce Reinhart. 
Wait WTF????

THIS BRUCE REINHART???

Wtf!!! https://t.co/9fWqKeeUA2 https://t.co/f7LJqkZvmB pic.twitter.com/l9W1S1Eigk

— Comfortably Smug (@ComfortablySmug) August 9, 2022
Although the warrant is sealed, and Reinhart is one of three federal magistrates in the Southern District of Florida, a Court Listener search shows only Reinhart's name associated with search warrants this month. 
And, to add to the questionable circumstances here, Reinhart had previously recused himself from a case involving Trump.
So the judge who signed the warrant for Trumps Mar A. Lago raid recused himself in June from Trump v Clinton, but doesn't need to recuse for this?!?! Lawtwitter help us out to understand this? @ProfMJCleveland @pnjaban @RonColeman @JimHansonDC @KurtSchlichter https://t.co/4hyp5LRuiT

— WE ARE ALL DOOMED (@ItsAnnMariePepe) August 9, 2022
Welcome To Latin America
The FBI raid on Mar-a-Lago is clearly banana republic-level stuff: federal police targeting an opposition leader for obviously political reasons. You'd think this would be obvious to the former editor of the Financial Times, but you'd be wrong. 
What are you talking about?

Hunter Biden is above the law. He's admitted to selling access to his father on a laptop that's been in the FBI's possession for years. Hasn't been raided.

Hillary Clinton is above the law. No punishment for her illegal handling of classified docs.

— David Pinsen (@dpinsen) August 9, 2022
Fortunately, it was obvious to many Americans on the right, including ones who aren't Trump supporters. Below is a sampling of some of their reactions, followed by a thread that puts the persecution of Trump in a broader context. 
Pedro Gonzalez has been a Trump critic from the right. 
The right chants "lock her up" but never prosecutes or locks anyone up

The left "can't meme" but it is willing and able to deprive you of your freedom and property

Time for this to change

— Pedro L. Gonzalez (@emeriticus) August 9, 2022
Hopefully, Lindsay Graham's limp-wristed response to Monday's outrage will put some distance between him and Trump.
You pansy. https://t.co/s3a5BSR5NT

— Rich Baris "The People's Pundit" (@Peoples_Pundit) August 9, 2022
A good thread on the pandora's box that gets opened when political candidates get prosecuted.
She committed her crime for what amounted to political reasons, her punishment should be political: everyone knows she's corrupt, they get to take that into account when they vote.

Now, it should have been AG Loretta Lynch who made that decision. Comey gave her political cover.

— J. Respectful Clark (@JReubenCIark) August 9, 2022
All of which is to say...

...obviously Trump did not commit a crime by saying the election was stolen, but even if he did commit some technical violation of federal law, what happened today did *far* more damage to "democracy" than 1,000 Trumps could ever do.

— J. Respectful Clark (@JReubenCIark) August 9, 2022
I don't know where we go from here.

Optimistically we have 5-6 SCOTUS justices who will *eventually* put a stop to this, ppl will wake up, we avoid total banana republic status for a few more years.

But if the GOP gained power and turned the tables, could you blame them?

— J. Respectful Clark (@JReubenCIark) August 9, 2022
A reminder that John McCain, one of the Keating Five, was never treated the way Trump has been.
Funny how the FBI never kicked her door in at 6AM over the Keating Scandal. https://t.co/WPIkrCbR6d

— Rich Baris "The People's Pundit" (@Peoples_Pundit) August 9, 2022
It doesn't matter if Trump did anything criminal at this point. The DOJ's partisan deference toward the criminal acts of insiders like the Bidens and Clintons means it can no longer be trusted by half the electorate. https://t.co/TnzAQ1wZwZ

— Second City Bureaucrat (@CityBureaucrat) August 9, 2022
Maybe America's hip-deep involvement in the Ukraine is making us more like that paragon of democracy.
The 🇺🇦 flag is fitting here given that Zelenskyyy has has his political opponents arrested. https://t.co/exY7se0lNO

— David Pinsen (@dpinsen) August 9, 2022
Executing a warrant against ex-POTUS is dangerous. The apparent political weaponization of DOJ/FBI is shameful. AG must explain why 250 yrs of practice was upended w/ this raid. I served on Benghazi Com where we proved Hilliary possessed classified info. We didn't raid her home

— Mike Pompeo (@mikepompeo) August 9, 2022
A Florida politician suggests a radical response.
It's time for us in the Florida Legislature to call an emergency legislative session & amend our laws regarding federal agencies

Sever all ties with DOJ immediately

Any FBI agent conducting law enforcement functions outside the purview of our State should be arrested upon sight

— Rep. Anthony Sabatini (@AnthonySabatini) August 9, 2022
The strongest argument for voting Trump in 2024 is Revenge.

— Cobra Commander 15 (@cobracommandr15) August 8, 2022
The Biden admin is all about law and order. Some idiot tweets as millions of illegals walk around with no fear of deportation.

— EdAsante (@EdAsante77) August 8, 2022
Varad Mehta is another anti-Trump Republican who nevertheless sees the raid for what it was.
Someone should start a betting pool on what the new federal investigative agency will be called that replaces the FBI after Trump abolishes it on January 20, 2025.

— Varad Mehta (@varadmehta) August 8, 2022
Looking at the Big Picture
A good thread on what Trump represents, why he triggered this response, and what might come next. 
Trump wasn't even some great revolutionary, he's just a reformer. His goals were simply to stop the worst, most destructive parts of the regime (immigration, trade, etc)

You can't start locking people up until you prove to the world the system refuses to let itself be reformed

— Doctor-Baron 17cShyteposter, DDS (@17cShyteposter) August 9, 2022
And even *that* was too much for them. They impeached him twice (these screencaps are so funny to me)

Now they're trying to invent laws to ban him from even running as president

*These* are the conditions, if you win, for locking up your enemies. But they could only come after pic.twitter.com/hgAPVv2M7D

— Doctor-Baron 17cShyteposter, DDS (@17cShyteposter) August 9, 2022
The regime has since taken action to make it clear that Trump—and by extension the half of the nation that believes in him—will no longer be allowed a voice in the political process

Do you know what happens when you shut half the populace out of the political process?

— Doctor-Baron 17cShyteposter, DDS (@17cShyteposter) August 9, 2022
You get the end of that system—it either wins, and takes on a new form altogether, or loses, and gets trampled.

The possibility of its loss is only here because one guy dared it to prove that the people still have a say in how they're to be ruled.

— Doctor-Baron 17cShyteposter, DDS (@17cShyteposter) August 9, 2022
If You Want To Stay In Touch
All of the accounts quoted above are worth a follow on Twitter. 
You can also follow Portfolio Armor on Twitter here, subscribe to our occasional email list here, download our hedging app here, or visit our website by clicking on the image below.

Contributor posts published on Zero Hedge do not necessarily represent the views and opinions of Zero Hedge, and are not selected, edited or screened by Zero Hedge editors.