---
What You Should Know About Coal (Right Now!)
COAL IS THE NEW BLACK
So much for all the COP 26 banter late last year. Let me remind you. The elites all flew in on their private jets and promptly told us we're all (royal we) getting off fossil fuels and killing coal.
So how's that turning out?
The usage of coal is now at record highs:
Global Coal-Fired Electricity Generation Surges To Record High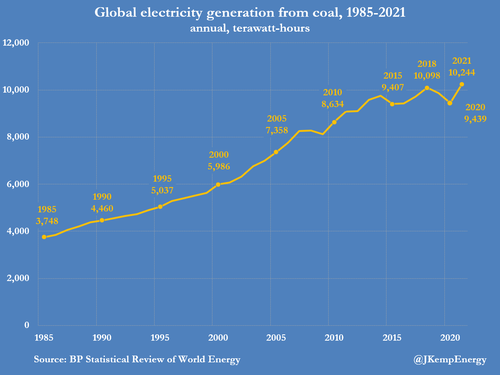 Coal is largely an Asian story (namely China and India):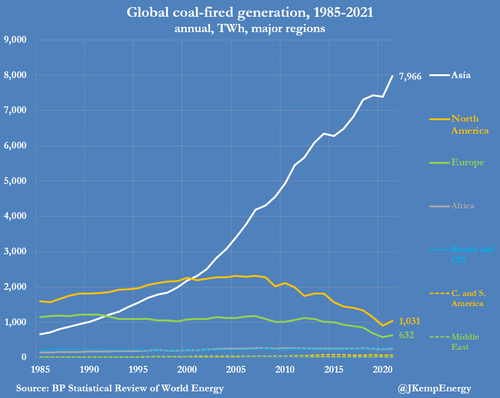 We wonder if coal miners' production schedules have been geared up for the "death of coal being greatly overexaggerated?"
Over the last five years it has been very fashionable for big miners (Rio, BHP, Anglo American, etc.) to offload their thermal coal assets to smaller miners.
Smaller miners have less access to capital for development and exploration, so we suspect that even with a big surge in demand for coal, there won't be an accompanying increase in supply.
That certainly is what the market looks like right now.
And with that the only thing that moves is price. And that means the existing companies will experience this awesomely wonderful thing called margin expansion. They print more money. Wonderful!
Cheers,
Chris MacIntosh
Capitalist Exploits/Glenorchy Capital Macro Fund Manager
P.S. - Let me send you a very valuable (also free) weekly email that the team and I call Our World This Week (OWTW).
I write a premium newsletter called Insider for our paying subscribers. We also publish a couple of premium articles (pulled from Insider) on Zerohedge, which you just read. You can cut to the chase and get good exposure to our ideas and strategies by signing up for to our freebie newsletter. It's a summary, and really saves time for you.

Just hop on over to this page and enter your email, then you'll be set.
Contributor posts published on Zero Hedge do not necessarily represent the views and opinions of Zero Hedge, and are not selected, edited or screened by Zero Hedge editors.
Loading...