---
Gold And Silver Are Disappearing From Vaults Worldwide
Submitted by QTR's Fringe Finance
While you weren't paying attention, inventories of silver at the vaults of the London Bullion Market Association (LBMA) have continued a historic plunge.
At the same time, China has been repatriating gold, which has also been "flying off the Comex" faster than it has in years. Things could be getting spicy for the metals market.
A little noticed blog post over at Bullionstar last month pointed out something peculiar: silver held in these vaults has been plunging for 7 months in a row. In the last 12 months, the vault's silver holdings have fallen 182.7 million ounces.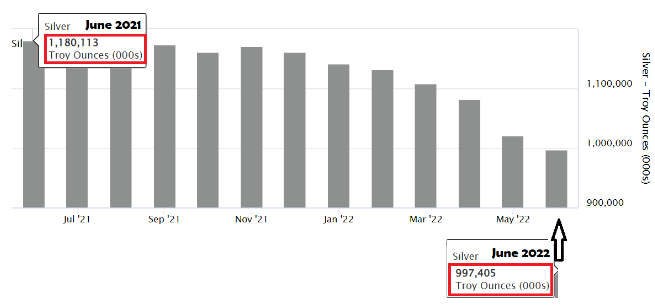 As the report notes, it marks the lowest LBMA silver inventories since December 2016. Bullionstar's blog is worth a read, as it points out just how thin that LBMA's silver held in reserve appears to be:
…of the 31,023 tonnes of silver that it claims was held in the LBMA London vault warehouses at the end of June 2022, a massive 19,422 tonnes, or 62.6% of this total, represented silver held in the LBMA London vaults that was owned by Exchange Traded Funds (ETFs) such as the iShares Silver Trust (SLV), the Wisdomtree Physical Silver ETC (PHAG), and the Aberdeen (abrdn) Physical Silver Shares ETF (SIVR).

Together [13 ETFs] currently hold 18,835 tonnes of silver in the LBMA London vaults. But there's more. Because as well as the ETFs listed above, additional silver which is part of the LBMA vault figures is held by clients of BullionVault and GoldMoney. BullionVault clients hold 491.2 tonnes of silver in the LBMA vaults in London, while GoldMoney clients hold 187.8 tonnes in the LBMA vaults.

Adding these two figures to the ETF total means that as of 26 July 2022, a massive 19,514 tonnes of silver claimed to be held in the LBMA London vaults is held by silver-backed ETFs and private client investors, and has nothing to do with "London's ability to underpin the physical OTC market".
The blog notes that the only comparison for such a plunge was back between April and August 2020, when LBMA silver and gold had to be moved to COMEX vaults in New York to meet delivery requirements. The current plunge in inventory, ongoing since June 2021, is approaching a figure that's twice as large as the 2020 outflows.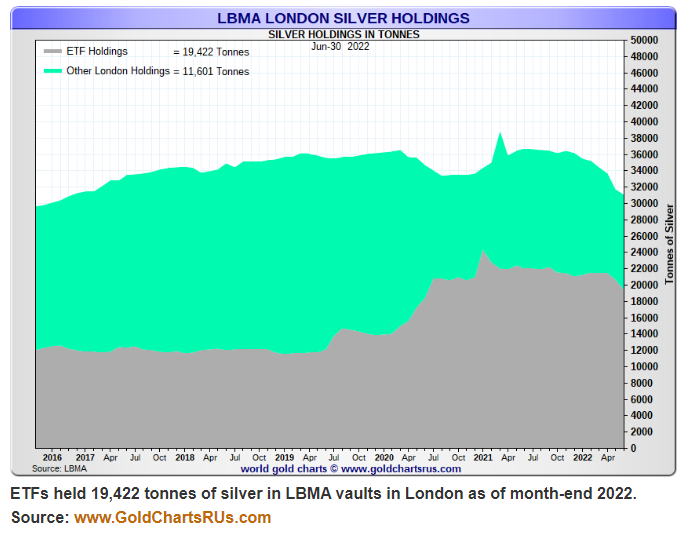 "Likewise, as witnessed in early 2021, the bullion banking cartel is terrified of the silver-backed ETFs gobbling up greater percentages of the London LBMA vault stocks," the article concluded.
---
All the while over the last 6 months, we have been having the discussion about whether or not Russia and China plan on challenging the U.S. dollar as global reserve currency - and, if so, what that means for precious metals. I have consistently not only pointed out Russia and China's efforts over the last decade to de-dollarize, but also their hoarding of gold at historically high rates. I've even asked (as have many other metals experts) whether China is holding more gold than they are officially disclosing.
In that vein, it is worth noting that China's imports for gold from Switzerland are starting to hit historic highs.
Reuters reported last week: "Swiss exports of gold to China in July rose to their highest since December 2016, Swiss customs data showed on Thursday, as demand in the world's largest bullion market improved. Switzerland shipped 80.1 tonnes of gold worth 4.4 billion Swiss francs ($4.6 billion) to mainland China, up from 32.5 tonnes in June and the second-highest monthly total...(READ THIS FULL REPORT HERE). 
Contributor posts published on Zero Hedge do not necessarily represent the views and opinions of Zero Hedge, and are not selected, edited or screened by Zero Hedge editors.