---
Meet Our Satanist Monkeypox Czar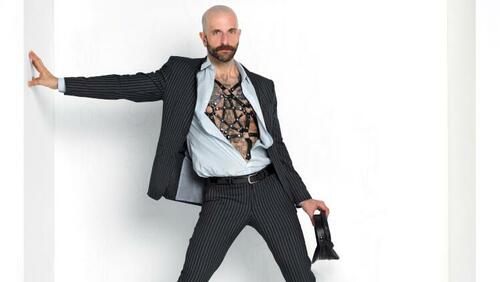 Submitted by Portfolio Armor:
Another Eclectic Hire
Readers may recall the rather non-traditional individual appointed by President Biden to handle America's nuclear waste, Deputy Assistant Secretary of Spent Fuel and Waste Disposition in the Energy Department's Office of Nuclear Energy, Sam Brinton.
Meet the non-binary drag queen who's now in charge of America's nuclear ☢️ waste.

Plus an update on our recent top names including $TSLA $NVDA $ITCI and $AR https://t.co/g09UQyirl2

— Portfolio Armor (@PortfolioArmor) February 10, 2022
Secretary Brinton now has a similarly eclectic colleague in the Administration, White House Monkeypox Coordinator Demetre Daskalakis.
He runs a satanist/BDSM yoga & spin studio with his partner who looks exactly like him & hey what do you know, they bonded over Pizza https://t.co/nvxJ8Fc6eK pic.twitter.com/3ms7ijWuR3

— Bennett's Phylactery (@extradeadjcb) September 8, 2022
Gay group narcissism requires that gays simultaneously be the ultra-artistic transgressive libertine community, and the diligent public health vanguard. https://t.co/0B5E40l3pp

— Second City Bureaucrat (@CityBureaucrat) September 9, 2022
Daskalakis Gets An Interesting Defender
One pundit who stepped in to defend the Daskalakis hire was Andrew Sullivan.
This man's private life has no bearing on his capacity to do his job. And he looks great. What's your point? https://t.co/Wbwzb3CFpI

— Andrew Sullivan (@sullydish) September 8, 2022
What makes Andrew Sullivan an interesting defender of our Monkeypox coordinator is that he was an early and effective advocate for legalizing gay marriage, and one of his arguments for doing so was that it would have a public health benefit, in reducing an epidemic. He seemed to have forgotten that argument earlier this week, but was reminded of it on Twitter.
I'd love you to prove this by citing something I actually wrote or said. It's a weird distortion of my original argument favored by the woke left and the religious right.

— Andrew Sullivan (@sullydish) September 6, 2022
September 7, 2022
"It would also, in the wake of AIDS, qualify as a genuine public health measure. Those conservatives who deplore promiscuity among some homosexuals should be among the first to support it."

— Humpy Appleby (@HumpyAppleby) September 7, 2022
"And that discrimination and stigmatization made things worse."

Contemporary society's stigma on stigmatization of any gay behavior definitely made 2022's monkeypox epidemic worse. A sane society would have called off June's Pride Month, with its traditional orgies.

— Steve Sailer (@Steve_Sailer) September 7, 2022
As Steve Sailer and others have pointed out, it wasn't so much gay marriage but the fear of AIDS that tempered gay promiscuity, and that fear was lessened with government funding of PrEP (Pre-Exposure Prophylaxis).
Better Living Through Chemistry
Since our leaders are repeating their AIDS tack of not trying to rein in the irresponsible individuals spreading this disease, we're left with America's preferred response: pharmaceuticals. On that score, I shared a Monkeypox play with you in a post a couple of months ago.
That play was SIGA Technologies, Inc. (SIGA):
Screen capture via Portfolio Armor on 7/12/2022.
SIGA appeared in our top ten again on Wednesday, but didn't pass our options sentiment screens on Thursday. It might be worth keeping an eye on our top names to see if it appears there again soon with more staying power.
If You Want To Stay In Touch
You can follow Portfolio Armor on Twitter here, subscribe to our occasional email list here, download our hedging app here, or visit our website by clicking the image below.

Contributor posts published on Zero Hedge do not necessarily represent the views and opinions of Zero Hedge, and are not selected, edited or screened by Zero Hedge editors.