---
Submitted by QTR's Fringe Finance
Hold on tight. This weekend there's already been talks of an emergency Fed meeting on Monday and questions about Credit Suisse's liquidity making their way around social media.
What a week last week was: the Bank of England capitulates and heads back to quantitative easing on Wednesday, then Putin comes out Friday to let us know that he's "ready for talks", but also that the West is being led by "satanism" and that now seems like a great time to remind the world that the U.S. was the first country to ever use nuclear weapons.
How the hell are you even supposed to digest what this means for markets?
Well, if you're me, you sit down an chug a couple Pabst Blue Ribbons and type out your thoughts on the market, as indiscernible and inane as they may be. And that's exactly what I did this week.
On Thursday, I released an article detailing what asset classes I thought were appealing given the latest news. You can read that article here.
---
🔥 Get 70% off for life: use the link to get 70% off an annual subscription for as long as you wish to remain a subscriber: Get 70% off forever
---
In the article I explored not only what assets I like, but what the Bank of England news means for the Fed here in the U.S. and how markets may react going forward.
Did The Global Pivot Back To QE Just Begin?
Also this week, I published thoughts from shipping analyst J Mintzmyer, who shared why he thinks now is an "excellent time" to get overweight on shipping stocks.
It's An "Excellent Time To Overweight Shipping Positions": J Mintzmyer
This week I also shared two interviews.
The first was with George Gammon, who I interviewed last weekend. We discussed:
What inflation numbers will look like at the end of the year, and why George thinks CPI numbers will hit a lull

George's favorite indicator for measuring whether we're in a recession and whether or not the Fed is going to reverse course "within weeks"

Black swan events George is watching that could hurt the markets, other than rising rates

China's Covid policy and what alternate reasoning there may be for it, other than Covid

China and Russia posturing up together

Energy shortages and food shortages

Whether we are truly on the fringe of a massive earthquake geopolitically and economically

The dollar going up and what it means

Covid policy in the U.S. and getting ahead of the "narrative" when new uncomfortable situations take hold domestically
The second interview was one where I was interviewed by Jason Burack of Wall St. For Main St. Among other things, in that interview, I shared why I thought pension funds in the U.S. could be on the verge of blowing up.
U.S. Pension Funds Could Be About To Implode
As I noted last week, gold and silver continue to sell off with risk assets. Last week I wrote about how I am trying to time a bottom in the precious metals - the signs I would be looking for to potentially amp up my purchases in miners. Gold and silver are so unloved at the current moment, they're reminding me of oil back in April 2020. But, when it comes to timing, there's a twist.
How I'm Going To Try And Time The Bottom In Gold & Silver
Also last week, I wrote about how CNN imploded after running into the brick wall known as Joe Rogan. The network has been in disarray since it waged war on the popular podcaster. In my opinion, the hit job on Rogan's use of ivermectin to treat his Covid diagnosis marked the last straw for CNN.
CNN Slammed Into A Brick Wall Named Joe Rogan And Promptly Imploded
"How much worse can it get," many of you are likely asking after Friday's close. After all, the market is down 8% this month alone and and the NASDAQ, S&P and Dow are down -32%, -24% and -20% year-to-date, respectively.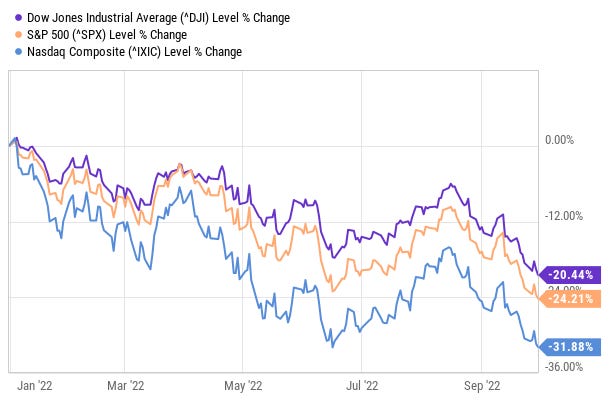 The answer to the completely made up question I imagined you asking to yourself moments ago is this: If the Fed continues to hold course and posture the way it has, it can get much, much worse.
Putting aside the obvious - that there are record debt levels outstanding with the quickest pace of rate hikes we have seen in forever - let's just calibrate our senses here for a moment.
As I mentioned during an hour-long interview I did yesterday, we are still not even lower than the pre-Covid highs the market had put in. Here's the NASDAQ, for example:

And if you recall correctly, going into Covid the attitude was that we were at nosebleed valuations. In other words, no one would have been surprised if we had corrected 30% or more from there just on valuations without a catalyst...
---
🔥 Get 70% off for life: If you are not yet a subscriber, you can use the link below to get 70% off an annual subscription (works out to $3.50/month for the year) for as long as you wish to remain a subscriber: Get 70% off forever
Contributor posts published on Zero Hedge do not necessarily represent the views and opinions of Zero Hedge, and are not selected, edited or screened by Zero Hedge editors.
Loading...