---
Kirch Strait Bridge Attacked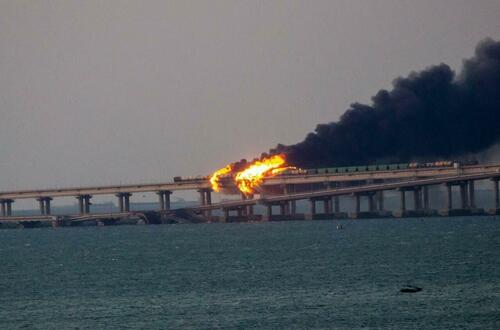 Submitted by Portfolio Armor:
A Major Escalation In The Ukraine War
The Kerch Strait bridge was the only bridge connecting the Crimea peninsula to mainland Russia.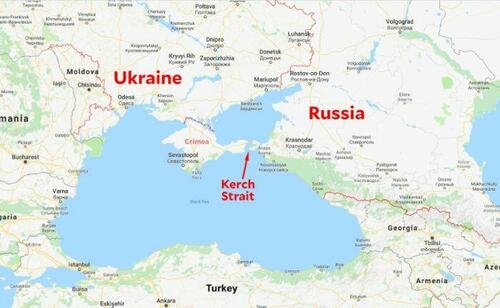 Early on Saturday, the bridge was attacked, by what appears to have been a suicide truck bomb.
CCTV footage of the moment the truck exploded, bringing down a section of the bridge and igniting the fire on tank cars passing by (Kerch, Russia): pic.twitter.com/9v2EbZcRZj

— Bashkarma (@Karmabash) October 8, 2022
According to early photos, the damaged appeared to be extensive, with an automobile span broken and sunk into the water, and the rail span above in flames.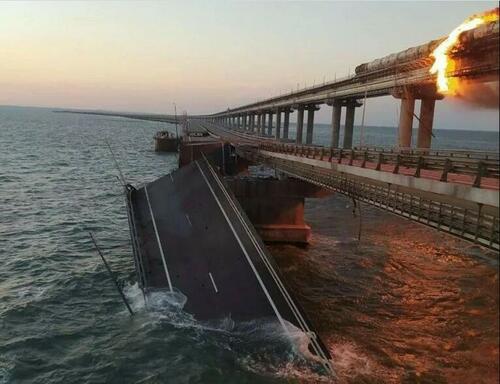 As Elon Musk noted in his proposal to end the Ukraine War (and possibly prevent a nuclear war), Crimea had been part of Russia since 1783, until Soviet Premier Nikita Khrushchev transferred it to the Ukrainian Soviet Republic from the Russian Soviet Republic. Crimea's port city of Sebastopol has also historically been the home port of Russia's Black Sea Fleet, and is populated by primarily by ethnic Russians. It was re-annexed by Russia in 2014, after a U.S.-supported color revolution deposed Ukrainian President Viktor Yanukovych, who had agreed to extend Russia's lease on the naval base at Sebastopol.
If, as seems likely, this was a Ukrainian attack (In August, one of President Zelensky's advisors vowed that they would attack the bridge), it represents a major escalation in the war, and comes on the heels of the U.S. Government acknowledging that the Ukrainian government was behind the assassination of Daria Dugina in Russia.
🚨 America just admitted that our allies in Ukraine carried out the terrorist car bombing that killed Daria Dugina.

Pro-Ukraine accounts insisted this was a Russian false-flag bombing inside Moscow.

But now even the CIA admits the truth.🚨 pic.twitter.com/JL2dr9nhRw

— Clint Ehrlich (@ClintEhrlich) October 5, 2022
Oleg Morozov, deputy of the State Duma from ruling United Russia party, told RIA Novosty that the attack on the bridge was an act of "terrorist war":
An undisguised terrorist war is being waged against us. Moreover, the long-announced terrorist attack on the Crimean bridge is no longer just a challenge, it is a declaration of war without rules

Google translation via RIA Novosty
Russian President Vladimir Putin ordered an investigation, but hasn't commented publicly as of this writing.
This would be good time for the Biden Administration to think about reining in the Ukrainians, in order to avoid nuclear Armageddon, but there's been no indication of that yet, unfortunately.
Update:
Car traffic has resumed on an undamaged section of the bridge now, though it is still closed to truck traffic. Trucks are being directed to ferries. Rail traffic is scheduled to resume this weekend.
October 8, 2022
Second Update: 
Looks like some rail traffic has been restored as well now:
🚨 Breaking:

Russian media report : Latest visual from the #Crimeanbridge 👀

Apparently, one vehicle track and one railway track have been opened on the Crimean bridge, and work is currently in progress to repair the third track that has been damaged. pic.twitter.com/XlXXSgrmVQ

— OsintTv📺 (@OsintTv) October 8, 2022
Third Update:
I missed this at the time. Quite a coincidence. 
Ukraine unveils stamps celebrating Kerch bridge explosion - hours after the attack

Timing of the Post Office announcement, just hours after the Crimea bridge was destroyed, raises questions about the nature of the explosion

Thread 🧵⬇️https://t.co/Gcfob4zriM

— The Telegraph (@Telegraph) October 8, 2022
Serge Witte notes a parallel between this attack and the Dugina assassination:
The Kerch Bridge attack is already following the same cycle we saw with the murder of Darya Dugina - Ukrainians celebrate raucously at the onset and then quickly try to pivot to denying responsibility and suggesting it was a Russian false flag.

— Big Serge ☦️🇺🇸🇷🇺 (@witte_sergei) October 8, 2022
Update On Betting Against Gold Miners
Taking Art Cashin's advice from his Cuban Missile Crisis experience, as long as the nuclear warheads aren't flying yet, we'll continue to keep our eye on the investing ball. In a post published on Thursday ("Betting Against Gold Miners"), we mentioned that one of our system's top names was the Direxion Daily Gold Miners Index Bear 2X Shares (DUST), a leveraged bet against gold miners. On Friday after the Jobs Report surprise, DUST was up 9.31%, plus a bit more after hours.
Nice day for $DUST today. pic.twitter.com/Mmxq7lu2qD

— Portfolio Armor (@PortfolioArmor) October 8, 2022
If you want to stay in touch
You can follow Portfolio Armor on Twitter here, subscribe to our occasional email list here, download our hedging app here, or visit our website by clicking the image below.

Contributor posts published on Zero Hedge do not necessarily represent the views and opinions of Zero Hedge, and are not selected, edited or screened by Zero Hedge editors.
Loading...