---
Real Estate Agents Are Feeling The Burn
Submitted by QTR's Fringe Finance
Since Fringe Finance has started, I've scoured the Earth far and wide to try and bring a perspective on real estate to the blog that is going to be both no bullshit and an unfiltered on-the-ground opinion that I know and trust (and could add value to my readers). After all, it's an asset class that I am not nearly as in-tune with as I am with equities and, well…beer.
And to be honest, I didn't have to scour much, as a good friend of mine is a brilliant up and comer in the world of real estate in Philadelphia. I've worked with her several times and have known her for years - she's insightful, pragmatic, conscientious and has a serious pulse on the industry. I know for a fact that she works her ass off, eating, sleeping and breathing real estate on the daily.
As such, my kind friend, award-winning realtor Kira Mason, has agreed to drop in once in a while to offer up her take on the pulse of the industry for benefit of my readers. Kira runs the Substack Gritty City Real Estate, which you can read & follow free here and she is @kmasonrealtor on Twitter.
Today's post - free to read - is being syndicated with Kira's permission. She will continue to contribute exclusive content for Fringe Finance readers as well.
---
Real Estate Agents Are Feeling The Burn
In the economic maelstrom within which we find ourselves thrashing around this fall, there's been plenty of talk about the potential housing crash ahead and the future layoffs that could fuel it, but I've seen only a few passing comments on the job losses and pay cuts we're almost certain to sustain within the real estate industry itself.
There are more than 3 million people holding active real estate licenses in the United States, according to the Association of Real Estate License Law Officials (ARELLO). The vast majority of these are unsalaried, receive no benefits, and earn a 100% commission-based income. Due to the extreme and immediate sensitivity of agent and broker earnings to market conditions, they might be among the first to have their wages severely impacted by the recession.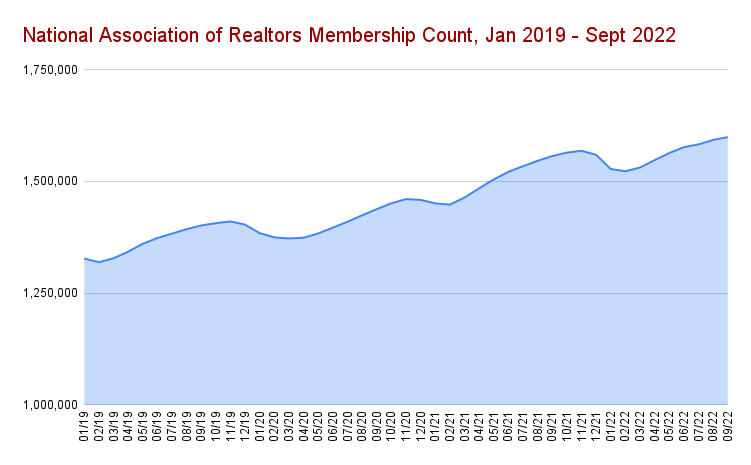 Even if home prices stay relatively stable in 2023 (a big if), depressed sales activity is likely to gouge away a sizable percentage of the earnings of those 3 million agents. Existing home sales in September were down 23.8% YoY, according to the National Association of Realtors. At this rate, an agent who makes $100k/year would see their annual income drop to something in the family of $76,000 if sales don't go down any further and prices stay the same. With ample reason to believe that both of these metrics will decline in 2023, let's just say the forecast is pretty grim.
I'm going to share my story at the risk of revealing the wet spots behind my ears, because I think it's an illustrative one. In the summer of 2019, I got my real estate license and sold a few homes part time. I left my job when COVID hit and subsequently dove into real estate full time (and then some). Although I already had my license, I was effectively part of that record-breaking wave of agents who entered the industry in 2020 and 2021. In those two years put together, more than 156k new agents began their careers; that's 60% more than in the two years prior.
---
Get 50% off: If you enjoy this article, would like to support my work and have the means, I would love to have you as a subscriber and can offer you 50% off: Get 50% off forever
---
While the real estate licensure exam is no joke, getting started as an agent is almost embarrassingly easy relative to other careers with a similar earnings potential. The mandatory pre-licensing course can be completed in 3 months for about $400 (less with a Groupon; I'm not kidding). There are longer, more rigorous, and more expensive routes to the same destination, but as every agent will tell you, 95% of what must be memorized in order to pass the test is useless once you begin your career. Real estate is truly an apprenticeship profession. For this reason, many agents-in-training opt for the quick n' dirty path to licensure.
At least 20% of US workers decided to change careers during the pandemic. Real estate's low barrier to entry, high earnings potential, and a record-busting housing boom were all potent motivators. According to Google Search Trends, the top job-related search in 2021 was "how to become a real estate agent". That year, we all repeatedly heard the media quip about there being more agents in the USA than there were homes for sale. And while low inventory did mean that one's work with a buyer was likely to be prolonged and arduous, for those who were willing to put in the hours, making money in real estate was like shooting fish in a barrel. Everyone and their brother was buying, and at least in my area, most serious shoppers were eventually ending up in new homes.
As a newly full time agent in spring of 2020, the fire under my ass was a profession to which I was not eager to return. I worked about 70 hours a week almost every week for two years. Hard work paired with a booming market allowed me...(READ THIS FULL POST, FREE, HERE). 
Contributor posts published on Zero Hedge do not necessarily represent the views and opinions of Zero Hedge, and are not selected, edited or screened by Zero Hedge editors.
Loading...