---
Submitted by QTR's Fringe Finance
It's hard to say that the market did anything but rejoice on Thursday after a lower than expected CPI number was reported. Major indices screamed higher on the assumption that a cooling inflation number (still 7.7%, I'll pause for laughter) would prompt easing from the Federal Reserve and more of a risk appetite from investors. The market was/is hell-bent on rallying on this news, but is it really time for another stock market bliss trip?
The long and short of it is that I still believe we are in a bear market and are going to be for some time. As I have written several times now, even if the Fed were to cut 150 basis points today, it wouldn't stop the impending market crunch that I believe has already been set in motion over the last nine months as a result of aggressive, accelerated rate hikes.
Don't think there's a lag in eventual financial blowups?
Take what Reuters revealed yesterday about Sam Bankman-Fried's Alameda Research, which eventually catalyzed FTX's downfall over the last 48 hours. The chain reaction started about 6 months ago:
This May and June, Bankman-Fried's trading firm, Alameda Research, suffered a series of losses from deals, according to three people familiar with its operations.

These included a $500-million loan agreement with failed crypto lender Voyager Digital, two of the people said. Voyager filed for bankruptcy protection the following month, with FTX's U.S. arm paying $1.4 billion for its assets in a September auction. A Voyager spokesman said the company only used $75 million of Alameda's credit line.
In other words, it took time - several quarters - for problems underneath the surface to manifest. This is something I had predicted would be the case in the world of crypto this summer – and it's also what I am predicting will be the case when it comes to interest rate hikes and credit/equity markets.
Those that have been reading Fringe Finance regularly know that the market still remains aggressively overvalued based on a market cap/GDP, Shiller P/E, and historical bear market median S&P P/E by about 30% to 50%, depending on which metric you choose.
With inflation "cooling", I'm not certain we'll plumb the depths of a 50% drop from here, but I do still think that it's possible and can't be written off. I also believe that now is not the time to throw caution to the wind and adapt a stance of full on euphoria again. In other words, I'm focused on keeping my nerve.
Let's put Thursday in perspective: CPI is still at 7.7%, which is extraordinary.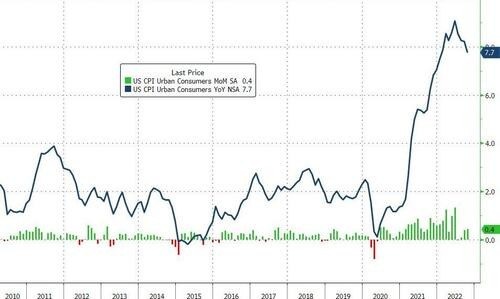 Source: Bloomberg/Zero Hedge
We still are going to have to deal with the consequences of 400 basis points of rate hikes in nine months, which is extraordinary.
We are watching the largest crypto blowup in the history of the asset class, which will create aftershocks in a bunch of different places, which is extraordinary.
We remain on an unprecedented path with both monetary policy and how aggressively valued our stock market is, which is extraordinary.
Here's what is important to remember though: These realities can be easily lost on a day like yesterday where the market rages higher, sending...(READ THIS FULL ARTICLE HERE). 
Contributor posts published on Zero Hedge do not necessarily represent the views and opinions of Zero Hedge, and are not selected, edited or screened by Zero Hedge editors.
Loading...