---
Twitter Finally Cracks Down On Child Porn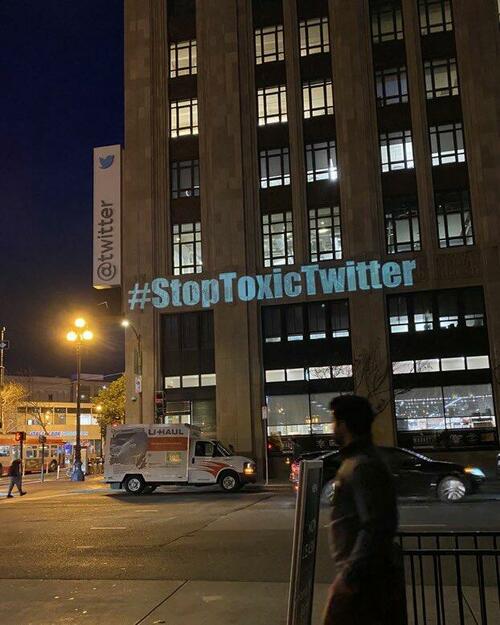 Submitted by Portfolio Armor:
Twitter Projection
Recently, a soi-disant "resistance artist" who goes by "Æ Marling" has been apparently projecting hashtags on Twitter's San Francisco headquarters building, including the one pictured above, #StopToxicTwitter. This appears to be a projection in the Freudian sense as well.
Elon Musk Cracks Down On Child Porn
Twitter's former head of "Trust and Safety", Yoel Roth, who wrote his PhD dissertation on the gay sex app Grindr, Inc. (GRND),  in which he downplayed safety concerns about minors being exposed to sexual content online,
And part of his dissertation (called "Gay Data"). pic.twitter.com/cpr34EqIhO

— faayete (@faayete) November 20, 2022
recently tweeted a link to his New York Times op/ed about what he predicts will happen next for Twitter. In reply, Twitter user @QuasLacrimas asked a rather pointed question.
Why was child pornography permitted on Twitter for years under your watch, but stamped out within 48 hrs after you left?

— tantum (@QuasLacrimas) November 20, 2022
The stamping out @QuasLacrimas mentions there was explained in the thread below by anti-human trafficking advocate Eliza Bleu.
I'm not going to post the hashtag for obvious reasons but if any organization, law enforcement or journalist wants me to send them the hashtag information I will. It's public information but I don't want to broadcast it because there are still 3 old tweets available.

— Eliza (@elizableu) November 20, 2022
To those who aren't aware yet, last week Twitter did add a direct reporting option for child sexual exploitation. (ONLY on tweets with content images/videos) this was not previously available and was a separate form that wasn't easy to find.

I'm grateful to see these changes. pic.twitter.com/AI88XdX9HW

— Eliza (@elizableu) November 20, 2022
Here is a video that explains the hashtag system used on Twitter to share and sell child exploitation content on a massive scale.

The video was put out by the legal team representing the two minor survivors currently suing Twitter. https://t.co/MmtdERaJ8u

— Eliza (@elizableu) November 20, 2022
Bleu later shared a link to this article a journalist wrote based on her information: "Under Elon Musk Twitter is 'taking child exploitation seriously'".
What Was Twitter's Staff Doing Before?
That Twitter has reportedly been able to crack down on child porn with its current skeleton staff (following Elon Musk's layoffs and the subsequent resignations) raises the question of what Twitter's thousands of employees , including its "Trust & Safety" department, were doing before. They might say they protected the world from Donald Trump using Twitter to incite violence. Except now that Elon Musk has reinstated Trump's account, everyone can see that Trump had used the platform to call for peace on January 6th, 2021.
I am asking for everyone at the U.S. Capitol to remain peaceful. No violence! Remember, WE are the Party of Law & Order – respect the Law and our great men and women in Blue. Thank you!

— Donald J. Trump (@realDonaldTrump) January 6, 2021
It appears that, when they weren't deplatforming political opponents, most of Twitter's former employees weren't doing much productive at all. A few weeks ago, the once-deplatformed account @LibsofTiktok shared a TikTok video by a Twitter employee sharing her "day in the life" at Twitter's headquarters in San Francisco. It started with her drinking an iced matcha tea on the house, and ended with her drinking free wine on the roof.
This is "a day in the life of a Twitter employee." No wonder @elonmusk is firing 75% of them pic.twitter.com/cAHOuni765

— Libs of TikTok (@libsoftiktok) October 26, 2022
If You Want To Stay In Touch
You can follow Portfolio Armor on Twitter here, subscribe to our email list here (to be alerted when we launch our trading blog), download our hedging app here, or visit our website by clicking the image below.

Contributor posts published on Zero Hedge do not necessarily represent the views and opinions of Zero Hedge, and are not selected, edited or screened by Zero Hedge editors.
Loading...