---
Zelensky's Long History of Crushing Dissent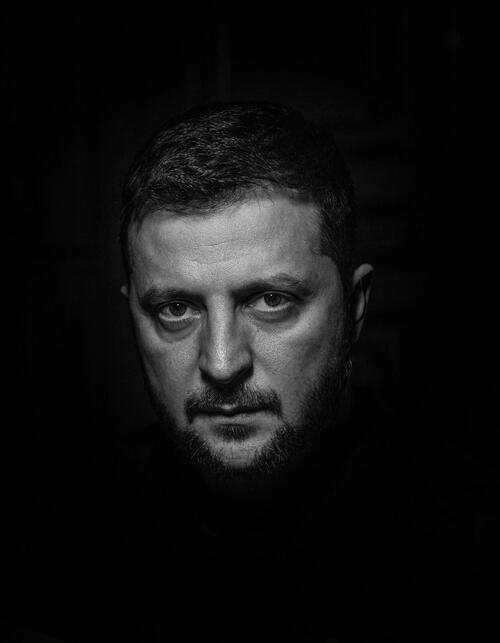 Authored by The Space Worm Substack
Volodymyr Zelensky has become something of a western folk hero in these last 8 months. Lionized by both the neoconservative right and much of the left, an eclectic chorus of western voices have heaped praise on the Ukrainian President:
"Zelensky defines courage in our time" - Karl Rove in The Wall Street Journal. 
"Volodymyr Zelenskyy embodies resilience" - Marguerite Ward in Business Insider. 
"The Ukrainian leader's refusal to back down is as inspiring as it is illuminating" - Tom McTague in The Atlantic.
It is easy to cheer on the "good guys" during a war and difficult to pierce the populist fervor with reasoned criticisms. Immoral behavior is only lightly scrutinized, if at all, as the urgency of "winning" takes precedence. 
While it is not unreasonable to dismiss martial law and the disintegration of rival political parties as wartime necessities, wielding state power to squelch dissent is nothing new to the Zelensky regime.
Long before Russia's invasion, many international human rights groups flagged abuses on the freedoms of speech, press, and association in Ukraine that were often pursued principally by President Zelensky. 
As we continue to fund, arm, and cheer for this modern-day Churchill and bear the associated risks, it is important to understand who we are fighting for. 
Zelensky's Campaign Promise
In April of 2019, former comedian Volodymyr Zelensky defeated incumbent Petro Poroshenko after running on a platform which, according to BBC, "made bringing peace to eastern Ukraine his number one election promise." Reaping a death toll of 13,000 under Poroshenko's watch, the eastern conflicts were a primary campaign issue for both candidates.
Voters made it clear they were sick of war. 
By campaigning on a promise to host peaceful referendums in the East, Zelenksy won handedly, earning as much as 89% and 87% of the votes in Luhansk and Donetsk, which together form the disputed Donbas region.
A peaceful resolution to the Donbas conflict may have averted the atrocities Ukrainians have suffered this year and the existential nuclear threat we all face today. Sadly, peace-in-the-East went the way of most campaign promises.
Two years into the Zelensky presidency, no referendums took place and both sides accused the other of ceasefire violations in the Donbas, ultimately culminating in a "sharp increase" in shelling by the Ukrainian military in the weeks leading up to Russia's invasion, according to Reuters.
In Crimea, Zelensky strayed even further from his campaign image when, in March of 2021, he officially declared his plan to "de-occupy" Russia-controlled Crimea, leaving "military" measures on the table. 
Maria Zakharova, spokeswoman for the Russian Foreign Ministry, called these moves by Zelesnky a "threat of aggression."
The escalation of the conflict in the Donbas and the prospect of military action in Crimea reneged on the most important issue of the 2019 election, finding a non-violent resolution to Russia-Ukraine tensions. These hostile moves garnered the President considerable scorn and criticism in the local press.
"They [Zelensky Administration] believe that it is possible to return Donetsk and Luhansk to Ukraine by force," read a headline from Ukrainian news outlet Newsone in December of 2021. "Only a suicide and a narrow-minded person [could believe that]."
Tolerance for dissent turned out not to be Zelesnky's strong suit.
Censorship Under Zelensky
On February 3, 2021, President Zelensky circumvented parliament to enact sanctions on three television stations believed to be affiliated with Viktor Medvedchuk, a leader of the Opposition Bloc party and duly elected member of parliament. 
The channels were immediately taken off air, including Newsone quoted above. 
Going further, Zelensky sanctioned the air travel company used by Medvedchuk and pressured American social media companies like YouTube and Facebook to deactivate the accounts of Medvedchuk-affiliated companies, which they ultimately did.
While partially justified by Medvedchuk's ties to Putin, these actions were nonetheless widely condemned by international, European, and Ukrainian human rights NGOs.
Free press advocates like the International and European Federations of Journalists (IFJ and EFJ), who collectively represent hundreds of thousands of journalists across 140 countries, jointly denounced the decree, calling it "an extra-judicial and politically motivated ban and a blatant attack on press freedom that must be urgently reversed."
The United Nations' Human Rights Monitoring Mission in Ukraine said the decision was not taken by an impartial authority and lacked proper justification and proportion.
The National Union of Journalists of Ukraine (NUJU), a group that has repeatedly condemned Russia over today's invasion, openly criticized the 2021 sanctions, "Depriving Ukrainian citizens of access to media without a prior trial and banning hundreds of journalists and media outlets of their right to work is an attack on freedom of speech." 
Medvedchuk, still a sitting member of parliament, assisted in the creation of a new media organization called First Independent. Zelensky dissolved the outlet a few months later in what the Ukrainian outlet Kyiv Post called "Media Whack-a-Mole."
Gross negligence on the part of Ukrainian law enforcement also became a central issue internationally, even discussed by US intelligence agencies. 
A 2021 US State Department report on human rights abuses in Ukraine notes "Human rights groups and journalists blamed what they saw as government inaction in solving crimes for the emergence of a culture of impunity." 
"Government authorities sometimes participated in and condoned attacks on journalists," the report went on, citing credible allegations that "the government prosecuted journalists in retaliation for their work."
Doubling Down on Censorship
Ignoring international backlash, on August 20, 2021, Zelenksy passed broad sanctions against various digital media publishers, once again without the involvement of parliament. 
Strana, one of Ukraine's largest outlets at the time with 24 million visits per month, was a primary target of the sanctions. After its primary url (strana.ua) was cut off, the outlet was forced onto another domain (strana.news), which is still forbidden in Ukraine.
Strana's viewership dropped by more than 94%. 
Human rights organizations once again found the justification of "Pro-Russian" ties uncompelling. The previously mentioned journalistic cohorts, IFJ, EFJ, and NUJU, issued a shared statement calling the decree an "extrajudicial action" and lambasting it as a "threat to press freedom and media pluralism in the country." 
"Strana.ua is one of the few remaining opposition media in Ukraine," further specified the EFJ.  "In a democratic country, media-related concerns must be addressed in a legal way that also ensures media pluralism. We call on the Ukrainian authorities to find better, judicial solutions to alleged national security threats," added EFJ General Secretary Ricardo Gutierrez.
Freedom House, an American pro-democracy organization once chaired by Eleanor Roosevelt, urged President Biden to take a stronger stance against Zelensky's actions. "President Zelenskyy continues to use executive power, without judicial review, to sanction media outlets, tech platforms, journalists, and websites under the pretext of fighting disinformation," the group said in an open letter to the US President.
Perhaps the most interesting target of the August 2021 sanctions is Anatoly Sharij, a Kyiv-born journalist and blogger with a devoted Ukrainian fanbase that founded a political party in his name in 2019. 
The "Party of Sharij" received nearly 10% of the vote in some localities during Ukraine's 2020 elections with several candidates attaining office at the city and regional levels.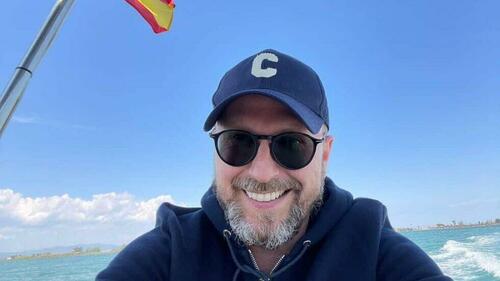 Sharij was forced to flee persecution from the Putin-aligned Yanukovych government.
Far from exhibiting "Pro-Russian" sentiment, Sharij strongly condemned Putin's invasion back in May, stating in an interview with Spanish publisher El Independiente, "The war is an aggression and invasion by Russia against the Ukrainian people." 
The UN-affiliated organization CAP Liberté de Conscience investigated Sharij's sanctions in March and concluded that "Sharij is misportrayed by the authorities as a journalist being pro-Kremlin, pro-Putin, pro-Russian Federation."
Last year at a press conference in Brussels, Sharij shared that "as a Ukrainian citizen my position is that Crimea is part of Ukraine," adding that he feels similarly about the Donbas region but disagrees with Zelesnky's approach to the conflict.
In response to being painted as a Russian sympathizer, Sharij said, "The Ukrainian government comfortably uses such labels against anyone who expresses any criticism… I have the right to criticize the corruption of the president and the government."
The Party of Sharij was among several political parties disbanded by presidential decree at the start of Russia's war, a decision upheld by Ukraine's Supreme Court without opportunity for further appeal.
In December of 2021, the United Nations Human Rights Council strongly condemned Zelensky's track record on "fundamental freedoms".
"Fundamental freedoms in Ukraine have been squeezed," read the article by the UN, adding that the council "had documented 29 incidents targeting journalists, media professionals, bloggers and individuals who had been critical of the Government 'or mainstream narratives', between November 2019 and October 2021."
The Zelensky Presidency In the Words of Ukrainians
A local perspective on Zelensky's press relations is provided by a Ukrainian outlet now familiar to many westerners, The Kyiv Independent, whose Twitter following rocketed from just 11,400 followers a few weeks before the invasion to more than 2.2 million as it provided English-speakers around the world with live war updates.
Having been celebrated in Forbes earlier this year for their reports on Russian war crimes and op-eds calling for western sanctions against Russia, it's difficult to portray the outlet as pro-Putin. 
Before the invasion, in January 2022, The Independent published a piece titled "How Zelensky's administration moves to dismantle press freedom in Ukraine," which documents case-by-case more than 10 recent infringements on media independence.
"The past four months have seen a surge of attempts to control the media," The Independent reported, highlighting the government's pattern of behavior characterized by "threats of criminal prosecution against media outlets and journalists."
Encapsulating the Zelensky presidency in a single sentence, the author wrote, "Instead of improving its dialogue with the press, Zelensky's government decided to take a more direct route: amplify supporters and pressure critics into silence."
US officials and voters should consider the sharp contrast between the Zelensky portrayed in western media and Zelensky as seen by his own citizens when assessing whether backing his claim to Crimea and the Donbas is worth a potential nuclear confrontation with Russia.
If you enjoyed, please subscribe to my Substack and Twitter.
Contributor posts published on Zero Hedge do not necessarily represent the views and opinions of Zero Hedge, and are not selected, edited or screened by Zero Hedge editors.
Loading...