---
New Record: 41% Can't Pay November Rent (Up 4%)
Alignable's November Rent Report is out today and rent delinquency rates have escalated for the second month in a row in the U.S., breaking a new 2022 record: 41% of small business owners could not pay their November rent in full and on time.
Reasons cited include the cumulative effects of inflation, rent hikes, higher interest rates, the high cost of labor, and reduced consumer spending among others.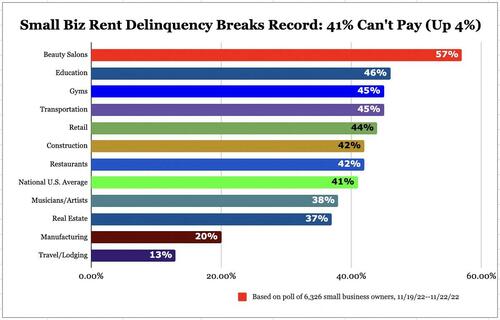 This report is based on an Alignable pulse poll from 11/19/22 to 11/22/22 of 6,326 randomly selected small business owners, as well as historical data from another 100,000 respondents over the past year.

Rise In Rent Delinquency Rates
While Q4 is usually a time when small businesses bring in more revenue and rent delinquency rates drop, unfortunately, the opposite has occurred so far for many industries. November's rate is four percentage points higher than last month's was at 37%. And it's 11 percentage points higher than September's rate of just 30%.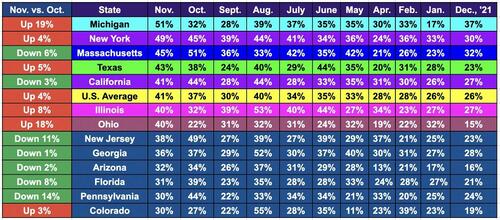 Here are a few more highlights:
52% say their rent is higher than it was six months ago (up 1% from Oct.)
73% say consumer spending is down this month compared to Oct., a jump of 14% from 59% last month.
44% of small retailers couldn't pay their full rent (up 1%).
52% of small retailers expect they'll earn less this quarter than they did in Q4 2021, with 1% saying they've already shut down, & 10% predicting they could close soon if their financial situation doesn't improve. Only 8% say Q4's been great.
57% of beauty salons couldn't cover rent in Nov., a jump of 18% over Oct.
42% of independent restaurateurs couldn't pay Nov. rent, which is still a high rate, but marks an improvement over 49% in Oct.
The best news in this report comes from the travel/lodging sector, which is experiencing a major rebound: only 13% of SMBs in this category couldn't pay Nov. rent, down from 34% in Oct.
The top states for SMB rent delinquency in Nov. include MI (51%, up 19%), NY (49%, up 4%), MA (45%, down 6%), TX (43%, up 5%), CA (41%, down 3%), IL (40%, up 8%), OH (40%, up 18%), and NJ (38%, down 11%).
In Canada, 45% of small business owners couldn't pay their Nov. rent in full, up from 42% in Oct., and 41% in Sept. ON-based businesses are struggling the most with a rent delinquency rate of 45%, up 5% from Oct. BC & AB rent delinquency rates decreased a bit.
Contributor posts published on Zero Hedge do not necessarily represent the views and opinions of Zero Hedge, and are not selected, edited or screened by Zero Hedge editors.
Loading...