---
Elon Musk's Twitter Is A Monster Of The Left's Own Making
Submitted by QTR's Fringe Finance
It's funny to watch the left go up in arms about how Twitter has been "unleashed" by Elon Musk.
Putting aside your thoughts about Musk, of which I have many, it has been amusing to watch a triggered left attempt to cancel and boycott Twitter - from hearing how the platform was going to shut down once layoffs were made, to advertisers dropping off the platform, to "activists" using the platform to freak out about it every day, other "activists" leaving the platform, to companies like CBS stating their intentions to leave the platform, only to come back to it just hours later.
The main gripe? That Elon Musk allowing more people back on the platform, while moderating less speech, is harming free speech. The Guardian called free speech a "dangerous fantasy", for example.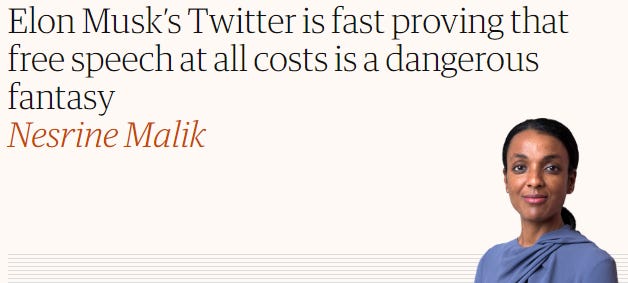 I'm sure that most of my readers are enjoying the chaos, too. The experiment of Musk taking over the platform, no matter what type of entropic ending it eventually leads to, has been a fascinating experiment in human psychology to watch. And, to be frank, it's been downright hilarious at times. For example, CNN "fact checked" an obviously fake meme that Musk himself posted just yesterday.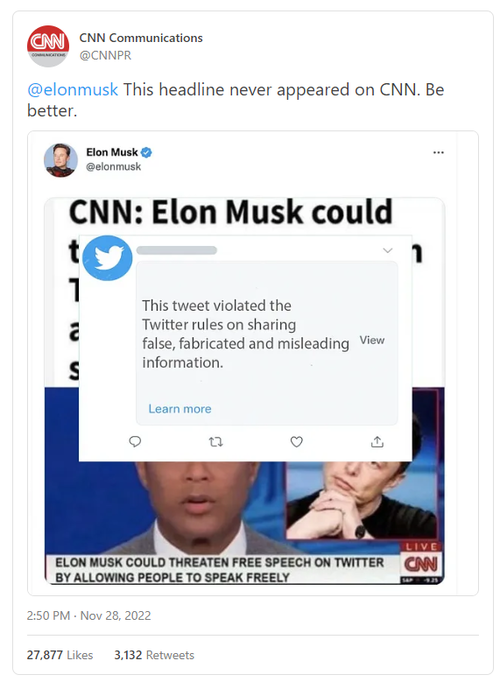 It's even more hilarious when you see that the Washington Post (above) posted almost the exact same headline for real, justifying Musk's satirical take on the issue.

I don't believe Musk about everything, as my long-time followers know, but I do believe him when he says the platform has become more popular since he took it over. Not only is it more entertaining than its ever been, it's simply a nice feeling not to have to run my Tweets over in my head before publishing them, thinking: "What would some hyper left-wing hipster in a beret in an office in San Francisco working a 4 hour work week as a content moderator think of what I'm about to post?"
But this article isn't just for those who are enjoying Twitter's re-birth. More importantly, it's for those who are having emotional meltdowns over it.
What these users, former users, advertisers and general fragile individuals need to understand is that Elon Musk buying Twitter never even happens without an environment that creates the impetus for it to take place. Putting Musk's actual motives aside (I have often wondered if he actually wanted to buy Twitter when it came down to brass tacks), he projected publicly that his interest in taking a stake in the company was because they were actively suppressing free speech...(READ THIS FULL ARTICLE, 100% FREE, HERE). 
Contributor posts published on Zero Hedge do not necessarily represent the views and opinions of Zero Hedge, and are not selected, edited or screened by Zero Hedge editors.
Loading...