---
The Chaos In Brazil, January 6th, And The Twitter Files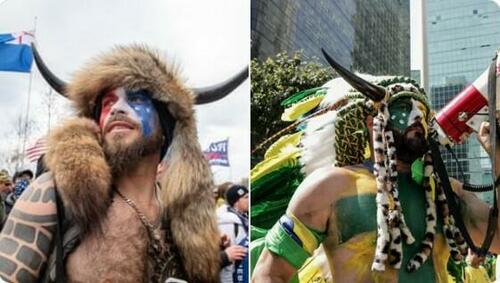 January 6th And January 8th 
It may take some time for the dust to settle before we find out the results of the mass protests and arrests in Brazil's capital on Sunday, but the initial parallels between them and the January 6th protests in America seemed obvious. The Brazilian protestors appeared to be much less respectful of their government buildings than the American ones, but both protested close elections they felt were stolen, and there were some homages to January 6th, such as the shaman protestor with his face painted in his country's national colors. Those parallels brought to mind some thought-provoking comments shared on the second anniversary of America's capitol protests on Friday. 
You Know What They Did. Now What? 
An interesting perspective on the Twitter Files on the second anniversary of the Jan 6th protest at the Capitol by the recently unsuspended account "Woke Capital":
If you've got #TwitterFiles, who are you trying to convince? The right already knows/suspected this shit was happening. The left celebrates it.

Appealing to the masses is not how you get things done. You need to appeal to the ELITES, the people with Power.

— Woke Capital (@WokeCapital) January 6, 2023
Enacted WuhanGRIDS tyranny, encouraged riots for a year, canceled normal people.

If that didn't wake up the masses, you think this will? They're too busy watching mud heckin mulattress chimp out and burn the Mona Lisa.

— Woke Capital (@WokeCapital) January 6, 2023
"The plan is, by pointing out what dems are doing is unconstitutional and illegal, at some point they'll stop or be converted!"

Stopped by whom?

— Woke Capital (@WokeCapital) January 6, 2023
In Case You Missed It
In a post over the weekend, we looked at how hedging helped generate a positive return despite holding a commodity-linked investment that tanked. Given the turmoil in commodity-rich Brazil now, it might be of additional interest. 
Riding the Natural Gas Rollercoaster 🎢 $UNG $KOLD https://t.co/xB3L6Oeap7

— Portfolio Armor (@PortfolioArmor) January 8, 2023
Here's the short version of it. 
This was an aggressive hedged portfolio created by our site on July 7th, which included the natural gas ETF UNG.
Screen captures via Portfolio Armor on 7/7/2022.
And here's how that hedged portfolio performed as of Friday's close: up 8.71%, net of hedging and trading costs, while the market-tracking SPDR S&P 500 Trust ETF (SPY) was essentially flat (up 0.18%).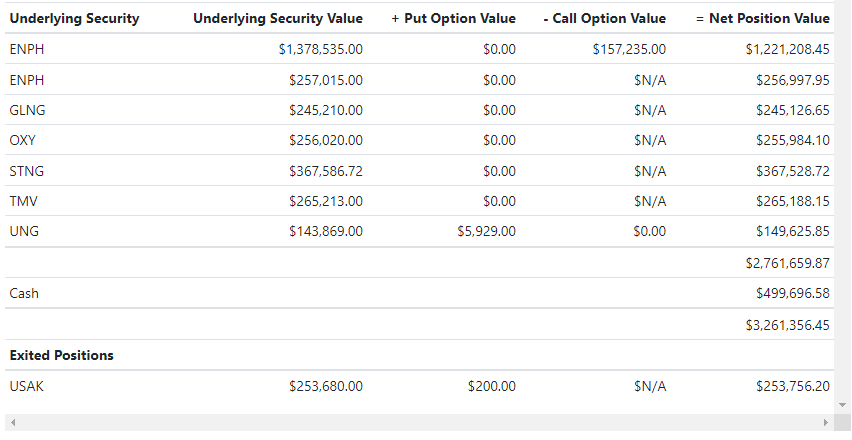 By clipping off the left hand tail negative returns, hedging enabled the portfolio to generate a decent return despite natural gas tanking while it held UNG. 
If You Want To Stay In Touch
You follow Portfolio Armor on Twitter here, or become a free subscriber to our Substack using the link below (we're using that for our occasional emails now). You can also contact us via our website. 
Contributor posts published on Zero Hedge do not necessarily represent the views and opinions of Zero Hedge, and are not selected, edited or screened by Zero Hedge editors.
Loading...