---
How Arming Ukraine Has Made America Weaker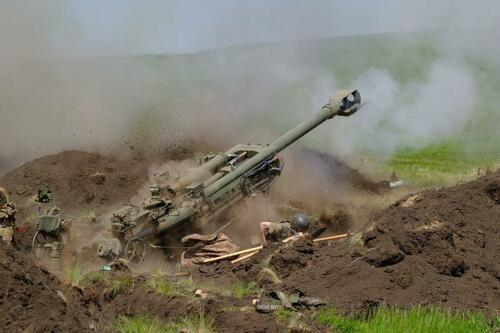 Submitted via Portfolio Armor: 
This Isn't FDR's America Anymore 
As the independent journalist Michael Tracey has pointed out, a "fairy tale version of World War II" has been used to justify America's involvement in the Ukraine War. The rhetorical parallels are frequent, including using "lend-lease" to describe weapons donations to the Ukrainian government which will never be paid back. At the end of last year, I noted some problems with this ("Revisiting The Rationale For Pouring Money Into Ukraine"). This week, Pedro Gonzalez of Chronicles Magazine went a step further, arguing that America's support is actually weakening America. We simply aren't the industrial power we were relative to the rest of the world in FDR's day. I have included Pedro's thread on this below, followed by a brief market note about trading the post-CPI market. 
The Navy is now talking about how at some point in the near future, we're going to have to choose between arming Ukraine and arming America. But that is old news. 2/ https://t.co/9GiX78yST5

— Pedro L. Gonzalez (@emeriticus) January 12, 2023
In 2021, VSMPO-Avisma made an agreement with Boeing to be the company's largest titanium supplier for current and future commercial aircraft. Now sanctions and embargoes on Russia make it much harder for the West to replenish what it wastes on Ukraine. 5/ https://t.co/p3BPKH4NME

— Pedro L. Gonzalez (@emeriticus) January 12, 2023
Replacing these weapons could take years, and there is now the additional problem of raw materials, like the mineral antimony. 7/ https://t.co/KqhX71q0gS

— Pedro L. Gonzalez (@emeriticus) January 12, 2023
The last American mine in Idaho ceased production in 1997. Today, the world's largest supplies are found in China, Tajikistan, and--of course--Russia. "There is no domestic mine for antimony," according to a 2020 report from the U.S. Geological Survey. 9/ https://t.co/AMs6TXPeZo

— Pedro L. Gonzalez (@emeriticus) January 12, 2023
But there's more.

Last summer, some 600 workers at Century Aluminum Company in Hawesville, Kentucky, America's second-largest aluminum mill--accounting for 20 percent of US supply--received pink slips after the plant's electricity bill tripled in just a few months. 11/

— Pedro L. Gonzalez (@emeriticus) January 12, 2023
"The layoffs are expected to start August 5 and be complete by August 20. It shows the layoffs are temporary, but could be for nine to 12 months." 13/ https://t.co/dy54Mu7aDM

— Pedro L. Gonzalez (@emeriticus) January 12, 2023
Bloomberg has connected the war to the rising cost of energy, but it incorrectly stated that "Russia's invasion of Ukraine" is to blame. In truth, it was the West's *reaction* to a war it helped make inevitable that led to this. 15/ https://t.co/XxdNiSvrzN

— Pedro L. Gonzalez (@emeriticus) January 12, 2023
Despite all this, US politicians want more for Ukraine. In fact, this Republican wants a bust of Zelensky prominently displayed in the US Capitol. 17/ https://t.co/JAimw3cKri

— Pedro L. Gonzalez (@emeriticus) January 12, 2023
Last year, a source told Defense News that the Pentagon convened with "our largest prime contractors, to enable a classified discussion of DoD requirements across broad portfolio areas." So, we outsourced the political process to corporations. 19/ https://t.co/qKSICoO4Kr

— Pedro L. Gonzalez (@emeriticus) January 12, 2023
Trading The Post-CPI Market
I made one short trade on Thursday, and I plan to make one long trade today. Let's start with the long one first, since it's related to the Ukraine War discussion above, and Zoltan Pozsar's suggested positioning in commodities in the face of war and inflation ("after years of underinvestment, supply became extraordinarily tight, just as we re-arm, re-shore, re-stock, and re-wire the grid"). Portfolio Armor's top name on Thursday was a commodity producer that will benefit from the armaments demand in the Ukraine War along with civilian demand.
The Portfolio Armor Substack's core strategy is to hold equal dollar amounts of our website's top ten names with 10% trailing stops, and add a new stock when we get stopped out of one. Replacing my stopped out stock with the commodity producer will be my long trade Friday. 
The short trade Thursday was buying puts on one of the trash stocks that's been rallying for no reason this year. It's hard to pick the top in these crazy rallies, but seeing that it's only up single digits in the pre-market Friday is encouraging. As a reminder, I share all these trades on the Substack as or before I make them. 
Betting against the rally in trash 🗑️ stocks today (not against $SPY in general). https://t.co/ZY0yNiJWtN

— Portfolio Armor (@PortfolioArmor) January 12, 2023
Afternoon Update
The trash stock we bet against yesterday was Bed Bath & Beyond (BBBY). Looks like we might have actually timed the top in it. 
If You Want To Stay In Touch
You follow Portfolio Armor on Twitter here, or become a free subscriber to our Substack using the link below (we're using that for our occasional emails now). You can also contact us via our website. 
Contributor posts published on Zero Hedge do not necessarily represent the views and opinions of Zero Hedge, and are not selected, edited or screened by Zero Hedge editors.
Loading...