---
The Worst Article You'll Ever Read
The following are quotes from the 4000-word New York Times opinion piece titled Nancy Pelosi, Liberated and Loving It by Maureen Dowd. I'll include the introduction because it really sets the tone. Prepare yourself… (and follow me on Twitter for more):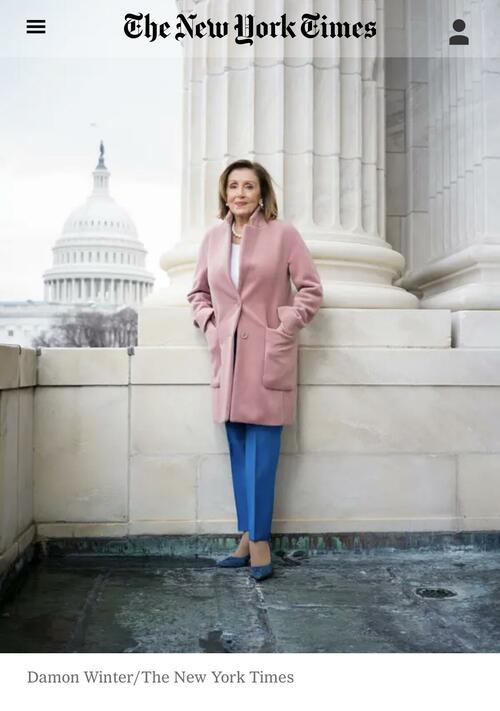 WASHINGTON — It's not a pretty sight when pols lose power. They wilt, they crumple, they cling to the vestiges, they mourn their vanished entourage and perks. How can their day in the sun be over? One minute they're running the world and the next, they're in the room where it doesn't happen.
Donald Trump was so freaked out at losing power that he was willing to destroy the country to keep it.
I went to lunch with Nancy Pelosi at the Four Seasons to find out how she was faring, now that she has gone from being one of the most powerful women in the world — second in line to the presidency — and one of the most formidable speakers in American history to a mere House backbencher.
I was expecting King Lear, howling at the storm, but I found Gene Kelly, singing in the rain. Pelosi was not crying in her soup. She was basking as she scarfed down French fries, a truffle-butter roll and chocolate-covered macadamia nuts — all before the main course. She was literally in the pink, ablaze in a hot-pink pantsuit and matching Jimmy Choo stilettos, shooting the breeze about Broadway, music and sports. Showing off her four-inch heels, the 82-year-old said, "I highly recommend suede because it's like a bedroom slipper."
Fans dropped by our booth to thank Pelosi, and women in the restaurant gave me thumbs-ups, simply because I was sitting with her.
"I wonder, Maureen, girl to girl, I keep thinking I should feel a little more, I don't know," she hesitated, looking for the right word. Over the course of our conversation, she said the word was "regretful," and she thought about it in church, and during morning and night prayers, but she just wasn't feeling it. "It's just the time, and that's it. Upward and onward. I'm thrilled with the transition. I think it was beautiful."
Her daughter Alexandra, a documentary filmmaker, assured me that it's not an act. "I can tell you, in my 52 years of being alive on this earth, I have never had the kind of weekend I'm having right now," she said last Sunday. "My mother is at peak happiness. I've never seen her like this. It's like she's floating through the air. It's fascinating for my kids because they don't know this person.
"I think you want to enjoy being old. I don't think you want to spend your final days fighting with Kevin McCarthy about how many seats you get on Appropriations."
Before I could broach the humiliating spectacle of McCarthy abasing himself to the loonies on the far right and being tortured by preposterous Matt Gaetz, Nancy Pelosi brought up her successor.
She looked at me, her brown eyes widening, and said: "I'm sad for Kevin that he couldn't do that in a way that brought a little more dignity to the House of Representatives. It's strange." She added, "What happened was inexplicable."
The woman is, as her friend and fellow California lawmaker Anna Eshoo said, "satin and steel." I tried to keep a straight face at Pelosi's satiny solicitude. She had, after all, called the Jello-spined McCarthy "a moron" in 2021 after he criticized the Capitol physician's mask mandate.
I dryly asked the devout Catholic if she was praying for McCarthy, the way she once prayed for her nemesis Donald Trump.
"Yeah, I was, because I was praying for the House," she said. "It was just stunning that he wouldn't be ready. You know what your challenges are. Just be ready. What they were seeing, whether they realized or not, was an incredible shrinking speakership.
"Really, in order to even honor — 'honor' isn't the word — in order to recognize some of the requests that were being made, you have to have the leverage to get the job done. They were undoing his ability to do what they were asking him to do. That was most unfortunate. I don't want to see the job turn into something else. It has to be the speakership."
Did she give McCarthy any advice?
Yes, she said; before the first vote, when he seemed confident, she told him, "Get it done."
More Notably Sickening Quotes:
…
Pelosi said she found it "particularly concerning" when McCarthy "went up to Gaetz on the floor. That seemed to be unnecessary." She said, why not "work it out in the bathroom" or some other private space. "To me, it was indicative of the disrespect they had for the Congress of the United States, that they would not have had their act together. It was a cause of wonder that they had to take 15 votes. How does that bode for what comes next?"
…
While McCarthy tried to quell the chaos, Pelosi was busy ruminating on whether she should wear a blue and yellow sweater (Golden State Warriors colors) to take her teenage grandsons to the game against the Wizards that afternoon; they were also going to the White House Tuesday to watch the championship team be honored. When Alexandra complained that her kids would miss school if Mimi, as the boys call her, took them to the Warriors' celebration, Mimi replied, "This is the White House with Steph Curry." End of discussion.
…
When I asked other women in journalism what they thought I should ask Pelosi, they all said the same thing: "How does she do it?"

She climbed to the top in a "Boys will be boys" universe while raising five kids she bore in six years. She said she had many 20-hour days as speaker, days that were often scheduled in five-minute increments, according to aides, and she still tirelessly works and travels around the globe and, while she doesn't drink, she and her husband like to socialize. And on top of all this, she manages to stay meticulously groomed, wearing masks that matched her outfits during the Covid siege, and sticking with her stilettos to briskly walk the Capitol's marble floors, even as women who are 20 years younger phase out their high heels.

"You're a freak of nature," I told her.

She agreed: "I'm not saying everybody's like me because I am a little bit freakish. I have to say I really feel quite blessed in that regard."
…
In her daughter's documentary, there's a funny scene where Pelosi does housework while she listens to a pandemic briefing from Mike Pence and members of the Trump administration. She is clearly not impressed with their strategy on Covid. After fulsomely thanking the vice president, she puts him on mute and asks Alexandra, who's behind the camera, "Am I a bitch or what?"
… 
When I told her I'd pulled a muscle doing yoga, she smiled. "See? I keep away from all exercise." She power walks, but her daughter said that turns into "walks while taking power calls." Alexandra once saw her mother on an exercise bike, eating chocolate ice cream out of the container while talking on the telephone and lightly cycling.
 …
If I were Pelosi, I would be supine on a chaise in my St. Helena vineyard watching BritBox. But, over a double espresso, she reeled off some recent weekend activities, stacking them Jenga-style.
 …
As we left the Four Seasons, Pelosi showed me a turquoise ring she was wearing given to her by Afghan female artisans and said she "would like to see Congress be a stronger voice for women in the world." She also said she would like to help the women in Congress in any way she could.
Contributor posts published on Zero Hedge do not necessarily represent the views and opinions of Zero Hedge, and are not selected, edited or screened by Zero Hedge editors.
Loading...