---
The Ukraine War As John McCain's Legacy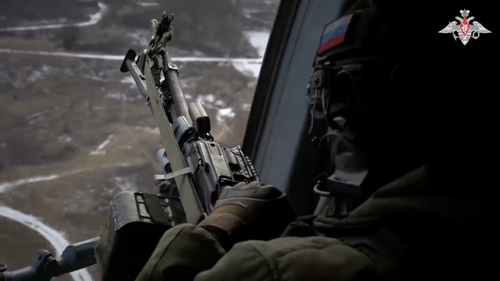 The Death Toll Grows
The U.S. press has published extravagant estimates of Russian casualties in the Ukraine War but seems to be more circumspect when offering estimates of Ukrainian casualties, as objectivity gets sacrificed to the war effort. 
I am standing by my claim that KIA are perhaps 30-40k for Russia and 120-150k for Ukraine.

— Big Serge ☦️🇺🇸🇷🇺 (@witte_sergei) February 4, 2023
This week though, Col. Douglas Macgregor (U.S. Army, retired) suggested the number of Ukrainian dead may be as high as 257,000 so far. According to Macgregor in the clip below, sources have claimed that Ukrainian Commander-in-Chief General Valerii Zaluzhnyi quoted this figure to U.S. Defense Secretary Austin during Zaluzhnyi's recent trip to the U.S. 
.
Col. Macgregor adds that this number seems reasonable to him, as the Ukraine War resembles the carnage of World War I. Whatever the actual number, it has been much too high, particularly given former Israeli Prime Minister Bennett's claim that both sides were close to an armistice last spring before the U.S. blocked a peace deal. 
Unfortunately, the U.S. fomenting further conflict in the region is nothing new, and as independent journalist Michael Tracey reminds us, one of the pioneers at this was the late U.S. Senator from Arizona, John McCain. 
How McCain Set The Stage For The Ukraine War
Most readers have probably seen this video before, of Senators McCain and Lindsey Graham encouraging Ukrainian forces to attack Russians in 2016, and promising them they'd fight for more U.S. aid to do so. 
What some readers may not realize is that McCain's role in stirring up conflict between Ukraine and Russia goes back further. Michael Tracey summarizes the history in the thread below. 
The street was renamed in 2019, after McCain's death. According to the Kyiv City Council, this particular street was chosen because it was previously named after a Soviet intelligence officer who "fought against Ukrainian nationalists." Whereas McCain "defended" those interests pic.twitter.com/Z3jB9klRr2

— Michael Tracey (@mtracey) February 8, 2023
When he traveled to Ukraine again in June 2014 (correction: not April as mentioned above) McCain was there to view the "transition" in Ukraine's government he had envisaged. He along with Biden attended the inauguration of Petro Poroshenko (later charged with treason by Zelensky) pic.twitter.com/yiZ1d6GqZf

— Michael Tracey (@mtracey) February 8, 2023
Anyway, lots of food for thought. He may be deceased but it's still John McCain's world -- we're all just living in it pic.twitter.com/ky6KshKY40

— Michael Tracey (@mtracey) February 8, 2023
To End On A Less Grim Topic
In case you missed it, we got another chance to bet against Bed Bath & Beyond (BBBY) this week, before its record drop Tuesday. 
February 7, 2023
BBBY shares were down another ~13% as of midday Wednesday. Hopefully, John McCain's legacy won't lead to mushroom clouds, and we can go back to just worrying about markets again. 
If You Want To Stay In Touch
You follow Portfolio Armor on Twitter here, or become a free subscriber to our Substack using the link below (we're using that for our occasional emails now). You can also contact us via our website. If you want to hedge, consider using our website or our iPhone app. 
Contributor posts published on Zero Hedge do not necessarily represent the views and opinions of Zero Hedge, and are not selected, edited or screened by Zero Hedge editors.
Loading...