---
Everyone Is A Greenie Until It Hurts Their Pockets
Wasn't the new CEO at BP bought in to change the company's focus to "renewable" energy?
I could go back and dig up articles where Looney (yes, that's actually his name!) was being hailed as being at the front of the great energy reset.
Remember all the fan-fare of Looney and is renewable ideology?
Take note of the headlines and the dates: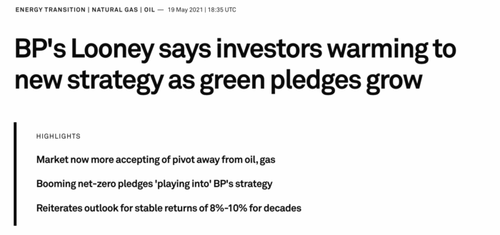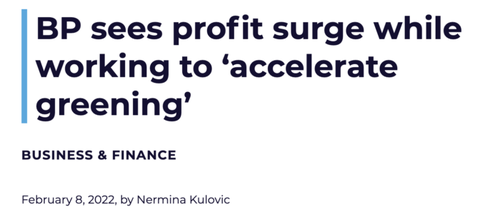 Now, lookie here:

Yes, everyone is a greenie until it hurts their pockets.
Chief Executive Bernard Looney plans to dial back elements of the oil giant's high-profile push into renewable energy, according to people familiar with recent discussions.

Mr. Looney has said he is disappointed in the returns from some of the oil giant's renewable investments and plans to pursue a narrower green-energy strategy, the people said. He has told some people close to the company that BP needs to do more to convince shareholders of its strategy to maximise profits in areas where it has a competitive advantage, including its legacy oil-and-gas operations.

In some of the conversations, Mr. Looney has said he plans to place less emphasis on so-called ESG goals—a catchall term for environmental, social and governance—to help clarify that those aren't distracting the company from its ability to deliver profits, the people said.

Mr. Looney, the people said, is casting the moves as a modest short-term course correction rather than a major strategic pivot for the 114-year-old company.

Analysts and some investors say pledges by BP to shift away from fossil fuels and into renewable energy risk handicapping the company's performance. Many companies are struggling to transition to new green technologies while still relying heavily on traditional energy sources.
All this talk of "reducing oil and gas production by 40%" was just a giant virtue signal. We wonder what happens when oil trades above $100 for an extended period of time.
Perhaps there is more to Gordon Gekko's "greed is good" than meets the eye — eventually it overpowers the greenies. And of course, we are guided by the wisdom of the Joker: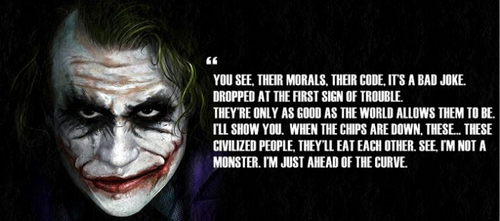 Of course, we probably aren't going to impress many clients (new or existing) that our investing is guided by the wisdom of the Joker, but there you have it — our secret source.
- Chris MacIntosh
Capitalist Exploits | Glenorchy Capital Macro fund | Subscribe to Insider | Rebel Capitalist Pro
Contributor posts published on Zero Hedge do not necessarily represent the views and opinions of Zero Hedge, and are not selected, edited or screened by Zero Hedge editors.
Loading...