---
SPLC Attorney Among 23 ANTIFA Rioters Arrested On Domestic Terrorism Charges
Since late January when a fatal shooting between Atlanta-area police and ANTIFA affiliates broke out, Georgia's capital has become ground zero of the continually fomenting hostilities from the radical leftist group. The tenuous situation saw that violence continue at the site of the Atlanta Public Safety Training Center Sunday evening. Under the pretense of a "mostly peaceful protest," rioters unleashed their fury by destroying construction equipment at the site of where Georgia State Patrol Troopers had exchanged gunfire with protesters occupying the site in late January. The latest ANTIFA insurgency resulted in the arrest of 23 people on domestic terrorism charges.
Thomas Webb Jurgens was one of the 23 arrested on Sunday according to DeKalb County arrest records. Jurgens arrest is notable because he is employed as a staff attorney at the Decatur, Georgia office of the Southern Povery Law Center. Ironically, the SPLC have cultivated a partnership with state and federal law enforcement across the United States to designate and investigate extremists groups like those engaged in domestic terrorism across the country. Now, they are in a position where it's difficult to unequivocally deny the criticism levied against them that their own members qualify to be designated among those ranks.
One of the Antifa members arrested on domestic terrorism charges in Atlanta last night is a staff attorney with the Southern Poverty Law Center.

The FBI has historically used the SPLC as a source for who should be considered domestic terrorists. pic.twitter.com/y5isk5AHaq

— Greg Price (@greg_price11) March 6, 2023
According to Jurgens LinkedIn page, he joined the SPLC in September 2021 as a new hire to its Economic Justice Project. He presently is admitted to both the Georgia and Florida state bar associations. Jurgens had graduated with his Juris Doctor from the University of Georgia School of Law, the campus of which is located in Athens, Georgia. The campus is just 60 miles from Atlanta where he was arrested.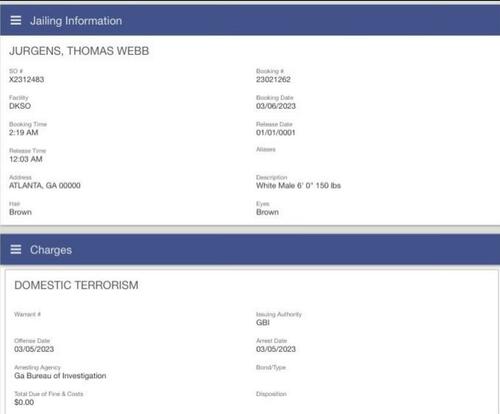 The Atlanta Police department detailed how the events leading to Jurgens arrest unfolded. Those arrested initially convened under the cover of gathering for a protest before events turned violent. "They changed into black clothing and entered the construction area and began to throw large rocks, bricks, Molotov cocktails, and fireworks at police officers." according to Atlanta police who responded to the scene of the crimes. Footage released by the police department shows approximately 150 masked rioters breaking into the construction site. 35 were detained in total, with 23 already being charged under domestic terrorism statutes with potential charges looming for the remaining 12.
CONSTRUCTION SITE BURNS: Huge plumes of smoke and massive police response after @defendATLforest / #StopCopCity protesters face off with police at the site of Atlanta's future Public Safety Training Facility. I'm told Molotov cocktails were thrown. Construction equipment is on… https://t.co/6dIyrPff6T pic.twitter.com/0F9qj8dgFn

— Billy Heath III (@BillyHeathFOX5) March 5, 2023
Fortunately, unlike the police engagement at the construction site of the training center in January, the events from Sunday evening went without any serious injuries or fatalities. No indication that any of the arrested ANTIFA supporters were armed with a firearm has arisen yet either. Despite that outcome, Atlanta police aren't viewing that good fortune as an auspice of what lies ahead. Officials cataloged Sunday night's arrests as a catalyst for reactionary violence in the coming days. Police department officials forewarned "with protests planned for the coming days, the Atlanta Police Department, in collaboration with law enforcement partners, have a multi-layered strategy that includes reaction and arrest."
Following violence during the "Night of Rage" ANTIFA organized in response to January's shooting, Georgia Governor Brian P. Kemp issued a strong response condemning riots and indicating that state prosecutors would execute a new strategy to prosecuted rioters under domestic terrorism charges. Kemp's Attorney General, Chris Carr announced his office's intention to continue to pursue sweeping indictments against ANTIFA members for domestic terrorism continuing to riot. Carr also took the media to task for categorizing ANTIFA members as protesters. The arrest of 23 more ANTIFA rioters, including the SPLC's Thomas Jurgens, conveys the commitment to a concerted effort between Georgia's law enforcement and attorney general's office to prosecute rioters to the furthest extent of the law.


The SPLC could not be reached for comment and has not released any official statement regarding Jurgens arrest. In addition to domestic terrorism charges, Jurgens faces potential discipline from the bar associations that he is admitted to in Georgia and Florida which could result in the loss of his license to practice law in each jurisdiction. The revelation of his arrest should also be cause for law enforcement officials around the country to reassess their working relationship with the SPLC. If Jurgens arrest says anything about the non-profit, it's that their offices are a place where hate groups are apparently being cultivated instead of persecuted.
Contributor posts published on Zero Hedge do not necessarily represent the views and opinions of Zero Hedge, and are not selected, edited or screened by Zero Hedge editors.
Loading...