---
The Bank Run In Silicon Valley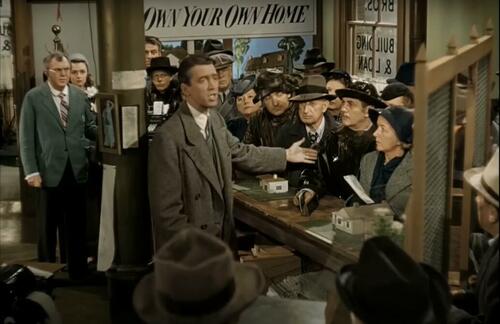 So Much For Effective Altruism 
In Frank Capra's 1946 classic movie "It's A Wonderful Life", George Bailey quells a run on his bank by explaining to his depositors that their money is in the value of each other's houses, and he convinces them to take just the money they need rather than pulling all of their deposits. 
Knowing of Silicon Valley's fondness for "Effective Altruism", and the importance of The Silicon Valley Bank to their industry, I wondered this week if we'd see venture capitalists lined up in front of Silicon Valley Bank branches with $250k cashier's checks in hand to open CDs there, to boost confidence in the bank. Instead, they did the opposite, encouraging the CEOs of their portfolio companies to pull all their assets out of the bank...
Founders Fund, Other VCs Advise Companies To Pull Cash From SVB https://t.co/XBZP06lu8n

— zerohedge (@zerohedge) March 9, 2023
And calling for a Federal bailout.
Unless they're your special-interests, right pic.twitter.com/4U6nkBhDmi

— Inverse Cramer (Not Jim Cramer) (@CramerTracker) March 10, 2023
What Happens Next 
It looks like the damage is going to ripple outward from the collapse of The Silicon Valley Bank. Serial startup founder Brad Hargreaves sketched out some of the mechanics of that in this thread. 
One, SVB was incredibly integrated into the lives of many founders. Not just their startup's bank & lender, but also provided personal mortgages and other financial services. A whole mess for FDIC (or the eventual buyer) to unwind.

— Brad Hargreaves (@bhargreaves) March 10, 2023
CEOs yesterday faced a hard choice: Pull your deposits and go into default on your venture debt or risk losing everything if the bank failed. Many chose to hold tight as SVB's outright failure seemed outlandish.

— Brad Hargreaves (@bhargreaves) March 10, 2023
Having run a startup through the GFC, this is the first thing I've seen since that is even vaguely reminiscent of that time. Total clusterfuck.

— Brad Hargreaves (@bhargreaves) March 10, 2023
JPow got his fucking debt crisis alright

— Brad Hargreaves (@bhargreaves) March 10, 2023
Payroll being missed https://t.co/fkPyhAamRb

— Brad Hargreaves (@bhargreaves) March 10, 2023
Trading The Collapse
Since this was sparked by the announced winddown of Silvergate Capital Corp. (SI), one of my first thoughts Wednesday night was that it might not be too late to make some money betting against Silvergate. In the Portfolio Armor trading Substack, we bought puts on SI when it was trading at around $3 per share on Thursday. SI closed at $2.52 on Friday. 
A Lesson from Silvergate $SIhttps://t.co/mal0yOI1KX

— Portfolio Armor (@PortfolioArmor) March 9, 2023
My second thought Wednesday night was to bet against The Silicon Valley Bank's parent company, SVB Financial Group (SIVB). I figured that stock would drop about 30% on Thursday and set limit orders on puts accordingly. Of course, it fell by more than twice as much, and those orders didn't get filled. 
Similarly, other limit orders on potential dominoes didn't get filled on Friday, as prices got away from us, but we did take advantage of the downturn to exit our Carvana Co. (CVNA) trade for a 51% gain. 
Out of our Carvana puts today for a 51% gain. $CVNA https://t.co/vDhsJwWljV

— Portfolio Armor (@PortfolioArmor) March 10, 2023
Currently, I'm researching some less obvious potential dominoes. If you'd like a heads up when we place a trade in one of them, feel free to sign up for the Portfolio Armor Substack below. 
If You Want To Stay In Touch
You follow Portfolio Armor on Twitter here, or become a free subscriber to our Substack using the link below (we're using that for our occasional emails now). You can also contact us via our website. If you want to hedge, consider using our website or our iPhone app. 
Contributor posts published on Zero Hedge do not necessarily represent the views and opinions of Zero Hedge, and are not selected, edited or screened by Zero Hedge editors.
Loading...