---
Trump To Be Arrested Next Week?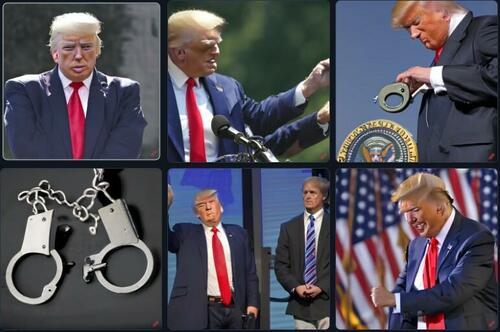 Submitted via Portfolio Armor:
"Because You'd Be In Jail"
During one of Donald Trump's debates with Hillary Clinton, he quipped that if he were in charge, she'd be in jail. 
Now it looks like the one who is about to get arrested may be Donald Trump. Fox News and other sources are reporting that Manhattan District Attorney Alvin Bragg is preparing to have Trump arrested next week on charges related to his former lawyer Michael Cohen's payment to adult entertainer Stormy Daniels. 
"This is a huge development." Final preparations being made to arrest Donald Trump next week. Trump will "be fingerprinted and processed like every other defendant". The Secret Service will make the decision whether to handcuff the former president or not. (Video: Fox News) pic.twitter.com/u36MW0680U

— Mike Sington (@MikeSington) March 17, 2023
RIP Rule of Law
As Daryl Cooper (@martyrmade) suggests below, this would be banana republic-level perversion of the rule of law. 
I am well past tired of Trump and frankly find much if his recent behavior embarrassing, but a thousand January 6ths is absolutely the appropriate response if he is indicted. I'm not advising anyone to break the law, but the Founders would.

— Martyr Made 🦉🪓 (@martyrmade) March 17, 2023
Ignore this kind of fed posting nonsense. There is nothing to accomplish by taking matters into your own hands, so don't put yourselves or your families at risk for no reason. https://t.co/PlU83NQ1Jf

— Martyr Made 🦉🪓 (@martyrmade) March 17, 2023
One wonders how the markets would react to Trump being arrested on top of the banking crisis (which the First Republic deposit infusion failed to quell) and everything else. 
Saturday Morning Update
Trump on his possibly impending indictment: 
President Trump: "They're not coming after me. They're coming after you. I'm just standing in their way, and I always will stand in their way!" pic.twitter.com/vmoFeRpZzj

— Trump War Room (@TrumpWarRoom) March 17, 2023
Relevant context with respect to the Trump prosecution: Trump has been pulling away from DeSantis in the polls. 
DeSantis, on Defense, Shows Signs of Slipping in Pollshttps://t.co/pgFDk82B9d pic.twitter.com/RbWLUqOGaa

— Nate Cohn (@Nate_Cohn) March 17, 2023
Also, Elon Musk has noticed the hands-off treatment of the Biden family in contrast.
Unless I'm missing something, this appears to support the argument that there is political bias in the justice system.

That is not to presume a guilty verdict or prison, but not bringing this to court at all is hard to explain.@CommunityNotes

— Elon Musk (@elonmusk) March 18, 2023
Later Update
Trump responds, says he's getting arrested on Tuesday. 
Donald Trump says he will be arrested Tuesday https://t.co/ZbRCUwmNHC via @nypost

— Bo Snerdley (@BoSnerdley) March 18, 2023
Senator J.D. Vance Responds:
I've been asked by multiple reporters if an indictment would lead me to rescind my endorsement of Donald Trump. The answer is: hell no. A politically motivated prosecution makes the argument for Trump stronger. We simply don't have a real country if justice depends on politics.

— J.D. Vance (@JDVance1) March 18, 2023
Imagine if this happens. 
"BREAKING: 80MM AMERICANS VOW TO WITHDRAW ALL CASH DEPOSITS ON 3/21/23 TO PROTEST THE ARREST OF DONALD JOHN TRUMP, WILL LIQUIDATE ALL IRAs and 401ks" https://t.co/bjkYylYY1b

— Grill Time (@barbquehour) March 18, 2023
I suppose our bearish bets on a few regional banks would do well in that nightmare scenario.
Taking advantage of today's rally to bet against a few banks that have some similar vulnerabilities as $SI, $SIVB, & $SBNY. https://t.co/uePET5GOut

— Portfolio Armor (@PortfolioArmor) March 14, 2023
If You Want To Stay In Touch
You follow Portfolio Armor on Twitter here, or become a free subscriber to our Substack using the link below (we're using that for our occasional emails now). You can also contact us via our website. If you want to hedge, consider using our website or our iPhone app. 
Contributor posts published on Zero Hedge do not necessarily represent the views and opinions of Zero Hedge, and are not selected, edited or screened by Zero Hedge editors.
Loading...