---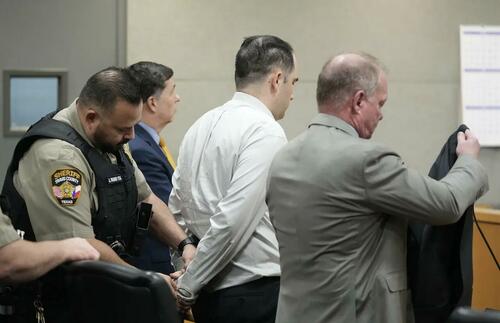 Submitted via Portfolio Armor:
Saturday Afternoon Update: 
Greg Abbott finally answers, says he needs a recommendation by the Texas Board of Pardons and Paroles before he can pardon Perry, and he has asked them for one. 
I am working as swiftly as Texas law allows regarding the pardon of Sgt. Perry. pic.twitter.com/HydwdzneMU

— Greg Abbott (@GregAbbott_TX) April 8, 2023
Another Great White Defendant
In my last post, The Great White Defendant, I wrote about the Soros-funded DA in Manhattan who is soft on violent criminals, but tough on men who defend themselves against them. He also, of course, is prosecuting Trump for political reasons. 
ZeroHedge version: https://t.co/RrBoNNPOJP

— Portfolio Armor (@PortfolioArmor) April 5, 2023
Readers may recall that George Soros has funded the election of dozens of similar prosecutors across the country, ones who are soft on criminals but hard on innocent men who defend themselves against them.
With George Soros coming up now in light of the indictment of Trump by one of his prosecutors, it's worth revisiting this post. https://t.co/KfrA0cEBPP

— Portfolio Armor (@PortfolioArmor) March 31, 2023
This is phenomenon Sam Francis first identified decades ago as Anarcho-Tyranny:  
This condition, which in some of my columns I have called 'anarcho-tyranny,' is essentially a kind of Hegelian synthesis of what appear to be dialectical opposites, the combination of oppressive government power against the innocent and the law-abiding and, simultaneously, a grotesque paralysis of the ability or the will to use that power to carry out basic public duties such as protection of public safety.
The latest example of this is Travis County DA Jose Garza prosecuting Daniel Perry for defending himself against an armed BLM rioter. Greg Price summarizes this miscarriage of justice in the brief thread below. 
The lead detective in the case concluded it was a justifiable homicide.

So did the Austin police department.

Yet Soros-funded Travis County DA Jose Garza indicted him anyway and was accused by the detective of withholding evidence from the grand jury and witness tampering pic.twitter.com/iBpHSDqcBe

— Greg Price (@greg_price11) April 7, 2023
Here is the video from the night Daniel Perry, an active duty Army Sergeant, lawfully defended himself against a BLM rioter with an AK-47 before having his right of self defense made illegal by a Soros-funded DA.

Pardon Daniel Kelly @GregAbbott_TX pic.twitter.com/wVje5AGQag

— Greg Price (@greg_price11) April 7, 2023
As of this writing on Friday night, Texas Governor Greg Abbott had not commented on Perry's conviction. Tucker Carlson invited him to discuss the case. 
Apparently the State of Texas no longer recognizes the right of self-defense. @GregAbbott_TX is welcome to come on and discuss. pic.twitter.com/A7o5MvZTVy

— Tucker Carlson (@TuckerCarlson) April 8, 2023
If you would like to sign the petition for Gov. Abbott to pardon Daniel Perry, click on the link in the tweet below. 
April 7, 2023
Update: Kyle Rittenhouse Weighs In
Readers may recall Kyle Rittenhouse came up in our post last week. 
Betting against a faux-conservative brand. $BRCC

H/t @revolvernewsusa https://t.co/bX5Zn0hvVV

— Portfolio Armor (@PortfolioArmor) March 31, 2023
Here he calls for Governor Abbott to pardon Perry. 
@GovAbbott this is a unfair conviction please step in and free Daniel Perry https://t.co/BIBVnKy7rv

— Kyle Rittenhouse (@ThisIsKyleR) April 8, 2023
If You Want To Stay In Touch
You follow Portfolio Armor on Twitter here, or become a free subscriber to our Substack using the link below (we're using that for our occasional emails now). You can also contact us via our website. If you want to hedge, consider using our website or our iPhone app. 
Contributor posts published on Zero Hedge do not necessarily represent the views and opinions of Zero Hedge, and are not selected, edited or screened by Zero Hedge editors.
Loading...