---
Why Anheuser-Busch Went Woke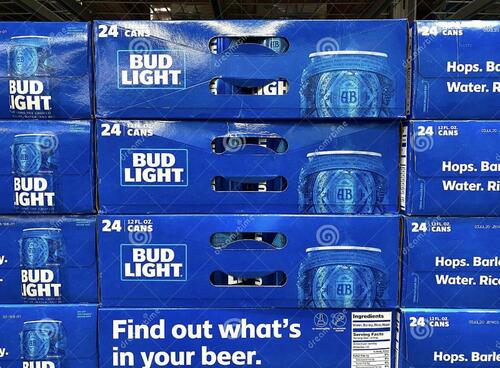 Assessing The Bud Light Backlash
Quantitative and anecdotal data supports ZeroHedge's report that consumers aren't buying Anheuser-Busch's apologies for their Dylan Mulvaney fiasco. Social data analysis firm LikeFolio found that customer happiness levels for the company had plummeted at the same time consumer mentions had jumped 10x. 
Consumer Happiness levels (purple line) for the company have plummeted to all time lows, from nearly 80% positive prior to the promotion all the way down to just over 40% positive today:

Making matters worse, this sentiment drop is happening as consumer buzz surges to levels 10x BUD's normal volume levels:
Meanwhile, anecdotal evidence suggests stores are having trouble selling Bud Light. 
Talked to the @budlight beer salesman at the store today. He shared that he has never seen such non-movement of their products in his 15 years. Even in rural communities no product is being sold. The cooler was completely full of Bud products-not 1 case was sold since yesterday… pic.twitter.com/sNCjDIWmjQ

— TennesseeTruthSeeker (@TennesseeMAGA13) April 16, 2023
That raises an obvious question: 
Why Did Anheuser-Busch Do This?
LikeFolio offered one answer: 
The partnership [with Dylan Mulvaney] is designed primarily to boost Bud Light's "Corporate Equality Index" score, giving the company preferred treatment from LGBTQ lobbying groups and ESG-driven portfolio managers.
But the psuedonymous blogger Z-Man offered a more interesting one: BUD went woke to woo the regulators. 
Since they also control large swaths of the supply chain for making, producing, and distributing beer, they are always interacting with government regulators. Their biggest customer is the government.

— The Z Blog (@TheRealZBlog) April 11, 2023
This is like the New Economic Plan in the early years of Bolshevism. The big industries were controlled by the party, while the small stuff was allowed to operate on the fringes according to market forces. In time, the socialist model would prove superior to the market model.

— The Z Blog (@TheRealZBlog) April 11, 2023
Today, by controlling large corporations and letting them control markets, the party can make the imposition of their preferred cultural rules look natural, as if the marketplace demands it. It turns virtue into a vice by perverting the market mechanisms in favor of the party.

— The Z Blog (@TheRealZBlog) April 11, 2023
The Mortgage Bubble Parallel 
Z-Man's explanation brought to mind a parallel from the mortgage bubble era earlier this century. While the transsexualism social contagion hadn't started back then, the diversity worship part of wokeness had. Readers might recall Washington Mutual Bank's commercials, featuring a cool black spokesman contrasting WaMu with the stuffy white bankers presumably to be found at their competitors.
As the journalist Steve Sailer pointed out, Washington Mutual's embrace of diversity enabled it to get regulatory approval for mergers that made it one of the largest banks in America before it went bust: 
But there is a way that the Community Reinvestment Act groomed the culture of lending over the decades to be overoptimistic about minority borrowers. The CRA acted as a Darwinian filter on which banks got to buy other banks. Banks that didn't promise to play ball with lending activists could get their acquisitions held up by regulators. Over time, the optimists about minority lending were encouraged to grow bigger while the pessimists were not, so banking came to be dominated by unrealistic enthusiasm.

Consider Washington Mutual of Seattle, which became, via 29 acquisitions, the sixth-biggest bank in the country before it went under in 2008.

CEO Kerry Killinger liked to outbid rival banks for mergers not just in cash but also in CRA pledges. For example, when WaMu competed with Home Savings in 1997 to buy Great Western, Killinger topped Home's CRA pledge of lending $70 billion to minority and lower-income borrowers by offering $75 billion.

The next year WaMu bought Home Savings itself, and won regulatory approval in part by signing a $120 billion CRA pledge with various leftist front organizations such as the Greenlining Institute.

In 2001 WaMu bought Dime Bank and pledged $375 billion in CRA mortgages.
Sailer goes on there to note that a similar dynamic applied to Countrywide Financial. 
It sounds stupid for Anheuser-Busch to wreck one of its biggest brands over this, but it was also stupid to wreck the economy in order to give minorities mortgages they couldn't afford; alas, it happened.
We'll wrap this up with a quick note about this week's pending trades in our trading Substack. 
Today's Pending Trades
We've got limit orders with updated prices in for three earnings trades now: 
A bearish bet on a regional bank at risk of default. 
A bearish bet on a bank vendor with weak fundamentals. 
A bullish bet on a homebuilder with great fundamentals and a strong chart. 
I've also been experimenting with OpenAI agents to scan for some promising ideas.
If you want a heads up when these get filled, feel free to subscribe to the trading Substack/occasional mailing list below. 
If You Want To Stay In Touch
You follow Portfolio Armor on Twitter here, or become a free subscriber to our Substack using the link below (we're using that for our occasional emails now). You can also contact us via our website. If you want to hedge, consider using our website or our iPhone app. 
Contributor posts published on Zero Hedge do not necessarily represent the views and opinions of Zero Hedge, and are not selected, edited or screened by Zero Hedge editors.
Loading...