---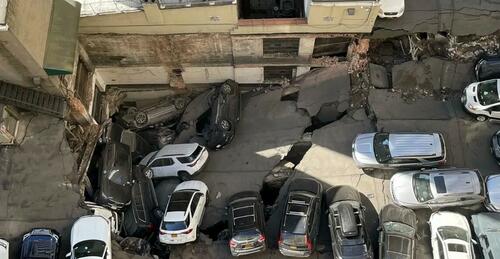 Submitted via Portfolio Armor: 
No Escape From The Decline 
Live sports often offer an escape from reality, but that wasn't the case for viewers in New York yesterday afternoon. The local CBS station broke away from the second leg of the Champions League quarter final between Chelsea and Real Madrid to cover the collapse of a parking garage in Lower Manhattan.
In a way, that deadly collapse was emblematic of America's broader decline, in that the warning signs were there for most of this century. The parking garage had several unresolved building code violations, with the earliest dating back to 2003. The words "REMEDY CONCRETE DEFECTS" appeared in the violation notice served a few months later, but America's leaders had more important things to focus on at the time, like bringing the blessings of democracy to Iraq. 
Then, in 2023, while our leaders were focused on fighting a proxy war with Russia over who controls the ethnic Russian parts of Eastern Ukraine, and trying to provoke a war with China over Taiwan, the parking garage collapsed. 
The parking garage collapse, on top of chaos in other American cities in recent days, seems inauspicious.  
🇺🇸is a collapsing nation

Let's take a glimpse at Saturday April 15, 2023 in Biden's mc'merica

•LA: stores flash mobbed & looted. LAPD overwhelmed & ineffective

•Chicago: thousands "wilding" shots fired

•Atlanta: 4 dead, 20 shot at a sweet 16 partyhttps://t.co/hyEPTjz7dp pic.twitter.com/E81ISFhIVW

— Jon Robberson (@RobbersonJon) April 16, 2023
The Pendulum Swings Back 
For those unfamiliar with the term "wilding" mentioned in the tweet above, it describes the phenomenon where hundreds or thousands of "teens" engage in crimes simultaneously. Wildings in New York in the 1980s, including the one during which the Central Park jogger was raped and beaten almost to death, helped lead to tough-on-crime responses such as the election of Rudy Giuliani as mayor in New York and Bill Clinton's 1994 Crime Bill and similar local laws across the country. But the pendulum started swinging back toward chaos about 10 years ago.
The media conspired to portray George Zimmerman, an Afro-Peruvian man who shot a black teen in self defense as a "white Hispanic" racist, and was abetted by President Barack Obama, who mused that if he had had a son, his son would have looked like the attacker, Trayvon Martin. And in New York, five of the wilding teens who admitted to raping the Central Park jogger and were convicted by multiracial juries got their convictions vacated and $41 million for their lack of remorse. 
Flash forward to last weekend, when Chicago faced a disturbing scene of wilding, with rowdy teenagers rampaging through the city streets. Meanwhile, on the west coast, flash mob looters ransacked a Los Angeles 7-Eleven store, leaving a trail of destruction in their wake. We've backslid on the basic blocking and tackling of civilization, fighting crime. That is now a capability of more advanced nations, such as El Salvador. 
March 27, 2023
And then we have the parking garage collapse in New York, a stark reminder that our nation's infrastructure is in dire need of repair. As buildings and bridges age, the potential for similar disasters increases. The cost of inaction becomes more evident as American citizens are put at risk by failing structures. Think of how many building inspectors and cops we could hire for the money we've been pouring into the Ukraine, or spending on "defense" when no country's army is a threat to us. 
Let's close again with a quick update on our earnings trades in our trading Substack. 
Updating Our Earnings Trades
We got filled on this trade yesterday:
If you want a heads up when we place our next trade, feel free to subscribe to the trading Substack/occasional mailing list below. 
If You Want To Stay In Touch
You follow Portfolio Armor on Twitter here, or become a free subscriber to our Substack using the link below (we're using that for our occasional emails now). You can also contact us via our website. If you want to hedge, consider using our website or our iPhone app. 
Contributor posts published on Zero Hedge do not necessarily represent the views and opinions of Zero Hedge, and are not selected, edited or screened by Zero Hedge editors.
Loading...