---
The Ultimate Refutation Of Trans Ideology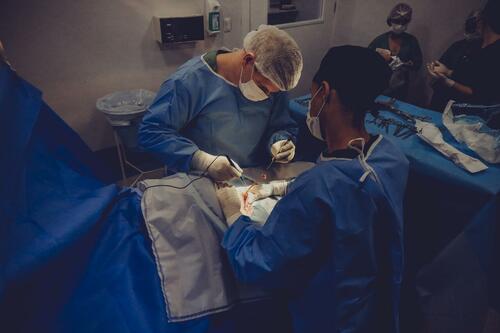 Trans Euphemisms Obscure The Ugly Reality 
One of the newer trans euphemisms one hears these days is "gender affirming care", but when you lift up the rock of the euphemism, what's underneath can be ugly. One example went viral this week, a case where an 18 year old boy was killed by his sex change operation. 
An 18-year-old boy died when doctors tried to create a vagina for him using part of his colon.

His colon was used because puberty blockers stopped growth of his genitals, which meant there wasn't enough tissue to do the penile inversion surgery.https://t.co/BGF7Z7h0v2

— Billboard Chris 🇨🇦🇺🇸 (@BillboardChris) April 25, 2023
In a sane world, it would be obvious that surgeons needlessly mutilating a mentally ill patient is unethical and should be illegal, even more so when the patient is likely grow out of the mental illness, as is the case with gender dysphoria,  
Scientists followed 139 gender dysphoric boys from 1989-2002 and found that 88% of boys outgrow gender dysphoria by age 20 when left the Fk alone. pic.twitter.com/CPd80nnzs4

— The Redheaded libertarian (@TRHLofficial) April 27, 2023
And especially when the medical industry is poised to profit from creating a lifelong patient. 
Undercover Investigation Reveals Pro-Trans Doctors 'Cashing In' On Lifelong Patients https://t.co/BeTevywbGJ

— zerohedge (@zerohedge) April 27, 2023
A Hedge Against Euthanasia? 
One thing you realize if you ever go to a cardiology office, for example, is that medicine is, to a large extent, geriatric medicine. Cardiologists treat people of all ages, but whenever I go to my cardiologist for a check up, I'm invariably the youngest patient in the waiting room. And when I take my mother to her cardiologist, everyone in the waiting room under sixty is there because they drove their elderly parents to the appointment. Given that, and the left's moves to legalize euthanasia, it occurs to me that the medical industry's embrace of trans ideology could be seen in part as a cynical attempt to hedge against euthanasia reducing the number of their geriatric patients. 
How A Saner World Dealt With A Similar Issue
Although the trans social contagion is recent, the issue of mentally ill patients seeking to mutilate themselves to conform with their mental images of themselves is not new. Earlier this year, Twitter user Mia used the example of Apotemnophiles (wannabe amputees) from the 1990s as her starting point for an excellent thread that provides the ultimate refutation of trans ideology. I've included her thread in full below; after that, we'll close with a brief trading note. 
Sufferers claim not to feel whole with four limbs and obsess over having their unwanted body parts chopped off. Smith argued the surgeries were life-saving, claiming the patients would commit suicide otherwise. Apotemnophiles, like autogynephiles, will insist that there is../2

— Mia (@_CryMiaRiver) February 11, 2023
But let's imagine for a moment an alternate reality. A world in which a powerful apotemnophile lobby group succeeds in convincing society that apotemnophile rights is the next civil rights movement. Their message is simple: Anyone who identifies as an amputee is an amputee./4

— Mia (@_CryMiaRiver) February 11, 2023
Imagine there were a sudden 4000% increase in teens identifying as amputees, but we were all forbidden from being concerned. Instead we were supposed to celebrate it. Most of the kids were gay or lesbian, or autistic. Almost all suffered from multiple psychiatric comorbidities./6 pic.twitter.com/fxg42llaoi

— Mia (@_CryMiaRiver) February 11, 2023
Imagine schools teaching children as young as kindergarten that some people have amputee identities, that they get to choose how many limbs they have. Posters promoting body mutilation adorned the walls of many classrooms./8 pic.twitter.com/wqvtgsOv2i

— Mia (@_CryMiaRiver) February 11, 2023
Imagine celebrities coming out as amputees and posing on the cover of magazines after they've had their perfectly healthy limbs chopped off, and everyone applauding their bravery and lavishing them with attention and adoration./10 pic.twitter.com/Cr8dIkUpVX

— Mia (@_CryMiaRiver) February 11, 2023
Imagine children's hospitals making promotional videos with soft music playing while doctors explain the amputation process to kids, promising immediate affirmation of a kid's amputee identity.

Laws were passed making helping a child accept all their limbs conversion therapy./12 pic.twitter.com/VfVuJVIw0Q

— Mia (@_CryMiaRiver) February 11, 2023
Imagine if a wave of young people missing limbs started to speak out about the regret they felt about sacrificing their healthy body parts while they were going through a teen mental health crisis, but those people were silenced and accused of being hateful apotemnophobes./14 pic.twitter.com/mYvzWJpwSd

— Mia (@_CryMiaRiver) February 11, 2023
That world is obviously mad, but our reality is worse. Because along with healthy body parts, teens today are sacrificing their fertility and sexual function on the altar of gender,before they even understand what that means, making this truly one of humanity's darkest moments/15

— Mia (@_CryMiaRiver) February 11, 2023
On A More Pleasant Topic...
Our bets against First Republic Bank (FRC) paid off after its disastrous earnings report this week that showed a collapse in its deposits. 
Our bets against First Republic Bank pay off. $FRC https://t.co/T7xeTDRfEN pic.twitter.com/OPFaeFWlwE

— Portfolio Armor (@PortfolioArmor) April 25, 2023
We've got another couple of earnings trades teed up for later today; if you'd like a heads up when they get placed, feel free to sign up for our trading Substack/occasional email list below. 
Early Friday Update: 
One of those earnings trades we entered on Thursday was a bet against Snapchat operator Snap, Inc. (SNAP). Looks like that one's going to be a winner. 
The max gain on our trade happens with $SNAP below $9.50. pic.twitter.com/WVkaD6TtM7

— Portfolio Armor (@PortfolioArmor) April 27, 2023
The other stock we bet against on Thursday hasn't released its earnings yet. 
If You Want To Stay In Touch
You follow Portfolio Armor on Twitter here, or become a free subscriber to our Substack using the link below (we're using that for our occasional emails now). You can also contact us via our website. If you want to hedge, consider using our website or our iPhone app. 
Contributor posts published on Zero Hedge do not necessarily represent the views and opinions of Zero Hedge, and are not selected, edited or screened by Zero Hedge editors.
Loading...