---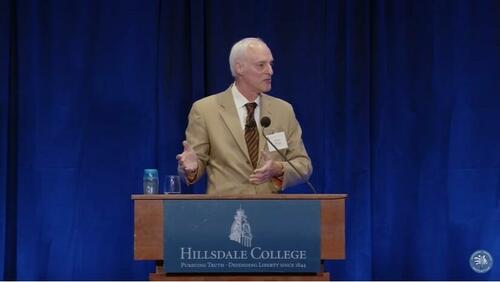 The Rot Behind "The Science"
From Washington to Davos, experts tell us we need to "listen to the science", as they push their preferred policies on us, from eating bugs to ditching fossil fuels. My friend William Briggs gave a great speech last month at Hillsdale College about the flawed way science is often practiced today, and how it has been politicized. As Dr. Briggs, a former professor at Cornell Medical School puts it, 
When someone says, "Listen to the science", what they mean is, "Listen to me". 
I've posted the video of the full speech and brief Q&A below; I think a lot of you will find it as fascinating as I did. 
Dr. Briggs is an excellent speaker, so I recommend watching the video, but he's posted a transcript as well if you'd like to read it. Before you do, a quick follow up on a previous post. 
Finding The Banks Most Likely To Go Bust
A couple of weeks ago, I mentioned in a post here that I had commissioned research on which regional banks are most likely to face "terminal events". 
Finding The Banks 🏦 Most Likely To Go Bust$FFWM $FRCB $BOH https://t.co/dnLbJh0mhp

— Portfolio Armor (@PortfolioArmor) May 9, 2023
Getting that list put together got me in a bit of trouble and took longer than I expected, but I have it now, and plan to share it on my trading Substack later this week, along with a few trades based on it. If you'd like a heads up when I do, feel free to subscribe to my Substack/occasional email list below. 
If You Want To Stay In Touch
You follow Portfolio Armor on Twitter here, or become a free subscriber to our Substack using the link below (we're using that for our occasional emails now). You can also contact us via our website. If you want to hedge, consider using our website or our iPhone app. 
Contributor posts published on Zero Hedge do not necessarily represent the views and opinions of Zero Hedge, and are not selected, edited or screened by Zero Hedge editors.
Loading...