---
A Showdown in Gold Is Imminent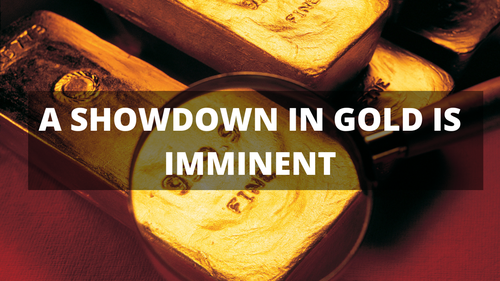 The industry-leading In Gold We Trust Report was released this week.
So convinced are the authors "that the monetary and geopolitical situation as well as the chart development of the gold price suggest that a showdown in gold is imminent" that the 2023 report is entitled "Showdown".
This is arguably one of (if not the) best pieces of analysis and commentary to come out each year. We highly recommend GoldCore readers (virtually) grab themselves a copy and settle down to enjoy this expertly produced report.
The conviction that we are due to see a showdown in gold is reached by Ronald Stoerferle and Mark Valek as they look at what they refer to as The Era of Multiple Showdowns:

"There are undoubtedly challenging times ahead for investors in the coming years as we find ourselves in the midst of monetary and geopolitical showdowns. As in a poker game where the stakes are high, it is important to have a strong hand. Analogous to an ace in poker, gold is an expression of a strong hand for investors. Gold acts not only as a safe investment in uncertain times but also as a reliable protection against the volatile fluctuations in financial markets."
Intermediate gold price forecast update
They also give an update on their gold price forecast to the end of the year. They had previously given a price target of just shy of $4,800 by 2030. Given gold's performance this year, let us know if you think the target seems a little ambitious, a little conservative or very realistic.
Contributor posts published on Zero Hedge do not necessarily represent the views and opinions of Zero Hedge, and are not selected, edited or screened by Zero Hedge editors.
Loading...