---
The Link Between Transgenderism And Nazism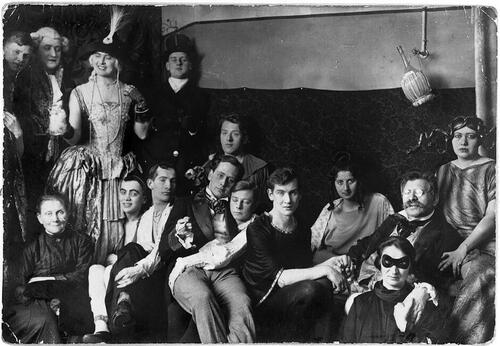 Submitted via Portfolio Armor:
The History Today's Trans Advocates Try To Hide
In a comment on a recent post (Another Reason Why Everything's So Gay), reader "Rockinrole" brought up Magnus Hirschfeld, the pioneering sexologist of Weimar Berlin, as someone whose legacy is a key to understanding our present. That may be true, but perhaps not in the way he thought. I learned something new about Hirschfeld in a fascinating thread I'll share with you below. Following that, we'll wrap up with a brief investing note about the recent rally in regional banks. First, though, let's start with the current-year conventional wisdom about Hirschfeld. 
The Standard History
The standard history of Magnus Hirschfeld is probably best encapsulated by this Scientific American article from a couple of years ago: The Forgotten History of the World's First Trans Clinic. The subtitle gives the game away:
The Institute for Sexual Research in Berlin would be a century old if it hadn't fallen victim to Nazi ideology
It's true that the Nazis did shut the place down, and burn its books, as Scientific American notes: 
When the Nazis came for the institute on May 6, 1933, Hirschfeld was out of the country. [Hirschfeld's partner Karl] Giese fled with what little he could. Troops swarmed the building, carrying off a bronze bust of Hirschfeld and all his precious books, which they piled in the street. Soon a towerlike bonfire engulfed more than 20,000 books, some of them rare copies that had helped provide a historiography for nonconforming people.

The carnage flickered over German newsreels. It was among the first and largest of the Nazi book burnings. Nazi youth, students and soldiers participated in the destruction, while voiceovers of the footage declared that the German state had committed "the intellectual garbage of the past" to the flames. The collection was irreplaceable.
Scientific American does mention one awkward fact: surgeon Erwin Gohrbandt, who performed sex changes at Hirschfeld's clinic, went on to perform medical experiments on concentration camp prisoners at Dachau for the Nazis. That would seem to suggest that Nazi ideology wasn't wholly alien to Weimar Berlin's sex change pioneers, and indeed it wasn't, as Malcom Clark shows below. 
Trans Healthcare And The Nazis
2./ Magnus Hirschfeld, the Jewish, gay sexologist is constantly lauded by the LGBTQ+ lobby as the first ever prophet of "gender reassignment" medicine. What is often ignored is that he was also a passionate campaigner for the sterilisation of those he considered "unfit to breed". pic.twitter.com/HRpS5Hmj15

— Malcolm Clark (@TwisterFilm) May 28, 2023
4./ Hirschfield praised them as being in "the vanguard of improving humanity by sterilising unfit men and women". Their research was to provide the model for the introduction of the Nazis' compulsory sterilisation program just two years later in 1933. https://t.co/a8BSufIkJn

— Malcolm Clark (@TwisterFilm) May 28, 2023
6./ The Nazi program led to the compulsory sterilisation of 360 000 disabled, and in 1939 morphed into "euthanasia" using first injections and then gassing. At the heart of this sterilisation campaign was a long-time collaborator of Hirschfeld's, Erwin Gohrbandt. pic.twitter.com/4PG6JcHFsN

— Malcolm Clark (@TwisterFilm) May 28, 2023
8./ Gohrbandt did the same to another troubled patient, Einar Wegener ( Lili Elbe) the subject of the film The Danish Girl. Wegener thought nosebleeds were him menstruating. Doctors tried to transplant a womb into his body, killing him. He was a victim of shocking malpractice. pic.twitter.com/IHWukMNaxR

— Malcolm Clark (@TwisterFilm) May 28, 2023
10./ When he helped lead the Nazi sterilisation effort, Gohrbandt reviewed research on the potency of sperm and advocated it as a key factor in whether patients should be sterilised. Hirschfeld's research didn't contradict Nazi medicine. It shared assumptions. pic.twitter.com/B4HRXYBRLG

— Malcolm Clark (@TwisterFilm) May 28, 2023
12./ Up to 15000 gay men were sent to concentration camps, the first of which was Dachau. Only ten years after he conducted the first 'sex change surgery' Gohrbandt helped design experiments at Dachau which have become a byword for immoral medical experimentation.

— Malcolm Clark (@TwisterFilm) May 28, 2023
14./ Up to 300 victims were immersed in tanks of freezing water until they lost consciousness. Those who did not die were revived and warmed, some in scalding water. This was done repeatedly. In other experiments for the Luftwaffe, Roma were forced to drink seawater for days.

— Malcolm Clark (@TwisterFilm) May 28, 2023
16./ We know for sure only that Gohrbandt took part in the hypothermia experiments because he presented the research at a secret conference in Nuremberg. He was awarded the Knight's Cross of the War Merit by Hitler in February 1945. He was never prosecuted after the War.

— Malcolm Clark (@TwisterFilm) May 28, 2023
18./ As for Hirschfeld, he died in exile in 1935. He wasn't in Berlin when Stormtroopers looted his Institute in 1933. They carried out a bust of him so it could "watch" his library being burned. Hirschfeld can lay claim to being a victim. Unlike Gohrbandt he did not collaborate. pic.twitter.com/WWCStjbHWu

— Malcolm Clark (@TwisterFilm) May 28, 2023
20./ The brilliant 'US and the Holocaust' series slams Americans like Theodore Roosevelt, Carnegie and Keller for their support of eugenics. Magnus Hirschfeld was loathed by the Nazis, but was just as guilty within Germany for feeding the obsession with "improving" the species. pic.twitter.com/NEvwFSitk7

— Malcolm Clark (@TwisterFilm) May 28, 2023
22./ He'd go on to be implicated in disgusting medical experiments in Dachau that showed the same concern and humanity as he did when he gouged a hole in Dora Richter's pelvis. Is there another field of contemporary medicine with such a shameful and inglorious origin?

— Malcolm Clark (@TwisterFilm) May 28, 2023
A thread to bear in mind next time Team Trans claims to be the good guys. Now on to that brief note about regional banks. 
Regional Banks Are Still In Trouble
For the last few weeks, there's been a big rally in regional banks, but the underlying problems with them remain the same, as ZeroHedge noted on Friday. 
Fed Engages In Shocking Seasonal Adjustments To Convert $28BN Bank Deposit Outflow Into $102BN Inflow https://t.co/NVgbIN1K7m

— zerohedge (@zerohedge) June 2, 2023
In a nutshell, depositors are still pulling their money out of banks and into money market funds, in a slow motion bank run, or "bank walk" as Jim Bianco has called it. To stem the deposit flight, banks will have to raise deposit rates, which will squeeze their bottom lines on their income statements. 
On the balance sheet side, the banks are facing another challenge: a number of them are holding underwater securities, and the amount of securities that are underwater will increase if interest rates rise from here. We recently commissioned an analysis of regional banks to see which were most vulnerable: 
To recap our approach:
Getting The Data

[We started with] the FFIEC (Federal Financial Institutions Examination Council) Central Data Repository's Public Data Distribution web site. The other piece was figuring out which banks had exhausted the Federal Reserve's new, post Silicon Valley Bank collapse assistance program, The Bank Term Funding Program (BTFP).

As you might imagine, the Federal Reserve isn't going to advertise which banks have tapped out their lifelines, but as the banking expert explained, there are a couple of hints to look for in the data:

A big increase in "other borrowed money" in Q1. This will likely include loans from the BTFP, or,

An increase in pledged loans or pledged securities in Q1. This will likely be assets that were pledged to the BTFP as collateral for the bank's loans from the BTFP.

Putting It Together

To build the list, I had my analyst start with all the regional banks in America that are publicly traded and also have options traded on them (since we're going to bet against them using options). Then I had him indicate which ones had likely exhausted their BTFP resources based on the two hints above. Next, I had him total each bank's AFS and HTM securities, and determine how much of each was under water, and divide those amounts by each bank's tier one capital. I've embedded the spreadsheet below, so you can see all the data yourself, and following that, I've posted a few trades I just opened based on the data. Before we get to that, a few cautions.
After posting that list, I posted put spread trades on three banks from the list. On Friday, we took advantage of the rally in regional banks to place additional bets against them. 
If you want a heads up when we place more, as always, feel free to sign up for our trading Substack/occasional email list below. 
If You Want To Stay In Touch
You follow Portfolio Armor on Twitter here, or become a free subscriber to our Substack using the link below (we're using that for our occasional emails now). You can also contact us via our website. If you want to hedge, consider using our website or our iPhone app. 
Contributor posts published on Zero Hedge do not necessarily represent the views and opinions of Zero Hedge, and are not selected, edited or screened by Zero Hedge editors.
Loading...