---
"If I Were The Deep State"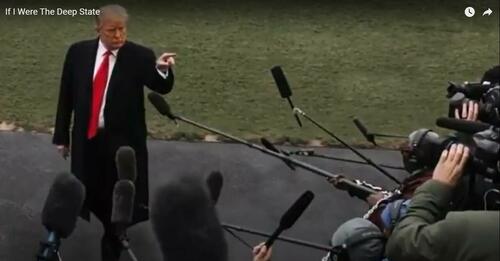 The Left Can't Meme
An anonymous Redditor explained once why the left can't meme: in a nutshell, memes expose aspects of reality in a humorous or otherwise compelling way, and leftist politics is based on denial of reality (on sex, race, IQ, etc.).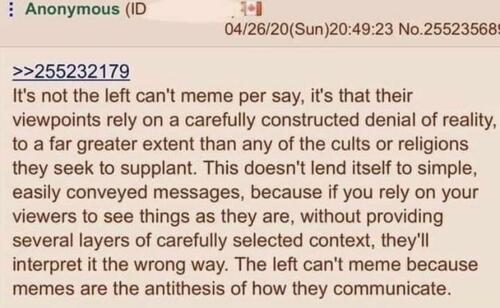 Perhaps that's why the Biden administration decided to prosecute one of the more effective meme-makers of the 2016 election cycle, Douglass Mackey. 
Via @myth_pilot, an inside account of the trial that convicted Douglass Mackey (aka Ricky Vaughn), and a look at his appeal. https://t.co/LOtvTQotSy

— Portfolio Armor (@PortfolioArmor) July 5, 2023
If you're wondering what the aspect of reality reflected in Mackey's vote from home meme was, it was that the Democrats' base was not particularly bright or conscientious--of course, the irony is that the Dems effectively legalized voting from home in 2020 with their mail-in ballots. 
Meme Magic Returns 
The Democrats' use of mail-in ballots is one of the topics tackled in the new meme video below, by Trump supporters @Lauren3veMemes and the Dilley Meme Team. Let's hope they don't face Douglass Mackey's fate for this, because it's very well done. 
In the event YouTube takes down the video above, the same video is also embedded in the tweet below. 
If I were the Deep State…

w: @badcarma69 & @MAGADevilDog pic.twitter.com/n5mWy5ljNg

— Lauren3ve (@Lauren3veMemes) July 24, 2023
As reader "Pritchard's Ghost" notes in the comments, this is a riff on Paul Harvey's classic "If I Were The Devil" monologue.
Let's wrap this up with a quick trading update. 
Wednesday Trading Update
This is a stacked week for earnings releases, and we've got three trades teed up on companies reporting after the close today or before the open tomorrow (two bullish, and one bearish).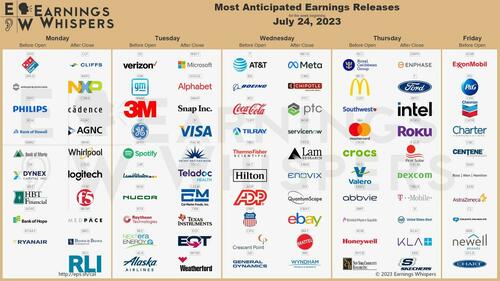 If you want a heads up when we place these trades, feel free to subscribe to our trading Substack/occasional email list below. 
If You Want To Stay In Touch
You follow Portfolio Armor on Twitter here, or become a free subscriber to our Substack using the link below (we're using that for our occasional emails now). You can also contact us via our website. If you want to hedge, consider using our website or our iPhone app. 
Contributor posts published on Zero Hedge do not necessarily represent the views and opinions of Zero Hedge, and are not selected, edited or screened by Zero Hedge editors.
Loading...