---
Meet The Rare Immigrants The U.S. Government Wants To Deport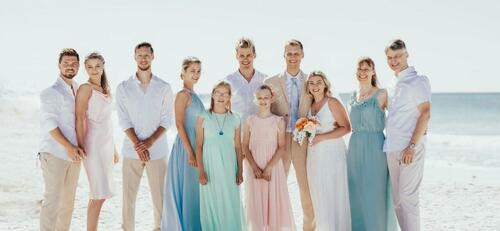 It May Be World War Z South Of The Border...
Migrants from Africa and other parts of the Global South continued pouring onto trains in Mexico last week, heading north to the U.S. border, where the Biden Administration has effectively ordered the Border Patrol to let everyone in. 
AFRICANS SPILLING INTO MEXICO LIKE WORLD WAR Z ###
pic.twitter.com/hhAabno74V

— The_Real_Fly (@The_Real_Fly) September 22, 2023
...But Not Everyone Gets To Stay
Since immigration law is largely in abeyance in America now, most of those migrants who make it over the border aren't going to get sent home any time soon, but one immigrant family has been told to get themselves ready to leave: The Romeike family of Morristown, Tennessee. 
The Romeike fled Germany 15 years ago, because they said the German government threatened to fine them for homeschooling their kids. American courts didn't find that sufficient grounds for asylum here, so they've been told to pack their bags. Via the local NBC affiliate in Knoxville, TN, WBIR: 
"They're here with the approval of the U.S. government, but without permanent residency or citizenship status," said Kevin Boden, an attorney with the U.S. Home School Defense Association.

Romeike said two weeks ago, an immigration agent asked his family to return in four weeks, with German passports, and to prepare to self-deport. 

"Our oldest children were in school in the German public schools, and their personality literally changed," Romeike said. "We wanted to help them to grow up in what they believed in, and what we believe in and not get basically indoctrinated with something we don't want." 

Romeike said since he and his wife moved to the U.S., they've had two more children and two of their adult children are married to U.S. Citizens. 

"They work here. Everything is here in America," Romeike said. "We don't have any place to live there. I don't have any work to provide for my family over there." 
You can watch WBIR reporter Vinay Simlot's segment on the family below. 
One wonders what it is about this family that makes them so objectionable compared to the thousands pouring over our southern border every day. 
In Case You Missed It
In a post earlier today, we wrote about a technical indicator that could potentially help you avoid some losing trades and help you find some winners. 
A technical indicator to keep in mind for earnings trades. https://t.co/g6zISKkVmc$BIG $SFIX

— Portfolio Armor (@PortfolioArmor) September 25, 2023
Perhaps something to keep in mind as the market gets choppy. 
If You Want To Stay In Touch
You can follow Portfolio Armor on Twitter here, or become a free subscriber to our Substack using the link below (we're using that for our occasional emails now). You can also contact us via our website. If you want to hedge or see our current top ten names, consider using our website (our iPhone app is currently closed to new users).  
Contributor posts published on Zero Hedge do not necessarily represent the views and opinions of Zero Hedge, and are not selected, edited or screened by Zero Hedge editors.
Loading...