---
Siding With Hamas: Looks Like The Left Miscalculated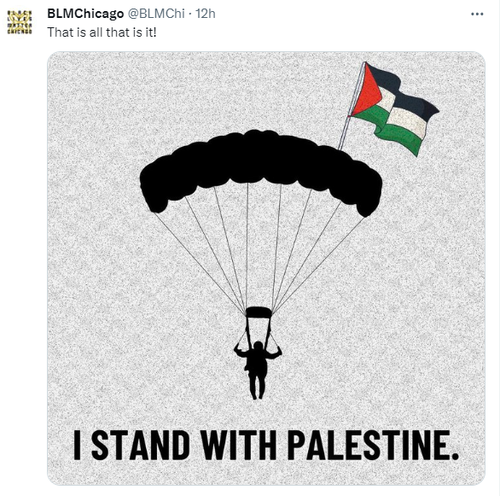 Submitted by Portfolio Armor:
Has The Left Gone Too Far?
As Zero Hedge reported yesterday, reported last night, Black Lives Matter's pro-Hamas tweets have attracted the attention of Elon Musk. 
Your position is clear

— Elon Musk (@elonmusk) October 10, 2023
BLM Chicago wasn't the only leftwing organization to express support for Hamas. 
New statement: BLM Grassroots calls for Hamas-style decolonization of America: pic.twitter.com/e4ORn9x0FH

— End Wokeness (@EndWokeness) October 10, 2023
Franz Fanon states in the FIRST SENTENCE of his book "Wretched of the Earth"…

"National liberation, national reawakening, restoration of the nation to the people or Commonwealth, whatever the name used, whatever the latest expression, decolonization is always a violent event."

— Bay State John Brown Gun Club (@baystatejbgc) October 7, 2023
Fanon was an Afro-Caribbean Marxist who advocated massacres as an essential part of decolonization. 
Lol no

It is universally understood that Fanon believed massacring settlers was psychologically liberating, and necessary for a healthy national conscience. https://t.co/upEM1OcpXX

— Robert Duigan (@uMarhobane) October 10, 2023
It Looks Like It May Cost Them
Unfortunately for leftists in college and grad schools, their pro-Hamas messages have also attracted the attention of future employers. 
Hedge fund manager Bill Ackman and others started demanding the names of the students behind the Harvard organizations that published pro-Hamas statements. 
I have been asked by a number of CEOs if @harvard would release a list of the members of each of the Harvard organizations that have issued the letter assigning sole responsibility for Hamas' heinous acts to Israel, so as to insure that none of us inadvertently hire any of their… https://t.co/7kzGOAGwp9

— Bill Ackman (@BillAckman) October 10, 2023
And it is starting to impact their employment prospects. 
Hitlerite college radicals all over the the U.S. are rapidly deleting their online presences as they realize that endorsing terrorism and mass murder makes them unemployable for the next decade.

Too late! https://t.co/6UpruZRUJR

— Max Meyer (@mualphaxi) October 10, 2023
An early casualty was the president of NYU Law School's Student Bar Association, Ryna Workman (previously known as "Lauryn Workman"). 
An absolutely appalling message from NYU Law School's Student Bar Association President Ryna Workman (they/them). pic.twitter.com/MUx17HqHud

— Eli Klein (@TheEliKlein) October 10, 2023
Shortly after word got out about her pro-Hamas statement, the law firm where she was going to work rescinded its offer. 
October 10, 2023
An Apparent Miscalculation 
As our friend Isaac Simpson pointed out, these sorts of pro-Hamas messages might have gone over with less resistance had this been a typically ineffective terrorist attack, but the scale and savagery of this one finally made some American elites rethink their tolerance for leftist endorsement of political violence. 
All the lefty patronage orgs thought this was gonna be another "3 Israelis injured, 1 killed" situation, what it's been for the last two decades, so they excitedly responded with their freshly updated race-pandering Israel policy.

Then they realized 1000 dead, women taken…. https://t.co/UycTIPOLaH

— Disgraced Propagandist (@DisgracedProp) October 11, 2023
Maybe if we're lucky, they'll start pushing back against the endorsement of BLM violence in America. 
In Case You Missed It
Each week on the Portfolio Armor web app, and on our Substack, we post our system's top ten names--the ones we estimate have the highest return potential over the next six months, net of hedging cost. These were the top ten names we posted on April 6th: 
Screen capture via Portfolio Armor on 4/6/2023.
Here's how our top names did over the next six months: They were up 16.57%, on average, while SPY was up 5.74%. 
That was the 11th top names cohort out of 14 so far this year that beat SPY (PA top names return on the left below; SPY on the right). 
If You Want To Stay In Touch
You can find our current top names on our website. You can also follow Portfolio Armor on Twitter here, or become a free subscriber to our Substack using the link below (we're using that for our occasional emails now).
Contributor posts published on Zero Hedge do not necessarily represent the views and opinions of Zero Hedge, and are not selected, edited or screened by Zero Hedge editors.
Loading...