Submitted by Alexander Gloy of Lighthouse Investment Management
The Greek (Ministry) Mystery of Finance
The Greek January – September budget deficit was EUR 19.16bn versus 16.65bn same period last year (+15%). This only includes the central government.
The initial deficit target for 2011 was EUR 17bn. We blew past that after only 8 months. The revised target (July) is now 22bn (9.5% of GDP).
Latest estimate from the Greek government: 8.5% deficit (19.5bn) for 2011 (instead of 7.6% or 17bn).
Here's a chart of the budget deficit (cumulative):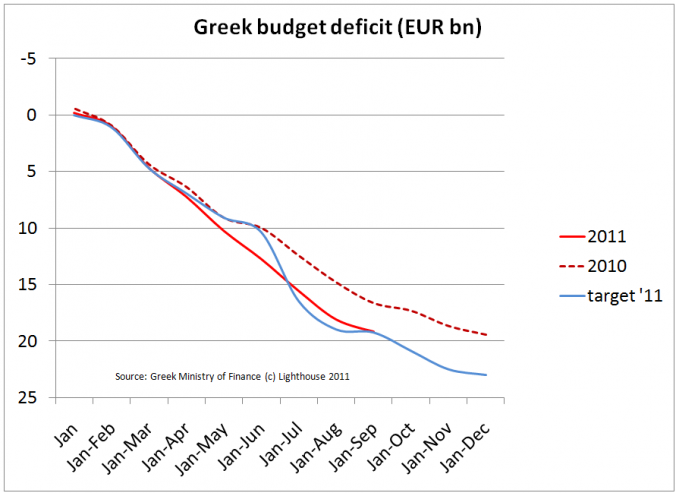 You can see that 2011 pans out to be worse than 2010 (dashed line).
Revenues are negatively impacted by the severe recession. Okay, but what about expenses?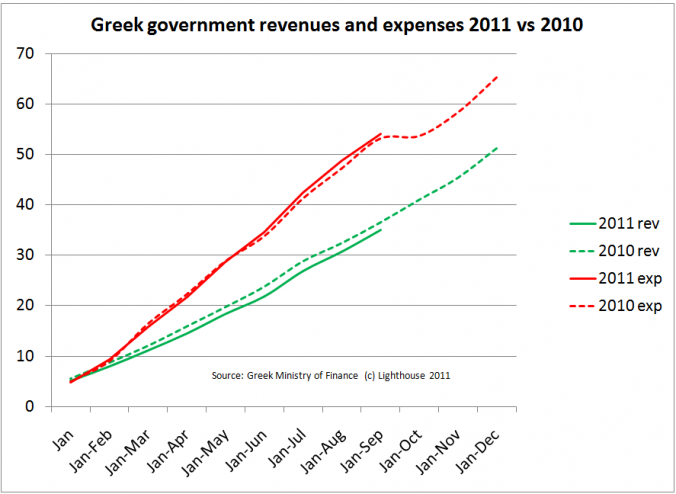 While 2011 revenues are trending below 2010, expenses are trending higher.
Despite all the austerity measures, Greece is still spending 150% of its revenues: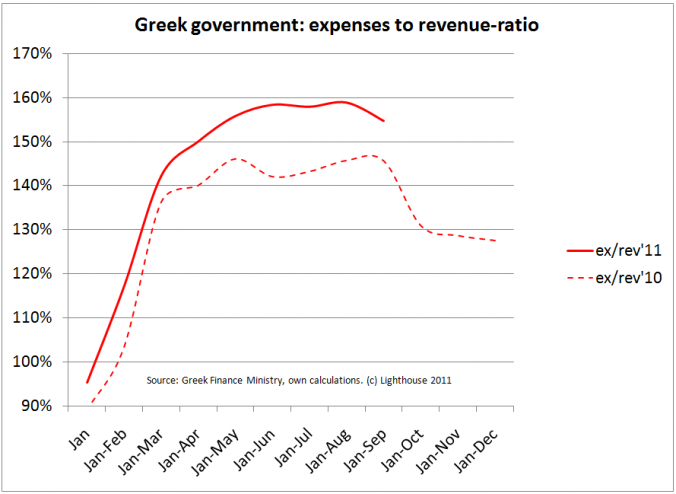 Of course, the Ministry of Finance sees a reduction of the deficit to a miniscule 2.6% of GDP by 2014 as revenues rise and expenses come down: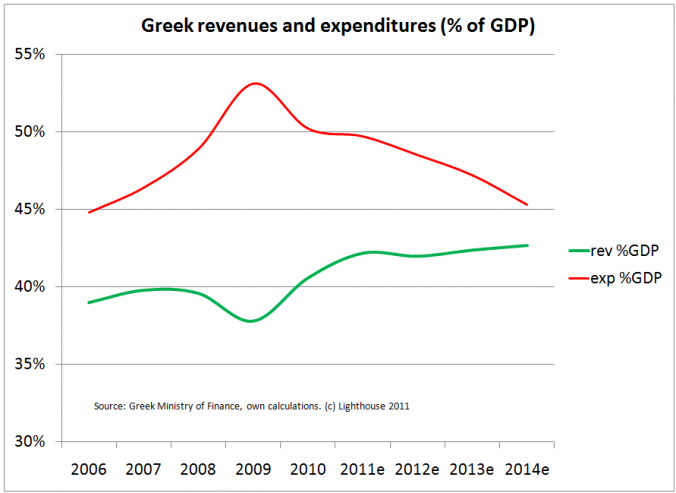 How is that possible? Somehow, after spending four consecutive years in recession (2009-2012), the economy will rise like a phoenix and grow by 5.8% in 2014.
I leave it up to you to decide if this is credible.
One more thing: interest expenses were 14bn after 9 months = 18.7bn annualized.
As of June 30, Greek government debt stood at EUR 353.7bn.
You do the math – Greece is paying an average interest rate on its debt of 5.28% (less than Italian 10-year bond yield).
If Greece were to pay market rates (let's be generous and take 10-year yields of 24%), it would spend EUR 84bn on interest.
This would exceed government revenues.