---
28 Million More Americans Could Wind Up Homeless Due To The COVID-19 Pandemic
The threat of looming evictions could result in 28 million people being homeless in the U.S. as a result of the coronavirus pandemic, one expert contends. 
Emily Benfer, who has spent her career representing homeless families, was recently interviewed by CNBC where she went into detail about what could be a stark reality for homelessness in the country as a result of the coronavirus. She is currently the chair of the American Bar Association's Task Force Committee on Eviction and co-creator of the COVID-19 Housing Policy Scorecard with the Eviction Lab at Princeton University.
"We have never seen this extent of eviction in such a truncated amount of time in our history," Benfer said when asked about how the current homeless crisis compares to the 2008 housing crisis.
She continued: "We can expect this to increase dramatically in the coming weeks and months, especially as the limited support and intervention measures that are in place start to expire. About 10 million people, over a period of years, were displaced from their homes following the foreclosure crisis in 2008. We're looking at 20 million to 28 million people in this moment, between now and September, facing eviction."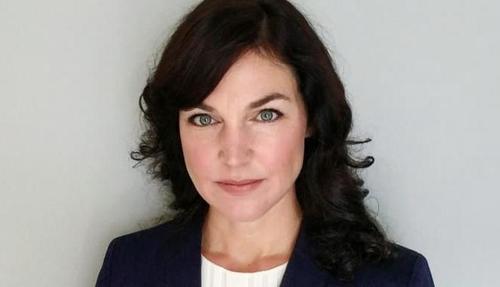 She also noted that evictions could have a negative effect on people's health, stating that evictions cause more respiratory distress and increased mortality. Since the main way to combat the virus has been to shelter-in-place, evictions could lead to a quicker spread of the virus, Benfer says. 
With regard to individual state moratoriums on evictions, Benfer says that as soon as they run out, Sheriff's are just waiting to execute evictions: "The moment the moratoriums lift, all of those families will be immediately put out. And right now, 29 states lack any state level moratorium against evictions. "
She continued: "Some of the moratoriums are limited to different segments of the population, and in their duration. They were also not coupled with financial assistance to ensure that renters don't accrue this backed-up debt and are stabilized enough to stay in their unit."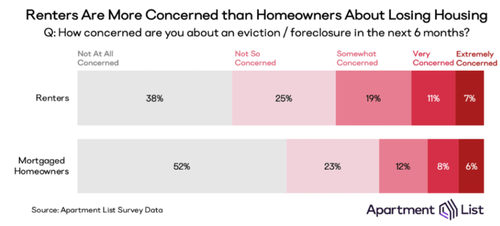 As a result, she is calling for an immediate nationwide moratorium on evictions, coupled with more financial assistance: "As an immediate measure, we need a nationwide uniform moratorium on eviction, and it has to be coupled with financial assistance to ensure that the renter can stay housed without shifting the debt burden onto the property owner."
Benfer also talked about the problems with holding eviction hearings via video streaming, instead of in a courtroom. "When you consider that people are now choosing between rent and food for their families, they're also unlikely to be able to pay for minutes on their phone, or Wi-Fi, to log into a remote hearing," she said.
"So appearance itself may be very challenging. And if they fail to appear, if they weren't able to dial in or if they don't have the right link to the Zoom, that's considered a failure to appear, which results in a default judgment for the property owner."
Recall, we just wrote days ago about how hard it was to get evicted in individual states. We also noted that 30% of owners didn't make their housing payment in June.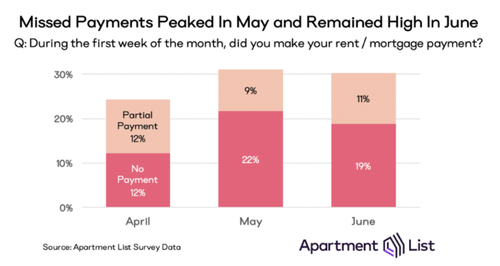 That figure stood at 24% in April and 31% in May, before falling slightly to 30% in June. One third of the 30% in June made a partial payment, while two thirds made no payment at all.
"Missed payment rates are highest for renters (32 percent), households earning less than $25,000 per year (40 percent), adults under the age of 30 (40 percent), and those living in high-density urban areas (35 percent). While the missed payment rate for mortgaged homeowners is just 3 percentage points lower than renters," the survey showed.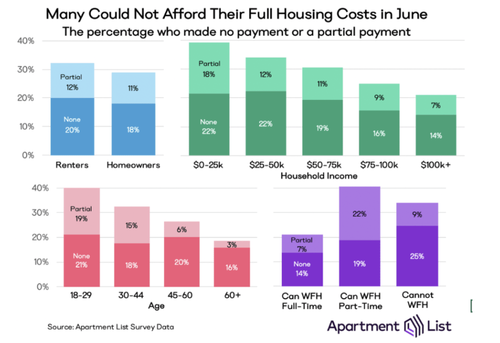 Despite the trend of missing payments at the beginning of the month, households have been able to play catch-up later in the month and "narrow the gap" by making payments in the middle of the month. This was the case in May, where the missed payment rate "dropped from 31 percent at the beginning of the month to 11 percent at the end."