---
ADP Embarrasses Itself With Almost A Million Job 'Revision' To January's Dismal Data
Following January's dismal 300k job-loss ADP print, which was dramatically worse than the official BLS payrolls print, it appears the private employment survey has some catching up to do with analysts expecting a 375k jump in jobs in February.
The good news, ADP reports US companies added 475k job in Feb (more than expected); but ADP embarrassed itself greatly with a simply unbelievable revision for January from the -301k initial print to a massive +509k print revised!!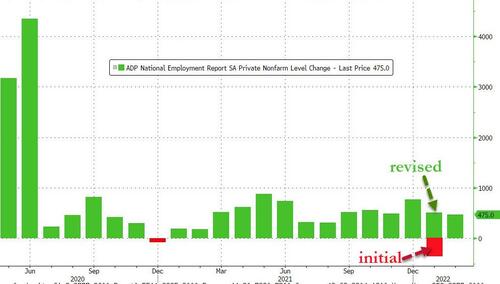 Source: Bloomberg
Some context for January's revision!!
Source: Bloomberg
This is the 14th straight month of job gains (given the revision in Dec), but small businesses saw sizable job losses in February and Services jobs dominated the gains.

"Hiring remains robust but capped by reduced labor supply post-pandemic. Last month large companies showed they are well-poised to compete with higher wages and benefit offerings, and posted the strongest reading since the early days of the pandemic recovery," said Nela Richardson, chief economist, ADP.
"Small companies lost ground as they continue to struggle to keep pace with the wages and benefits needed to attract a limited pool of qualified workers."
But we are sure president Biden's plan to raise minimum wages to $15 will help that right?