---
ADP Reports Wage Growth Slowing Despite Job Gains
After tumbling last month to its lowest in two years (blamed on weather), ADP's employment report was expected to show a rebound in Feb, adding 200k jobs. The actual print was even higher at +242k (with January's revised up to +119k).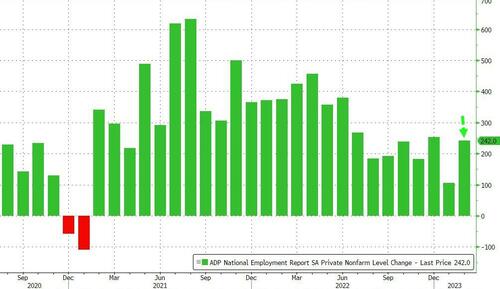 Source: Bloomberg
Large companies dominated the beat...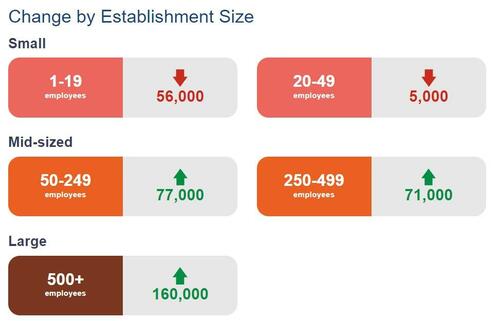 Business Services and Construction sectors saw job losses...
ADP's chief economist Nela Richardson said of the January weakness, "we saw the impact of weather-related disruptions on employment during our reference week."
Richardson's comments for February:
"There is a tradeoff in the labor market right now. We're seeing robust hiring, which is good for the economy and workers, but pay growth remains quite elevated. The modest slowdown in pay increases, on its own, is unlikely to drive down inflation rapidly in the near-term."
However, pay growth for job stayers slowed to 7.2 percent in February, the slowest pace of gains in 12 months. Pay growth decelerated for job changers, too, falling to 14.3 percent from 14.9 percent.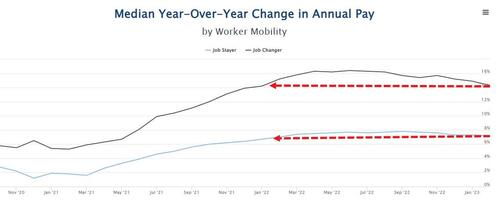 As a reminder, ADP has dramatically under-forecast BLS 'official' job gains for months...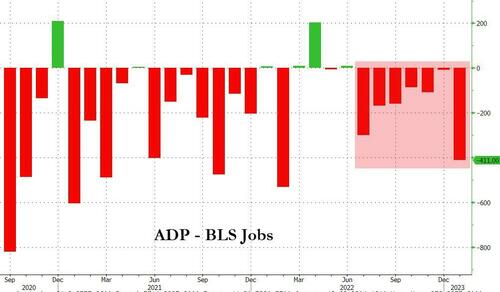 Source: Bloomberg
Equity bulls better start hoping for a big ugly print in payrolls soon or The Fed's hawkish dreams may come true sooner rather than later. All eyes now turn to JOLTS data (and the potential for a big miss).
Loading...