---
ADP Says Jobs Growth In January Slowest In 2 Years, Blames Weather
After rebounding in December, ADP's employment report was expected to show slowing in January but the actual print was a major disappoint with only 106k jobs added (compared to 180k expected and an upwardly revised 253k in December).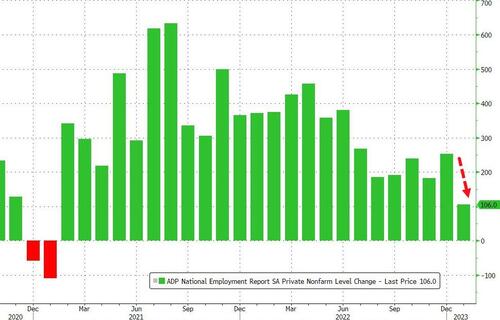 Source: Bloomberg
That is the weakest job growth since January 2021, and biggest miss since August...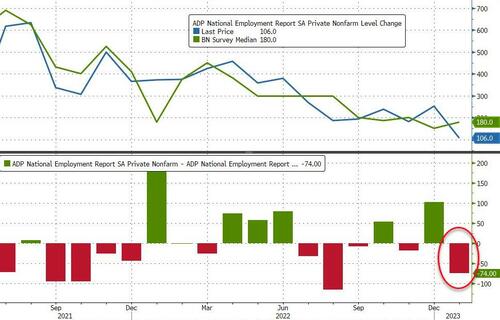 Source: Bloomberg
Under the hood the data is not pretty...
However, Nela Richardson, ADP Chief Economist blames it on the weather, noting that employment was soft during our Jan. 12 reference week as the U.S. was hit with extreme weather. California was coping with record floods and back-to-back storms delivered ice and snow to the central and eastern U.S.
"In January, we saw the impact of weather-related disruptions on employment during our reference week. Hiring was stronger during other weeks of the month, in line with the strength we saw late last year."
We can't help but call 'bullshit' on this excuse... 
Despite the massive layoffs from big-tech, ADP reports that LARGE COMANIES WERE THE ONLY ONES TO ADD JOBS in January!

Despite the massive layoffs from big-tech, ADP reports that INFORMATION FIRMS ADDED 5k jobs.

Despite homebuilder confidence and stock prices soaring, ADP reports that CONSTRUCTION JOBS CRASHED.

The MidWest saw the largest number of job losses... did the weather cause professional sunbathers to suddenly become unemployed?
Of course, this downbeat headline is great for ADP - if BLS comes in weak they can cheer their forecast; if BLS comes in strong, they can blame 'weather'.
On the wage front, ADP reports that pay growth for job stayers held at 7.3 percent for the second month, with most industries little changed. One outlier was the information sector, where pay growth decelerated from 7 percent to 6.6 percent. For job changers, pay growth accelerated to 15.4 percent.

Finally, as a reminder, it is the labor market data that has materially supported the 'strong' macro argument among market participants, dominating the weakness in 'soft' survey and industrial data in recent weeks...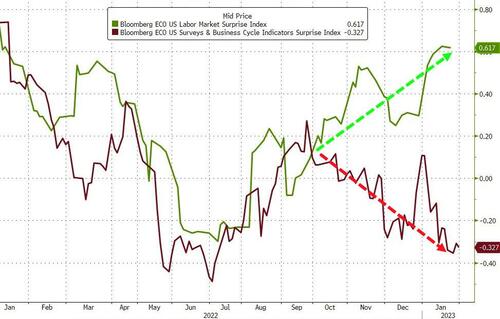 Source: Bloomberg
Is the job market just lagging the rest? Or, is it all too smoothed and 'adjusted' to be of any use at all? For sure, this kind of 'strength' is not what The Fed wants to see after hiking rates by 450bps.
Loading...