---
Apocalypse On Broadway: Study Finds 78% Increase In Vacant Storefronts
If the rising taxes and complete loss of law and order in the midst of a global pandemic wasn't enough to drive you out of New York City, perhaps complete apocalypse on the city's iconic Broadway will do it.
A stunning new report shows that more than 300 storefronts are now vacant along Broadway. It marks a 78% increase from three years ago. More than 33% of those vacancies were located between 14th and 59th streets, in the heart of Manhattan. 
The tally was calculated by Manhattan Borough President Gale Brewer and her staff in late August while visiting 13 miles and 244 blocks, according to the Wall Street Journal. Her staff was able to count 39 empty storefronts between 96th and 125th street, 66 empty spots between 59th and 96th street and 43 vacancies below 14th street.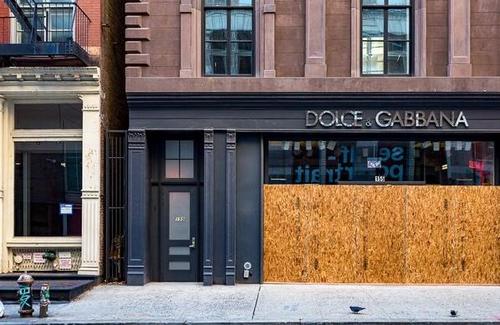 42 stores were boarded up - though some were open for business. 
Brewer commented: "The rent is so high, particularly on Broadway in Manhattan, that it's hard for the small shops to make a go of it. At this point, with the gates down and sometimes plywood on the storefront, you don't know whether it's going to be rented."
Marilyn Jacques, a wholesaler of imported lace and tulle from France, who has a company off Broadway near West 36th Street, commented: "It's not only Broadway, it's also all the side streets. Retail is in terrible trouble, we all know that. But now, when you're working from home, you don't need 25 pairs of leggings."
She compared the current state of Broadway to when she started her business back in 1980: "At lunch time you couldn't walk on the sidewalk, it was so full. The side streets were filled with people with racks of clothes going through, yelling, 'Watch your backs, watch your backs.'"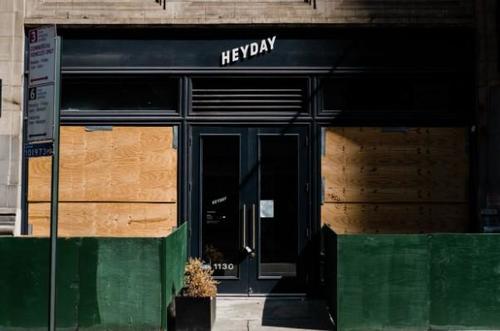 Recall, we posted a video in mid-August of a dystopian looking New York City, following a car driving down a deserted 5th Avenue, with almost all of the area's high end stores boarded up and shut down. There are few people seen on what is usually a busy street. 
"Look at everything. Everything's boarded up. Even the hotel. Boarded up," the video's narrator, who is obviously fed up with how the city looks, says.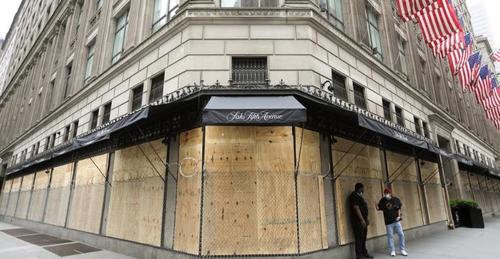 He continues: "This is all Manhattan, boarded up. Have you ever seen Manhattan look like this? The media will not report this."
"Everything boarded up. They don't want to show this to you people because they're afraid. Saks 5th Avenue - boarded up from end to end. They put up barbed wire. Everywhere you see boards, windows are gone. Look at New York City - what happened," he says. 
The video runs over 2 minutes and shows dozens of boarded up businesses. You can watch it here:
Don't know who recorded it but I downloaded this yesterday

He's single handedly wrecked Manhattan

Ghost town

"Beirut DeBlasio" without the explosion pic.twitter.com/5I48ZGcWTZ

— tadgermania (@tadgermania) August 7, 2020
The video was originally posted as a response to another Tweet that seems to tell the developing tale about DeBlasio's New York:
From an email chain I'm on this morning:

"DeBlasio has made the city worse than Dinkins days. I'm selling my place. Already have interest, I'm out!"

Now multiply this by the whole city. NYC is toast

— Quoth the Raven (@QTRResearch) August 7, 2020
Things don't look much different on Broadway or in the Garment District.
Manufacturing in the garment district has been slowing for the last 60 years and, prior to Covid, only 4% of the district's jobs were even in the industry, according to Barbara A. Blair, president of the not-for-profit Garment District Alliance. Instead, many jobs are now in services, technology and media. 
Blair commented: "The restaurants were doing really well, and the happy hours at night, they'd be so crowded you literally couldn't get in."
But that has all come to a screeching halt. As we recently noted, indoor dining is still prohibited in the city and Mayor de Blasio has even commented that it may not come back until Summer 2021. Great work, Bill. The city looks great.