---
Apple Customers Say It's Hard To Get Money Out Of Goldman Sachs Savings Accounts
Authored by Bryan Jung via The Epoch Times,
Some Apple customers have found it difficult to access their savings from a new account program in partnership with Goldman Sachs.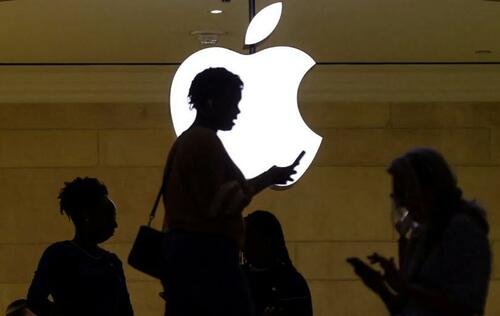 After the new Apple savings account was launched in April to great fanfare, the system has been facing serious teething problems, according to customers.
The annual yield on an Apple savings account offers a generous 4.15 percent interest rate, dwarfing the current savings account yield of 0.39 percent, according to Bankrate.
The account's interest rate is about ten times the average yield offered by mainstream banks, making it attractive to new customers and falls well below the Federal Reserve's borrowing rate of between 5 percent and 5.25 percent.
This allows users to earn a sizeable amount in interest over the course of a year.
Some reports suggest that the launch had already attracted as many as $1 billion in deposits within four days of launch.
Goldman is the primary issuer of Apple's new credit card, which is the only way a customer can open a savings account with the tech giant.
Apple views its new account program as a way to expand iPhone usage into its customer's daily financial interactions and keep them linked to its networks, while Goldman benefits from additional depositors.
After signing up for the credit card, Apple users can open an account in less than a minute from their iPhones, with no minimum balance requirement.
The accounts have zero deposit fees and offer a maximum balance of $250,000.
Depositors are free to access their money at any time, unlike many normal bank accounts, which limit customers to six major cash withdrawals a year.
New Apple Accounts Face Severe Teething Issues
However, some customers have faced delayed money transfers, while others reported having trouble transferring money from their new Apple accounts, according to the Wall Street Journal.
A few are even reported having trouble accessing their funds or even seeing them vanish during transfers from Apple to another bank.
Nathan Thacker, a resident of Georgia, told The Wall Street Journal he had trouble transferring $1,700 from his Apple account to JPMorgan Chase since May 15.
After contacting Goldman Sachs' customer service department multiple times, he was told to wait a few days.
The money only arrived in Thacker's account after The Wall Street Journal contacted the bank about his problem and similar experiences from other customers.
Stories on social media are filled with similar experiences from customers unable to access their Apple savings accounts.
Large transfers from new account programs like Apple's have been triggering anti-money laundering red flags or other security concerns that require additional reviews by the banks, according to experts in the AML field.
The experts said that anti-money laundering alerts tend to cause delays that last, on average, about five or so days.
Kevin Smyth, from Minnesota, wrote in a May 25 post on Twitter directed at Apple CEO Tim Cook: "Was your plan to partner with a bank that holds people's life savings hostage?"
Smyth claimed he had been trying to transfer $10,000 from his Apple account to U.S. Bank on May 16.
The following morning, he was forced to sell about $12,000 of stock in order to have cash on hand.
Smyth has since decided to pull $200,000 savings from his Apple account, move it back to American Express and close it, despite Goldman having resolved the issue.
Goldman Sachs Defends Partnership With Apple
Goldman Sachs said the difficulties were being faced by a "limited" number of customers and that the delays were often added due to rigorous processes designed to protect user identity.
A spokesman for Goldman Sachs told The Daily Mail in regard to consumer complaints, "The customer response to the new Savings account for Apple Card users has been excellent and beyond our expectations."
"While the vast majority of customers see no delays in transferring their funds, in a limited number of cases, a user may experience a delayed transfer due to processes in place designed to help protect their accounts," he added.

"While we would not comment on specific customer interactions, we take our obligation to protect our customers' deposits very seriously and work to create a balance between a seamless customer experience and that protection," the spokesman said.
Meanwhile, Goldman has announced cutbacks on its consumer lending and announced in February that it was "considering strategic alternatives" for the unit that operates its credit-card partnership with Apple.
The investment bank has also faced recent controversies over problems such as regulatory probes, particularly when dealing with lower net-worth clients.
The Epoch Times reached out to Apple for comment.
Loading...