---
"Business Has Gotten Stupid Slow" - Dallas Fed Manufacturing Survey Slumps To Post-COVID Lows
The Dallas Fed Manufacturing survey for April printed considerably below expectations. Analysts expected a rebound from -15.7 to -11.0 but instead the headline index plunged to -23.4 (just shy of post-COVID-lockdown lows).
That is the 12th straight month of 'contraction' in the survey.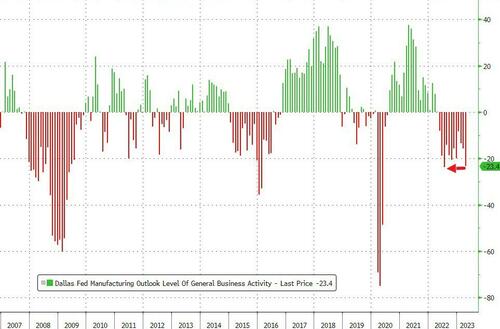 Source: Bloomberg
The new orders index was negative for an 11th month in a row but moved up five points to -9.6.
The growth rate of orders index also remained negative but rose from -15.2 to -11.1.
Worse still, prices and wages continued to increase in April.
Production was flat...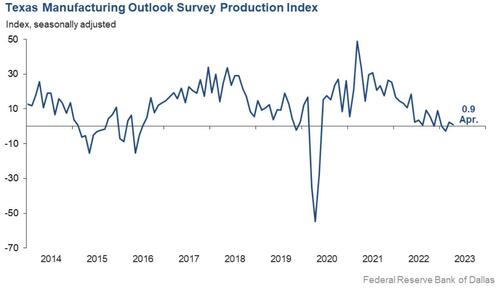 Perceptions of broader business conditions worsened notably in April.
The company outlook index remained negative, ticking down two points to -15.6. The outlook uncertainty index pushed up to 24.7, elevated relative to its average reading of 16.9.
Comments from respondents are getting more concerning:
We have already been notified that our credit line renewal may be difficult. Our monthly increase in costs (rate) is at highs not seen since 2007.

Funding has dried up to purchase our products.

There is a definite slowdown. New orders virtually stopped.

We are starting to see a real slowdown. We are hoping it is short lived.

Almost all of our customers have high inventories from overbuying last year. So, they are all cutting back on ordering new inventory. Business is slow as customers are waiting to see when recession starts. Most customers, when pressed, think the recession will start in summer. We are getting ready for our second layoff in the last four months.

Business has gotten stupid slow, and we estimate having many days of just a few hours' work due to low volume. This is crazy—as busy as we were last year, and now for this year to have it turn off so quickly, it is hard to understand why. We hear from many others in our industry, and they are all saying the same thing: that it's gotten slower without any signs of turning around in the near term. Perhaps it's the Federal Reserve actions that are causing this.
Finally, looking ahead, the future production index plummeted from 13.5 to 3.0, with the low reading signaling little output growth over the next six months.
Loading...