---
Conference Board Confidence Drops To Worst Since 2022, Labor Market Showing Cracks
After declining in April, the Conference Board's consumer sentiment index was expected to accelerate its drop (after peaking in Dec 2022 for this mini-cycle). The picture is murkey however as the headline print beat expectations (102.3 vs 99.0 exp) but that is down from April's final print of 103.7 (revised up from 101.3). Under the hood, both current and future expectations indices declined (from revised higher prints)...
Source: Bloomberg
That is the lowest headline confidence print since Nov 2022 and lowest 'current conditions' print since Dec 2022.
"Consumer confidence declined in May as consumers' view of current conditions became somewhat less upbeat while their expectations remained gloomy," said Ataman Ozyildirim, Senior Director, Economics at The Conference Board.

"Their assessment of current employment conditions saw the most significant deterioration, with the proportion of consumers reporting jobs are 'plentiful' falling 4 ppts from 47.5 percent in April to 43.5 percent in May. Consumers also became more downbeat about future business conditions, weighing on the expectations index. However, expectations for jobs and incomes over the next six months held relatively steady.

While consumer confidence has fallen across all age and income categories over the past three months, May's decline reflects a particularly notable worsening in the outlook among consumers over 55 years of age."
Meanwhile, May's results show consumer inflation expectations over the next 12 months decline modestly from 6.2% to 6.1% - although that level is down substantially from the peak of 7.9 percent reached last year, it is still elevated...
"Nonetheless, consumers continued to view inflation as a major influence on their view of the US economy."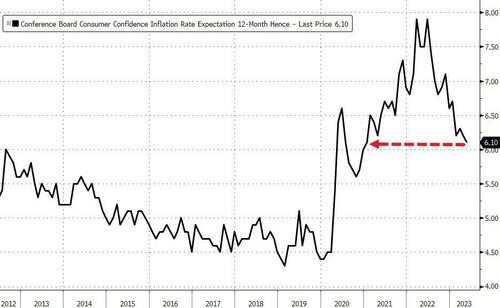 Source: Bloomberg
Finally, the Conference Board's measure of labor market tightness worsened notably (less jobs plentiful vs hard to get) in May...
43.5% of consumers said jobs were "plentiful," down from 47.5%.

12.5% of consumers said jobs were "hard to get," up from 10.6% last month.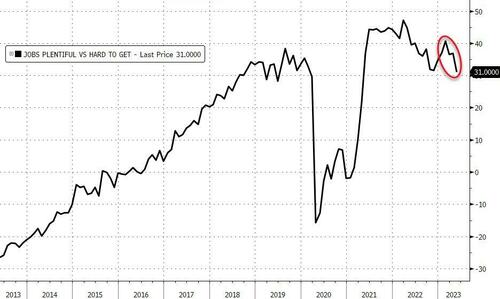 Source: Bloomberg
This is not at all what Powell wants to see.
Loading...