---
Consumer Loses Faith As Annual Retail Sales Growth Slows Dramatically
While Chinese retail sales grew at the slowest pace since 2003 and US consumer comfort has plunged recently, US retail sales were expected to rebound in October after September's slide, but the picture is more mixed.
Headline retail sales rose 0.3% MoM (better than expected +0.2%) but core retail sales rose only 0.1% MoM (worse than the +0.3% expected).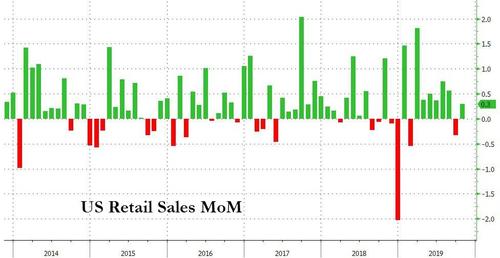 Source: Bloomberg
The modest rebound was led by sales gains for auto dealers and gas stations, though declines in categories including clothing and furniture stores tempered the advance.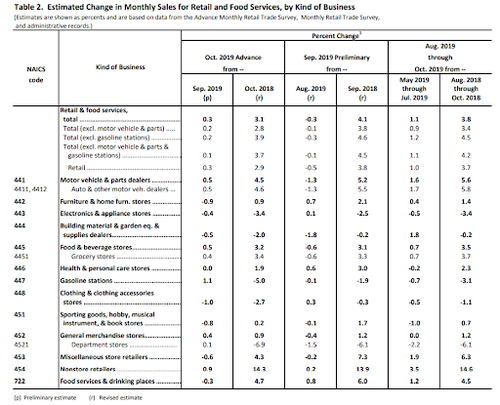 The report also included some signs that may point to consumers running out of steam, with seven of 13 major categories dropping.
Categories higher:
Motor vehicle and parts dealers: 0.5%

Food and beverage stores: 0.5%

Gasoline stations: 1.1%

General Merchandise stores: 0.4%

Nonstore retailers (online): 0.95
Categories lower:
Furniture and home furnishing stores: -0.4%

Electronics and appliance stores: -0.5%

Clothing and accessories stores: -1.0%

Sporting goods, hobby and book stores: -0.8%

Miscellaneous store retailers: -0.6%

Food service and drinking places: -0.3%
But on a year-over-year basis, retail sales growth is slowing drastically...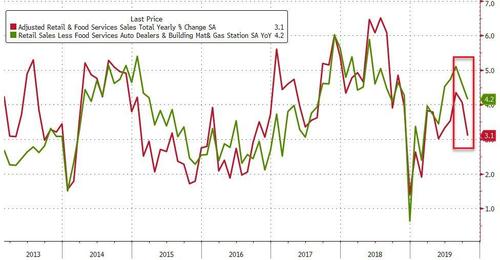 Source: Bloomberg
It appears the consumer is losing faith...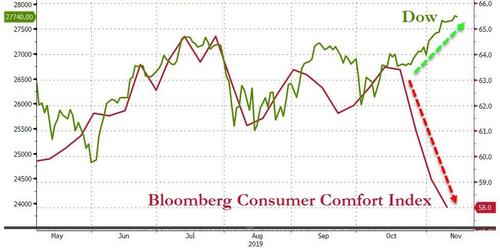 Source: Bloomberg
While Fed Chair Powell reiterated this week that the labor market is strong, following an October jobs report that showed payroll gains intact and the jobless rate still near a half-century low, it appears all is not goldilocks in consumer spending land.