---
Headline CPI Tumbles More Than Expected But Real Wages Decline For 24th Straight Month
Despite NYFRB's recent survey showing inflation expectations resurging, expectations were for a notable drop in headline CPI (but a rise in core CPI) and that is what we got, with headline CPI +0.1% MoM (+5.0% YoY vs 5.1% exp, and down from 6.0% YoY prior)...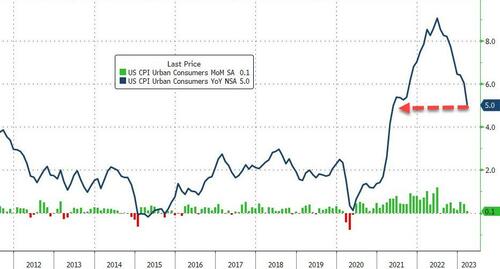 Source: Bloomberg
Energy's decline was the biggest YoY deflationary driver for the headline CPI print while Services continued to rise...

Source: Bloomberg
Goods inflation turned back up in March, from +1.0% YoY to +1.5% YoY while Services inflation actually slowed very modestly from +7.3% YoY to +7.1% YoY...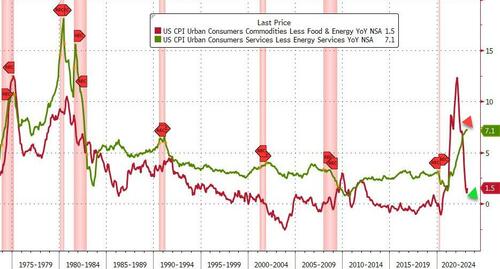 Core CPI, however, rose 0.4% MoM (as expected), pushing the index up 5.6% YoY, up from 5.5% prior...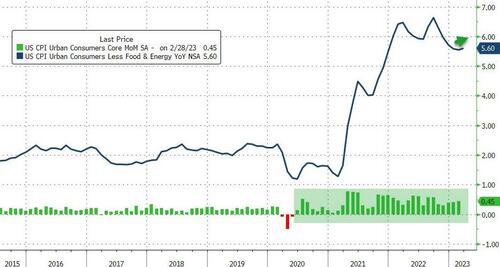 Source: Bloomberg
CPI rose 0.1% in March after increasing 0.4 percent in February. Over the last 12 months, the all items index increased 5.0%. The index for shelter was by far the largest contributor to the monthly all items increase. This more than offset a decline in the energy index, which decreased 3.5 percent over the month as all major energy component indexes declined. The food index was unchanged in March with the food at home index falling 0.3 percent.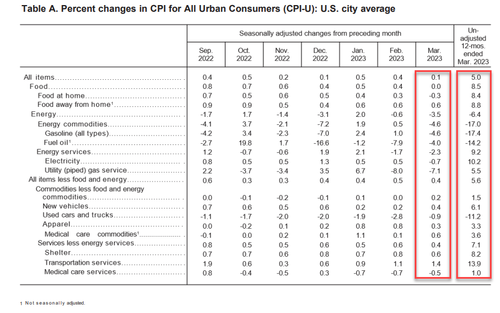 The index for all items less food and energy rose 5.6 percent over the past 12 months. The shelter index increased 8.2 percent over the last year, accounting for over 60 percent of the total increase in all items less food and energy. Other indexes with notable increases over the last year include motor vehicle insurance (+15.0 percent), household furnishings and operations (+5.6 percent), recreation (+4.8 percent), and new vehicles (+6.1 percent).
The silver-lining perhaps is that shelter may have started to top out:
MoM Shelter rose just 0.66% in March, down from 0.79% in Feb and the lowest since November 22

MoM Rent rose just 0.45% in March, down from 0.71% in Feb and the lowest since March 22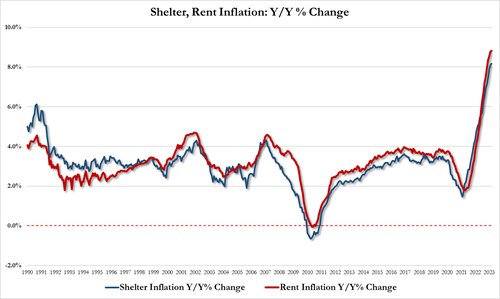 Source: Bloomberg
The Fed's new favorite inflation indicator - so-called 'Super-Core': Core Services Ex-Shelter - slowed to 5.73% YoY, lowest since July 2022...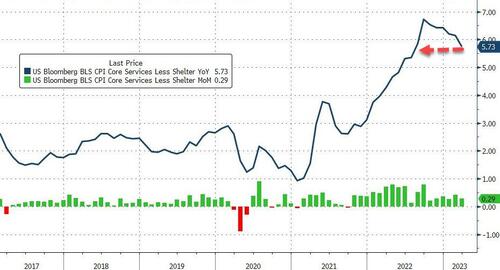 Source: Bloomberg
But Transportation rose, more than offsetting Medical Care's decline...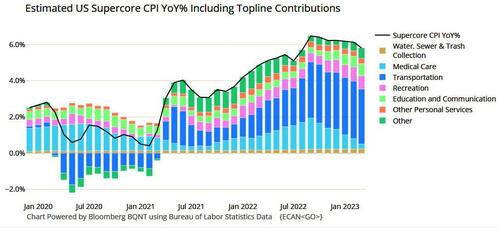 Additionally, we note that real wages continue their declining streak - now at 24 months...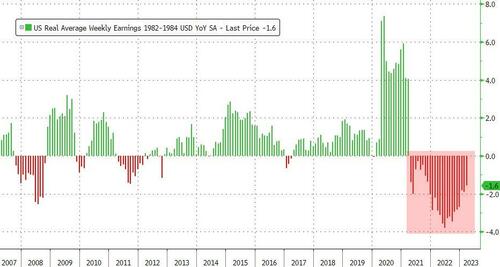 Source: Bloomberg
Will CPI continue its trend lower with M2?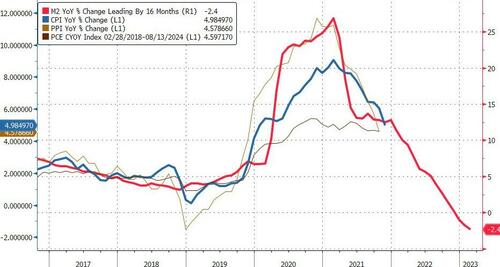 A mixed bag with plenty here for both doves and hawks.
Loading...