---
Despite Initial Claims Drop, Over 20 Million Americans Remain On Unemployment Benefits
Despite reports that the the Government Accountability Office has found that the Labor Department has "consistently" provided inaccurate information on the state of the labor market, we continue to watch weekly jobless claims for signs of life (or near-death) in America's "recovering" economy.
After two weeks of disappointing rises, initial claims dropped this week to 712k (775k exp) from an upwardly revised 787k the prior week...
Source: Bloomberg
California saw a massive drop in initial claims (as the fraud is eradicated) while Illinois, Oregon, and Indiana saw saw rising initial claims...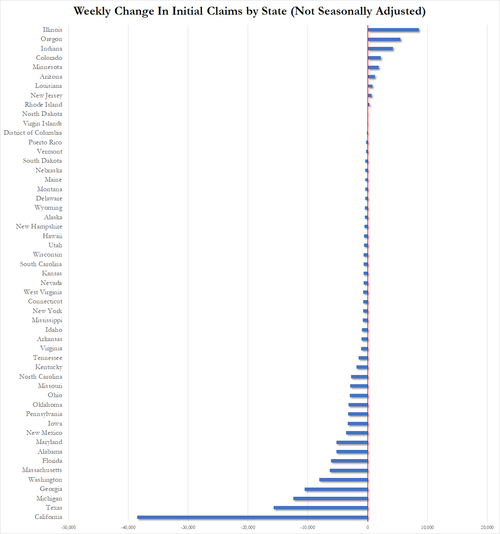 Pandemic Emergency Claims (PUA) continue to soar as Americans fall off the traditional continuing claims rolls (which plunged from 6.089mm to 5.52mm)...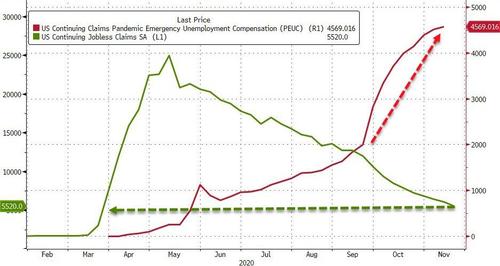 Source: Bloomberg
However, overall, there are still over 20 million Americans filing weekly for some kind of unemployment benefit...
Source: Bloomberg
Perfect time for more widespread, un-scalpel-like, lockdowns of the economy!?
As we noted previously, remember that the PUA and an unemployment insurance extension are set to expire at the end of December (the blue and green sections above). Talks about extending relief continue to be slow going and arduous. About 9.1 million people collected benefits under the PUA during the first week of November.
"Without an accurate accounting of the number of individuals who are relying on [unemployment insurance] and PUA benefits in as close to real-time as possible, policy makers may be challenged to respond to the crisis at hand," the GAO concluded.