---
Americans' Spending Drops Again In December, Fed's Favorite Inflation Signal Slows
The headline from this morning's income and spending data is The Fed's favorite inflation indicator - Core PCE Deflator - printed pretty much in line with expectations (headline up 0.1% MoM was marginally hotter than expected). The year-over-year prints dropped to 5.0% and 4.4% respectively for headline and core - while both lower and trending down from the highs last year, these prints are still the highest since 1991...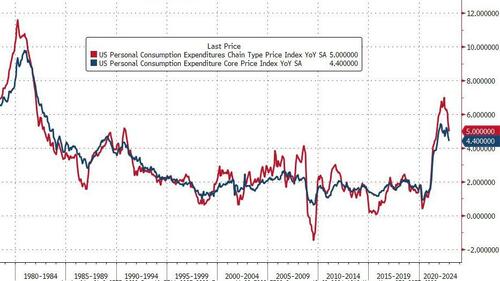 Source: Bloomberg
Americans' income was expected to rise 0.2% MoM and spending drop 0.1% MoM and while incomes met expectations, spending was weaker than expected (-0.2% MoM). That is the second straight month of spending declines...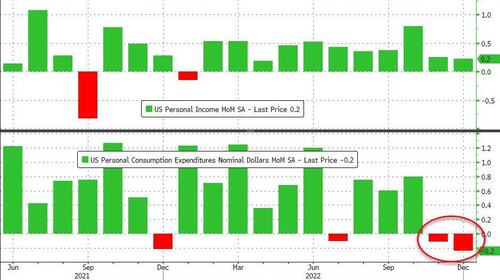 Source: Bloomberg
On a year-over-year basis, spending growth continues to outpace income growth...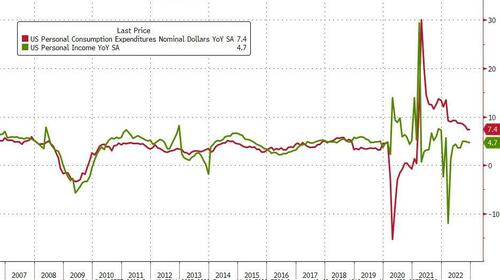 Source: Bloomberg
Notably, govt wages and salaries are growing faster than those of private workers for the first time since March 2020:
Private workers wage growth Dec 4.4%, vs 5.1% in Nov

Govt workers wage growth Dec 4.8%, vs 4.9% in Nov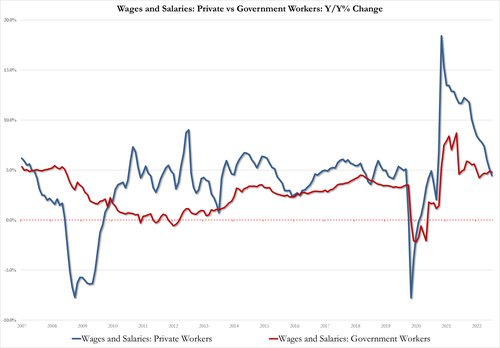 All of which leaves the personal savings rate languishing near record lows (although it did improve from 2.9% to 3.4% - its highest since May 2022 - as credit card debt hits record highs)...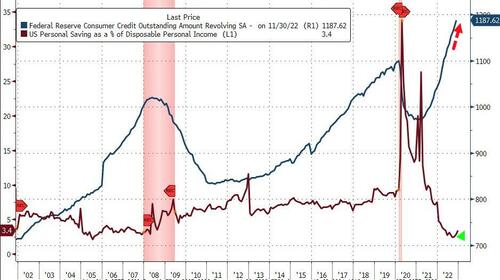 Source: Bloomberg
We note that the savings rate was revised significantly higher in the last two months... (as credit card debt has soared)...
How much of the savings rate increase is real vs excel spreadsheet adjustments is TBD, but this is good news for Powell: consumer starting to retrench and save more -> less inflation https://t.co/WkPzMKplHL

— zerohedge (@zerohedge) January 27, 2023
Does that really sound like the 'strong consumer' we keep being told about? It sounds like the consumer is finally hitting their limit on spending (but no slowdown in credit card spending) and is pulling back... not a good sign for GDP.
Loading...