---
Fed's Favorite Inflation Signal Remains 'Stuck' As Wage-Growth Re-Accelerates In May
One of The Fed's favorite inflation indicators - Core PCE Deflator - rose 4.6% YoY (slightly cooler than the 4.7% exp but still 'stuck' at very high levels). Headline PCE fell back below 4.00% (3.8%) for the first time since April 2021...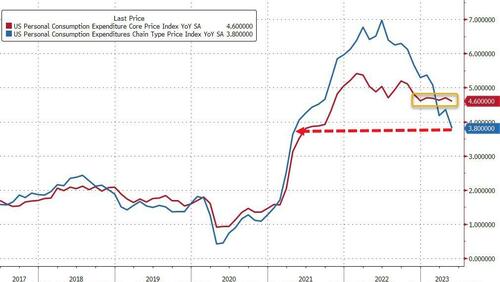 Source: Bloomberg
Even more focused, is the Fed's view on Services inflation ex-Shelter, and the PCE-equivalent shows that is very much stuck at high levels...
Source: Bloomberg
Personal Income and Spending were both expected to rise on a MoM basis and did but while incomes rose more than expected, spending rose less (+0.4% vs +0.3% exp and +0.1% vs +0.2% exp respectively)...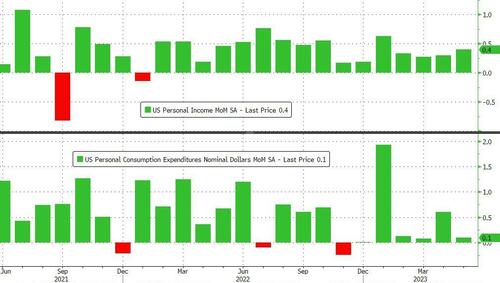 Source: Bloomberg
YoY Spending growth slowed while YoY Income growth was flat in May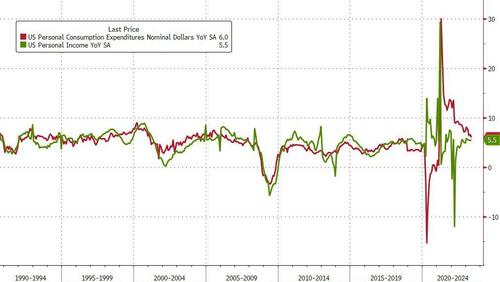 Source: Bloomberg
Adjusted for inflation, 'real' personal spending was unmchanged in May (up 2.1% YoY)...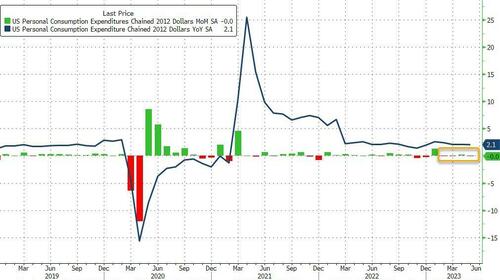 Source: Bloomberg
More problematically, wage growth is re-accelerating...
Private worker wages rise 5.8% Y/Y, highest since Oct 2022

Govt worker wages rise 5.5%, highest since May 2022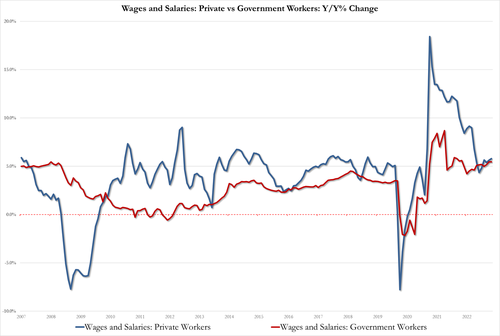 Putting all that together, we see that the savings rate increased to 4.6% from 4.3%...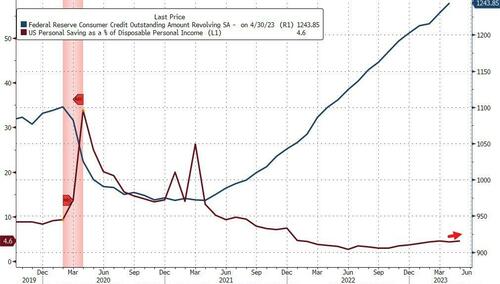 Source: Bloomberg
Is the consumer starting to pull back? Stalling spending combined with sticky core PCE - smells like teen-stagflation to us
Loading...