---
Hawaii Food Bank Sees "Stunning" Increase In Meals Served 
Hawaii is facing an economic cliff as federal stimulus money for small businesses and unemployed workers have dried up (read: here). This past summer, there was some optimism in restarting Hawaii's tourism industry, but the resurgence in COVID-19 cases in July and August changed all that.
High unemployment and a collapsed tourism industry continue to plague the island. Carl Bonham, executive director of the University of Hawaii Economic Research Organization, told Honolulu Civil Beat that the island's economic situation "is, to some extent, worse than we anticipated." 
The virus-induced recession on the island has been so severe that Hawaii Food Basket, one of the island's top food banks, "has significantly increased its services since the start of the coronavirus pandemic, serving up to 80,000 people monthly," according to The Hawaii Tribune-Herald.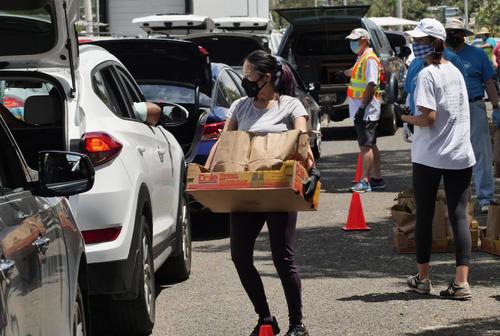 This time last year (Septmember 2019), the food bank provided assistance to around 14,000 individuals a month, representing a 5.7x increase over the year.
Food Basket executive director Kristin Frost Albrecht said the food bank helps residents by providing care packages to a network of partner agencies and programs. 
Albrecht said at one food bank site on the Big Island, the facility serves 2,000-3,700 people, where 85% of them are unemployed. 
"The one thing I will say about The Food Basket — we are experienced with crisis," she said. "In the last couple of years, we've had hurricanes and lava, but there's been nothing like this. (Those disasters have) helped ease us into this new normal of what we're doing, but it's a stunning number. There are no two ways about it."
And the "new normal" Albrecht speaks of consists of a country where the working-poor is entirely reliant on local food banks. 
As we've outlined in recent weeks, food bank demand, on a national level, is rising once more: