---
Homes Are "Unaffordable" In 99% Of US Counties
Authored by Michael Snyder via The Economic Collapse,
If you are looking to buy a home right now, I feel so sorry for you.  The other day when I wrote that "life in America has never been more unaffordable than it is right now", some people thought that I was exaggerating.  But the truth is that I was not exaggerating one bit.  The cost of living has risen to extremely painful levels, and this is particularly true when it comes to housing.  Since 2019, the median price of a home in the United States has risen by more than $100,000.  And thanks to the Federal Reserve, we are now facing dramatically higher interest rates.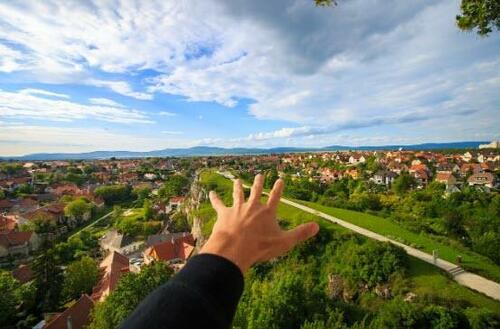 As a result, housing has become extraordinarily unaffordable.  In fact, a new report that was just released determined that homes are currently "unaffordable" in 99 percent of U.S. counties…
The typical American cannot afford to buy a home in a growing number of communities across the nation, according to common lending standards.

That's the main takeaway from a new report from real estate data provider ATTOM. Researchers examined the median home prices last year for roughly 575 U.S. counties and found that home prices in 99% of those areas are beyond the reach of the average income earner, who makes $71,214 a year, according to ATTOM.
In the entire history of our country, we have never seen anything like this before.
A combination of insanely high home prices and suffocatingly high mortgage rates have literally frozen the housing market.
Until something changes, millions of potential buyers and millions of potential sellers will remain sidelined…
Housing experts point to couple trends driving up housing costs. Mortgage rates have topped 7%, adding hundreds of dollars per month to a potential house payment. At the same time, homeowners who locked in at lower mortgage rates during the pandemic have opted not to sell out of fear of having to buy another property at today's elevated rates, depleting the supply of homes for sale.

"The only people who are selling right now are people who really need to move because of a life event — divorce, marriage, new baby, new job, etc.," Daryl Fairweather, chief economist of Redfin, told CBS MoneyWatch.
Considering everything that I just shared with you, it should be no surprise that pending home sales in August were 18.7 percent lower than they were a year ago…
Pending home sales plunged in the U.S. last month as high mortgage rates deterred more would-be buyers and sellers from making deals.

The National Association of Realtors' Pending Home Sales Index tumbled 7.1% to 71.8 in August, a much greater decline than the 0.8% drop analysts polled by Refinitiv expected.

Year over year, pending transactions are down 18.7%, the NAR's data shows.
According to one analyst, a potential buyer would need an income of more than $125,000 a year in order to qualify for a mortgage on an average U.S. home right now…
The steep drop in pending sales in August, on the heels of reports of slower existing and new home sales at the end of the summer, suggests that the market is cooling, said Lisa Sturtevant, chief economist at Bright Multiple Listing Service.

Overall, she said, total home sales this year could be below 4.2 million; that would be the lowest level since 2010.

With mortgage rates near and above 7% for all of August, purchasers' buying power was crushed, and for many the math for buying a home just did not work.

"At a mortgage rate of 7%, a homebuyer would need an income of over $125,000 to qualify for a loan to purchase a $400,000 home," said Sturtevant.
So the vast majority of us are just going to have to wait until the market shifts.
Of course housing is not the only thing that has become ridiculously expensive.
According to CNN, the price of a box of Girl Scout cookies is going up to six dollars this year…
Girl Scout cookies are getting more expensive. In some places, at least.

At least one New York State chapter, the Girl Scouts Heart of the Hudson, told troop parents and other members of the community in an email this week that all cookies will be sold for $6 per box this coming cookie season — which takes place from about January to April annually nationwide – up from $5 last year.

"In order to combat rising production and material costs, GSHH will be increasing the price of all cookie packages to $6.00," the chapter's interim CEO wrote, adding "we expect our neighboring councils to announce similar increases in the coming weeks and months."
I remember the days when it was common for people to buy dozens of boxes every year.
But now if you want to do that you will need to sell an organ.
Our standard of living is being steadily eroded, and meanwhile economic conditions continue to slow down all over the country.
Earlier today, I was saddened to learn that Epic Games is laying off workers…
Epic Games, the maker of Fortnite, said on Thursday that it will lay off 16% of its staff, around 830 employees, as it attempts to reverse what CEO Tim Sweeney called "unrealistic" spending.

In a letter to employees Thursday, Sweeney said the video game company had been "spending way more money than we earn, investing in the next evolution of Epic."

"I had long been optimistic that we could power through this transition without layoffs, but in retrospect I see that this was unrealistic," Sweeney said in the letter, which the company shared publicly.
If even Epic Games is struggling now, what does that say about the overall state of our economy?
I am so concerned about where things are headed in the months ahead.
A major economic downturn is looming, the most chaotic presidential election in our history will happen next year, and we are already witnessing widespread rioting and looting all over the nation.
In fact, looters in Philadelphia just made headlines for a second consecutive night…
Looting has rocked Philadelphia for a second night in a row as brazen thieves ransacked a liquor store.

Shocking footage out of the City of Brotherly Love showed Fine Wine And Good Spirits smashed apart in the latest flash rob mob crime.

The brutes made off with the safe and raided the lottery machine on a night when liquor stores were shut down by the authorities.
For a long time, I have been encouraging my readers to consider relocating if they live in any of our major cities.
But now thanks to a combination of ridiculously high home prices and the highest mortgage rates we have seen in ages, most Americans simply cannot afford to move.
Unfortunately, most people will be forced to remain where they are as the events of the next few years shake this nation to the core.
*  *  *
Michael's new book entitled "End Times" is now available in paperback and for the Kindle on Amazon.com, and you can check out his new Substack newsletter right here.
Loading...